Since its beginning, T.C. Millwork has had a reputation as an innovator. The retail display manufacturer was an early adopter of reactive hot melt polyuethane (PUR) adhesives. Co-founder and Vice President Arthur Kubach discovered the technology was just beginning to see widespread use in the packaging and automotive industries. He immediately realized the potential to be repurposed for laminating in the wood industry. "It was a big learning curve," Kubach recalls. "We were breaking new ground in our industry. We struggled for several years to perfect it."
Developing the methodologies to make it cost effective took time, but it eventually led to a new way of manufacturing. Arthur Kubach and his brother, Dennis, began to realize that the act of learning this new technology brought with it many changes to the way T.C. Millwork manufactured. The company was already well versed in using film veneers along with membrane pressing, but with the advent of PUR adhesives, it now could effectively laminate these decorative film veneers to virtually any substrate.
One thing led to the next and before they knew it the brothers were not doing de-construction and re-construction millwork and fixtures anymore. They discovered that by adding miter folding to the equation they no longer had to make individual parts that traveled to different machines at different times and hopefully ended up in assembly at the same time. By adding miter folding to the equation, T.C. Millwork is now able to never have the parts separate from themselves as they all travel together to assembly. Assembly immediately knew how the parts went together because they never came apart – there was no de-construction or re-construction.
The end result is that T.C. Millwork has reduced its assembly cost by at least three-fourths. The customer realizes this cost savings, and in addition, receives a more durable, seamless fixture with no black lines that is more resistant to chipping, peeling and cracking. Further, it gave T.C. Millwork the ability to create its own composite materials and launch a line of highly decorative wall protection called Ven4ma. Today, it sells that product in the healthcare industry through its Spectrim Building Products sister company.
T.C. Millwork now has three PUR lines, one dedicated to just making the Ven4ma, one line for subassembly operations and one for general flat lamination.
Those advancements eventually led to T.C. Millwork's latest innovation: the SmartWall V5, a lightweight, revolutionary wireless alternative to traditional retail shelving fixtures. The Smartwall has light fixtures embedded directly in its shelving and other display components. SmartWall comes from the plant completely wired for a true plug-and-play experience, thus eliminating the cost for electricians and hard wiring. The system uses proprietary lighting that was exclusively designed as integrated components. SmartWall has the highest LED lighting standards in the industry with museum quality type lighting, and makes all photometric information available for review. The system needs only one duplex outlet to power 56 lineal feet of wall. In addition, the system is wireless to the end user: There are no wires to plug in or take out, simply move the display components anywhere along the wall, vertically or horizontally, with no wires. Another bonus to the system is that if any of the lights ever fail, they are replaceable at store level without having to replace the shelving or other display components, Arthur Kubach says.
The wide range of available finishes and ease of installation – a 56-foot-long Smartwall can be erected in less than 8 hours, has garnered attention from retailers, museums and exhibitors. "More and more people are incorporating it when they see the cost savings on construction," Dennis Kubach says.
That savings does not only come from the speed of installation, but also the simplicity. The complicated electrical wiring required by traditional display walls can become expensive, especially when union contracts are involved. By daisy chaining shelving lights into one plug, Smartwall dramatically reduces the amount of electrical work – and associated labor costs.
"We embrace technology, we embrace the engineering and the innovation side of the business," Dennis Kubach states. "We're not just a 'me-too' shop. We go out of our way to give our customers other ways to skin that cat."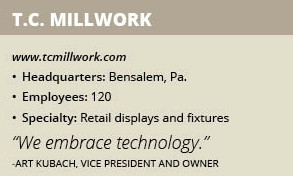 Family Culture
The Kubach brothers started out in the mid-1980s running a small custom cabinet shop in New Jersey. The shop was eventually sold to a larger business and in 1993 the brothers founded T.C. Millwork in Bensalem, Pa., with a focus on manufacturing retail displays.
As the new business grew, the Kubachs realized they had to expand T.C. Millwork's services to deliver more value to their customers. In 1996, they created a sister company, Tricon Construction, to handle the installation of TCM product along with customers of their own, such as Dollar Tree, Planet Fitness and Macy's. Three years later, another sister company, Spectrum Building Products, was launched to focus on PVC film products such as wall protection, moldings and head boards for the healthcare and hospitality industries.
With the addition of Tricon, T.C. Millwork is able to design, manufacturer and install displays, making it a one-stop complete service solution for retailers. "A lot of our customers are looking for turnkey solutions," Dennis Kubach says.
As T.C. Millwork marks its 25th anniversary, Kubach credits its success to its family culture and dedicated employees, many of which whom have been with the business since its inception. "We treat them like family," he says. "They see where we're going, that we're not the same type of company as the other millwork companies out there."
It helps that the brothers have an active role in the business. Each spends about 65 hours a week at the factory and their children also work within the company. "Everybody has a skin in the game here," Arthur Kubach says. "It really helps us look at where our waste is, how we can cut waste. How we can be more efficient."
Being known as a good company to work for is an advantage in recruiting talent during the current low-unemployment market. "You just need to know where to look and you need to offer them a fair wage to start – we offer health insurance and a 401(k)," Dennis Kubach says. "You've got to have a good package and good leadership to train employees."
About 120 people work in T.C. Millwork's 428,000-square-foot manufacturing plant in Bensalem, a suburb of Philadelphia. From that single facility, the company provides display shelving and fixtures to retailers across North America, such as Macy's, Pier 1, Clarks, Walgreens and JCPenney. "You don't keep customers like that if you don't perform," Dennis Kubach says.
In addition to the retail business, the company has an entire division devoted to fabricating the slot bases for slot machines for casinos such as the MGM, Sands and Wynn properties along with many others across the contrary. "We actually cut our teeth in this market," Dennis Kubach notes. "The casino division has been with us since the inception of the business."
Custom Solutions
No one kind of display or fixture can fit the various needs of all of T.C. Millwork's clients. Different retailers have unique brand styles and weight capacities. A clothing store might only need to display a few pairs of jeans while a retailer such as Yankee Candle, Bed Bath & Beyond and Pier 1 need shelving that can hold dozens of heavy product. "They may need to put 125 to 150 pounds on a shelf and that shelf has to hold that weight with no deflection," Dennis Kubach says.
To account for those specific needs, T.C. Millwork customizes its displays to each individual retailer. Walgreens, for example, had T.C. Millwork design, engineer and fabricate patient rooms that allow doctors to treat customers within the store.
Such specialized manufacturing runs usually start as small one-offs, creating displays for only a few stores, but as the client remodels or opens more shops the scale of the work quickly ramps up into full production. "It allows us to lower their pricing because of the quantities," Dennis Kubach says.
The design process involves extensive collaboration between T.C. Millwork and the client to ensure the final product will meet their vision and specifications. Customers often come to T.C. Millwork with a concept, which the company then engineers into high-level drawings and renderings. Once the customer approves the initial design, the real work begins.
"We are truly screen-to-machine," Dennis Kubach says. "Our engineers design and build piece by piece on a computer screen. They're able to 3-D render it to make sure their theory works in reality. At that point, they download the drawing right to our machines on the floor."
Once the design is ready for production, operators load it into the CNC machine and manufacturing begins. "We can take and move parts to any machine because we've written a universal post for every machine we have out there," Arthur Kubach says.
As the machines run, materials are inspected at every stage to ensure there are no imperfections. If a fault is discovered, T.C. Millwork quickly corrects the issue. Production runs are broken down by season and are typically completed 45 to 60 days before the customer actually needs it, ensuring there will no issue in the event of a supply chain disruption like last year's hurricanes in Texas and Florida.
Maintaining that inventory level is key to keeping customers happy. "They can't open a store without our products, so the communication level is critical," Dennis Kubach says. "We don't miss deliveries."
That efficiency also comes into play during the installation. Through Tricon, T.C. Millwork understands where the challenges and issues arise during the construction part of the process and knows how to develop its products to ease those pain points. "When we design and engineer products, we design and engineer around the installation," Dennis Kubach says.
Technology already plays a major role in T.C. Millwork's manufacturing. The company was early to embrace in-house 3-D printing four years ago and two years ago it added a large printer to its processes. "Honestly, I don't know how we did some of the engineering prior to 3-D printing," Arthur Kubach says.
It used to spend a lot of money on tooling not really 100 percent sure if it would work the way it was designed. With the advent of in-house 3-D printing, T.C. Millwork is able to bring proof-of-concept at lightning speed with 100 percent confidence that the parts and components will work the first time. "We totally eliminated waste, time and money ahead of production," Arthur Kubach says. "That alone has allowed us to really create more efficiencies by creating smarter parts and components we're able to integrate into our lighting systems."
The level of automation will also increase as T.C. Millwork invests in new machines and capabilities. "We're going to continue to go down the path of Manufacturing 4.0," Arthur Kubach says. "We're going to continue to become more and more automated from the standpoint of material handling, the standpoint of organization and material flow."