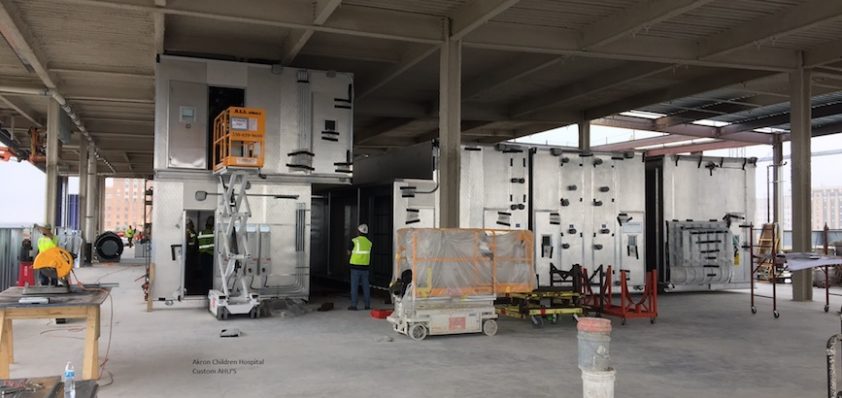 T.H. Martin Inc.'s ability to offer a wide range of services to its customers sets it apart from its peers. "We are very good at communicating with our customers," says T.H. Martin Jr., president of the Cleveland-based full-service mechanical contractor. "We offer clients a lot of options with regard to mechanical systems, equipment, and design options to meet the owner's needs and budget."
The company's capabilities include sheet metal and piping fabrication and installation as well as design/build, design/assist, lean construction and LEED project coordination services. Its clients include large healthcare organizations as well as commercial and industrial facilities. "There's a great deal of pre-planning, such as [computer-aided drafting] CAD and [building information modeling] BIM and modularization with other trades, that goes into our projects," he adds.
One example of the company's capabilities is its ongoing work on a 230,000-square-foot addition to the Akron Children's Hospital. The facility is being built using the integrated project delivery method, which involves a close collaboration of people, systems and business practices while maintaining budgets.
"We are working with engineers and the hospital on several different options, ideas, solutions and budgets to maximize the service they get from us and minimizing their costs," Martin says.
T.H. Martin Inc.'s work on the hospital project included fabricating large pieces of sheet metal in-house before sending them to the construction sites. "Prefabrication is a regular practice for the company. We prefabricate as much as possible to make construction less cumbersome," he adds. "We have a lot of general contractors and architects that walk through our facility and are amazed with what they see. Letting our clients see what we're doing often helps us secure work."
Safe and Lean
All of T.H. Martin Inc.'s projects are completed to high quality standards and with lean principles in mind. "We're always looking at ways to apply lean principles within our shop," Martin says.
Martin regularly speaks with his staff as well as industry peers and equipment vendors about ways to improve the company. He is a board member of the Sheet Metal and Air Conditioning Contractors' National Association (SMACNA), which gives him access to the latest industry information available.
"We are constantly seeking input from our shop and design team to seek improvements of fabrication efficiency. I also talk to my peers [SMACNA Contractors] as well as equipment vendors,
mechanical engineers, and facility departments who might provide additional input, that we can take advantage of to increase our efficiency, standards, and quality control" he adds.
Quality control on T.H. Martin's shop floor is ensured by shop foreman Tony Salamone, a 30-year veteran of the company. "He does a thorough job making sure everything that goes out is to the standards that we expect," Martin says.
Employee safety is also critically important to T.H. Martin. The company's safety program, overseen by Safety Director Matthew Gill, includes weekly safety and health audits, continuing education, and weekly toolbox safety talks. All sheet metal and pipefitting employees must complete 30 hours of OSHA safety training and follow safety rules specific to the HVAC industry, the company notes.
Streamlined Fabrication
T.H. Martin's state-of-the-art 67,000 square foot manufacturing shop houses both spiral and gore lock machines with capacities to 16 gauge, as well as an Iowa Precision FabriDuct coil line and two 20-foot plasma cutters.  It offers full fabrication of rectangular and spiral duct, including double-wall and double wall insulated products.
The company's capabilities also include the use of stainless steel, aluminum, PVC, and black iron (kitchen exhaust) materials. "We also have a complete pipe pre-fab department that includes a computerized pipe cutting and fitting machine along with positioner stations to expedite welding," Martin says. "This allows us to pre-fab pipe sections to minimize field time. All pre-fab materials are delivered to the job on wheels to minimize material handling."
The company recently enhanced its sheet metal fabrication capabilities by adding a new Mestek Cornermatic machine, which automatically inserts corners into ductwork for flange connections. "We invested $30,000 in that machine, and it is already paying dividends with regard to fabrication," Martin says.
Other recent additions to the company's fabrication capabilities include a new duct-lining machine used to fabricate acoustical internal ductwork.
A staff of roughly 100 sheet metal workers fabricate and installs material and systems produced. These workers, as well as the company's 75 pipe fitters and service fitters, are all union employees who graduated a five-year apprenticeship program. These workers also regularly take journeyman elective classes at union facilities to train and improve their skills.
The company continues to improve its manufacturing operations. "We have streamlined our shop and spent a lot of time and effort making sure our flow of sheet metal and piping fabrication is efficient," Martin says.