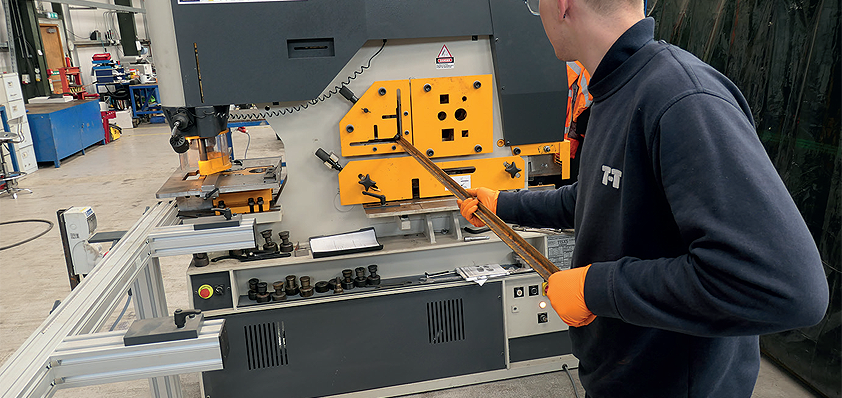 All hands to the pump
With over 30 years of specialization in the pump and drainage industry, T-T Pumps proudly owes much of its expansion and product successes to its team of committed and enthusiastic staff
We all use water, yet very rarely do we stop to think about the gallons and gallons flowing underneath our streets and to and from our homes – unless of course there's a leak or a burst pipe. This hidden efficiency is owed to companies like T-T Pumps, who excel at ensuring that water, both clean and foul, flows through our built environments without any hassles.
Established in 1959, the company began its journey in Stoke-on-Trent under the name Vanroy and specialized in general engineering. It was only in 1970 when it began manufacturing and supplying pumps, and in 1979 the business was awarded a £650,000 Lindsey Coast project for Anglian Water, which led it to take on the design and manufacturing of electrical control panels. In 1984, the company rebranded to T-T Pumps and has only continued to grow since. In 1997, it was able to move over to Woore in Cheshire, where it dedicated itself to specializing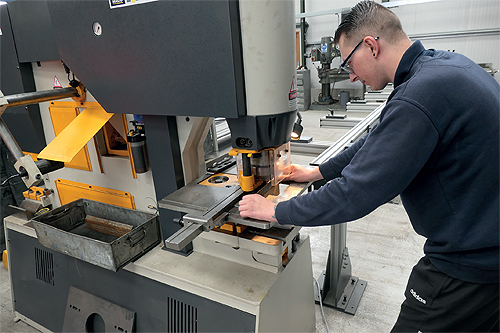 in the waste water industry by supplying pumping and drainage equipment.
In a conversation with Ben Nash, the Sales Director for T-T Pumps, we learn about how the company has become one of the UK's leading businesses in the design, manufacture, supply and installation of pumps, controls, valves, environmental products and systems. Ben fills us in on the company's perseverance to become a proudly British brand and how it has expanded its range of products and services to buttress water systems across the UK and abroad.
"We've got pumps, valves and controls as well as pumping stations. There's also our service side of things and our agricultural division, which is still in its infancy but is tailored for the agricultural market," Ben begins, "So, we've basically got six divisions across the business which form the body of who we are. All of this allows us to service, repair and maintain, from the project's conception right through to the handover," he informs us. This level of diversity has enabled the manufacturing element of the business to be refined and mastered, giving the company a unique edge to its service delivery.
Ben then goes on to highlight some impressive developments within its infrastructure. Having invested several hundred thousand pounds into its headquarters in the last couple of years, these improvements have been a result of the company's innovative and ambitious desire to lead the industry. "Throughout our business – from the production of pumping stations to the production of control panels and complete systems – we've actually changed things around quite a bit. We now have a fabrication department that does all our fabrication work for the raw materials. Then there's our manufacturing bay that actually puts the components together and sends them through tests, which means we also have a full working clean water test rig and a foul test rig to check the pumps and systems work correctly."
Being able to deliver most of its services in-house means that the company can continue to excel in its passion for providing long-lasting services. The company's site also hosts a control shop that takes the raw materials in and wires the components together to test and certify them. Having this facility allows the business to guarantee that its products are compliant with the electrical regulations legislated across the whole of Europe. "This is how we are able to do all the work from start to finish. We also have the back-up side where we can repair with our maintenance facilities. This is a completely separate part of the building that does all of the repair and modification elements of our projects," Ben further explains. Whether its clients are in need of a dispatch pump or a bespoke pumping solution, T-T Pumps is equipped to provide for a variety of pumping demands.
On that note, when it comes to the kind of clientele that the business works with, Ben highlights that delivering an essential service that is widely used by everyone opens its client-base to huge possibilities. "We all have waste water that comes out of our buildings, so we are able to deal with every inch of the process; from the domestic to the commercial, be it schools, hospitals, government sites, or individual residences. We deal with all of those aspects in some form, whether directly or indirectly throughout the country, and it also means that we have room to expand our business," Ben continues.
But what about the people who form the bread and butter of the company? At T-T Pumps, according to Ben, everyone works together. "It's a family-owned business, so there's no hierarchy within the system, we have an open-plan office with an open-plan workshop and manufacturing, to reinforce that everyone is part of the same group," he adds. Owing to its family-owned
ethos, the company promotes the motto that if you put the effort in, you will reap the rewards. The company also understands the value of its employees and wants them to feel appreciated, so on top of its salaries, it provides additional perks to ensure that each member of the team feels safe and secure for the future and for their families.
Over the past 12 months, Ben emphasizes that the company's consistent success is down to its dedicated team who put all of their efforts into ensuring T-T Pumps continued to thrive during the pandemic: "I take my hat off to our staff, I really do. If we hadn't had our team and the effort that they put in, we wouldn't have surpassed the problems we had because of Covid-19."
This is not to say that 2020 was all smooth sailing. Ben continues: "Obviously the virus did more damage than any of us expected. We had to furlough a very high percentage of staff. When we found our feet again and moved back on site, we brought back a few of our people and then we slowly expanded when we found that our customer base was still alive and kicking." The company put in place the necessary safety measures and precautions to ensure that its staff felt confident to work on site again, and, in Ben's opinion, the team that came in worked their hardest and did their jobs fantastically, so much so that no infections were reported.
By September 2020, T-T Pumps had all of its staff that it had retained return back to its headquarters. Ben adds further that the company is incredibly lucky to specialize in an industry that is heavily depended on and continuously needing to be maintained. He states that this demand will be what enables the business to push itself towards higher goals and greater expansions, and its hard-working team is at the core of this potential. "Throughout a time that was really horrendous for our team, we were able to invest in designing more products and getting them to the market to meet customer demands and that, for me, is because of what our staff have done and it gives me great pride in saying that," says Ben.
Moving forward, in the next coming months the company is in high spirits about its 2021 outlook. Above continuing its in-house development towards research and development facilities and a new enterprise resource planning system, Ben's predictions are that the company is expecting to see a fairly substantial growth within the UK and possibly even return to business normality prior to Covid-19. "I believe that these possibilities will come from new product systems and services that we're putting out – all of which are being supported by the success of our existing products," Ben informs us. Even when it comes to exports, the business has an impressively large program that is currently exploring certain sectors of the market it believes have exciting potential to bolster British-made products. "This year we've got a scheduled list of about 12 brand new products, which will come into the UK market that are all manufactured and produced in the UK," Ben hints towards.
There is little room to argue that T-T Pumps has garnered a reputation soaked in the knowledge and skills required to support and strengthen the pumping system industry. Through a mixture of business from building, construction and redevelopment, the drainage sector is constantly requiring the company's attention. Its dedicated team and expertise in such a hidden sector might change our perspective on the way we look at the water systems embedded in our built environment.
T-T Pumps
Services: Designs, manufactures, supplies and installs pumps
https://www.ttpumps.com/