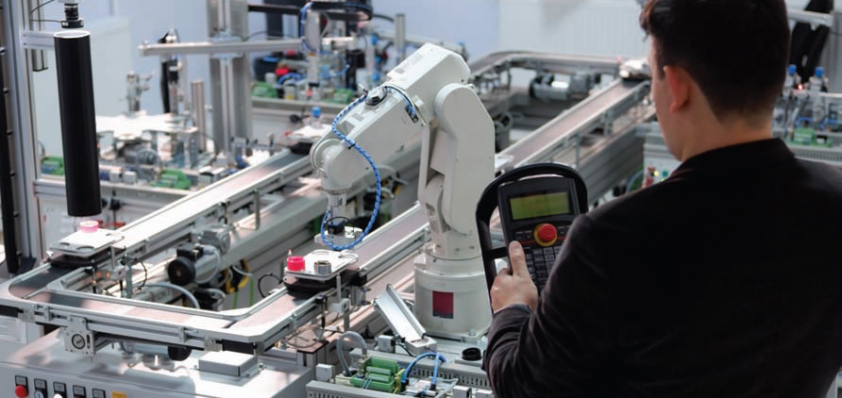 Across the globe, manufacturers are waking up to the potential benefits of smart factories. Many have already started committing significant investments toward smart factory innovation, and increasingly so. Recent research from the Capgemini Research Institute found that smart factories could add at least $1.5 trillion to the global economy through productivity gains, improvements in quality and market share, along with customer services.
However, although many organisations understand the huge potential offered by smart factories, the path to transformation is far from straight forward. Of all the organisations that have launched smart factory initiatives, almost 60 per cent say their initiatives are either struggling or that it is too early to comment. Meanwhile, only 14 per cent said they would characterise their smart factory deployments as successful. Our research found that most of these organisations struggle to transition from initial pilots to at scale deployment.
The barriers to smart factory success
Further examination shows that the main reasons for this inability to scale are to be found at all levels of the 'operating model' of manufacturing companies, from culture to systems and tools, and require significant evolutions of organisations.
While everyone agrees that smart factory is mostly about leveraging the wealth of data available from increasingly connected operations, it doesn't just come down to technology. Leveraging data in day-to-day decisions is not natural for manufacturing managers who still mostly rely on experience to keep factories running.
To develop this new culture of data-driven operations, organisations need to foster the development of a new breed of managers combining operational and data skills and bridge the gap between IT and OT. To support its own performance, operations has to invest into the complex science of data management and not expect that IT will take care of it.
Finally, smarter technology investments will be needed. On average, only 40 per cent of production facilities are using manufacturing execution system/supervisory control and data acquisition (MES/SCADA) solutions, although they have been in the market for some time now. Similarly, 40 per cent use product lifecycle management (PLM) for discrete manufacturing and consumer products. Newer solutions, such as remote monitoring, mobile/augmented worker (AR/VR), and manufacturing intelligence (from Industrial IoT to analytics and AI), are yet to be deployed at more than two-thirds of production lines on average. Most importantly, beyond investing into any of those, the way they are integrated and 'architected' for flexibility and scalability will be paramount.
To successfully scale their deployments, manufacturers must then focus on three critical areas.
Develop a culture of data-driven operations
Even in the most modern factories, where robots or automated machines perform most of the work, operations management still largely is an art. For instance, just one-third of organisations are currently using a predictive approach to make decisions about production scheduling. Managers only can rely on partial and often outdated information to make critical decisions, with no system to record and 'learn' from those. Under constant pressure to simply keep operations running, how can operational manager manage this cultural transition?
The answer is, as ever, the combination of a strong ambition and step-by-step implementation, with new practices progressively developing new skills and, ultimately, establishing the new culture. In line with Industry 4.0 concepts, the ambition must be closed-loop operations (closed-loop operations involve the use of data generated by operations to optimise them in real time.) Predictive maintenance is the logical place to start, and most of the leaders have already put their key assets in closed loop, with advanced analytics anticipating failures and triggering maintenance operations at the optimal time to both maximise uptime and decrease costs. The next most popular use case is predictive quality, where even more advanced analytics allow you to anticipate and correct process deviations before they result into rejects.
When well designed and supported by the right evolutions of the organisation (see overleaf), use-case driven smart factory roadmaps also allow you to create early wins and financial results at every step, thus ensuring management support for the required investments, starting with the indispensable creation of a unified repository of manufacturing data.
Data silos are a significant problem, as smart factories depend on the right data being available at the right time. With the number of sensors inside as well as outside a factory increasing, data volumes are only set to upsurge, and organisations need to have a clearly defined process in place to manage this data explosion. They should be able to store, retrieve, and analyse data at the required granularity, as well as standardise commonly used data across platforms and locations.
The mythical 'data lake' is the easiest part of solving the data silos problem. Whatever technology will be selected to store the data, it will be useless if management doesn't take ownership of the entire lifecycle of the data, from selecting which needs to be acquired to solve which issue to ensuring its completeness and quality along its entire lifecycle.
Most of the smart factory leaders have a dedicated a data governance organisation, supported by state-of-the-art tools, reporting into Operations who needs to be 100 per cent accountable for what is quickly becoming its most important asset.
Develop hybrid skills through cross functional career paths, upskilling and recruitment
In order to establish a data-driven culture, along with the availability of data, organisations should also focus on developing talent with an analytical mindset who can use the tools and take the necessary insights-led decisions.
Every function is impacted, from the line operator to the plant manager via the maintenance engineer. One should not underestimate the challenge they face, including the perception of losing their value by 'automating' their skills. The entire 'value system' of factories must evolve from hero – my value lies in solving complex problems – to watch maker – my value lies in constantly fine tuning a complex self-running system.
To support this evolution, manufacturers will need to break down organisational silos, and not only between IT and operations. Within operations, the machine operator will need to perform routine maintenance and take charge of the overall performance of the line. The maintenance specialist will need to collaborate with engineering to bring back the learnings of operations, backed by the proper analytics, into the design of the next line.
Organisations should take a long-term approach in bridging this profound skill and culture gap. They need to begin by understanding where they lack skills for today's challenges, and then look at where skills will also be lacking to meet long-term, future challenges as market environments and technologies change. As well as recruiting to plug urgent needs, bridging the gap will require a multi-pronged strategy that includes developing different performance metrics and designing career programs that allow employees to pursue career paths across functions.
Develop a program for deploying and integrating digital platforms across manufacturing operations
Based on decades of progressive investments into successive versions of technology, and at the critical juncture between IT and OT, operational architectures are both complex and rigid, with often hundreds of point-to-point interfaces. Most manufacturers have concluded that existing MES type systems could not support the unified view of data and progressive use case-driven evolution towards smart factory and have invested into dedicated IoT solutions.
While those, often vertically integrated, solutions were well suited to initial pilots, they actually made the integration problem worse and created additional data silos, becoming one the biggest obstacles to at-scale deployment. Manufacturing CIOs then increasingly consider integrated IoT platforms to complement the traditional 'stack' in support of smart factory initiatives.
Here again new skills are required and organisational barriers need to come down between IT and OT, usually under the control of Engineering. An integrated IT-OT strategy needs to be developed a group level, rather than allowing the local teams to select and deploy base technologies. Factories need to be convinced via early wins that digital manufacturing platforms actually allow them to innovate faster and more securely, taking care of base capabilities such as connectivity while allowing them to enjoy agile development of issue specific solutions.
The perceived security of cloud-based solutions still is slowing the deployment of such platforms, but the increased availability of on premise deployments of cloud 'stacks' as well as cloud providers' efforts to develop specific OT security offers are quickly removing this barrier. However, based on performance and resilience requirements, most digital manufacturing platforms will be hybrid, spanning on premise and cloud deployment.
Take the long-term view, the payback is worth it
While some of the use cases such as predictive maintenance can bring significant value in the matter of months and are key to establishing credibility, a smart factory transformation is a matter of years.
It must be managed as an integrated programme, co-led by Manufacturing, Engineering and IT, and aligning investments into technology, new processes and skills across these three organisations. Experience has shown us that governance, and not technology, is the main cause of failure of smart factory programs. For those companies successfully deploying at scale, the reward clearly justifies the investment.
Stanley Black & Decker Inc, an S&P 500 consumer and industrial power tool company, has embarked on an ambitious transformation to manage the complex production of its wide range of power tools. The production lines require quick changeovers and efficient management of assets. The company utilised a real-time location system using Wi-Fi and RFID enabling remote monitoring of production. With the OT systems feeding information to the frontend IT systems, Stanley Black & Decker was able to improve Overall Equipment Effectiveness (OEE) by 24 per cent, labour utilisation from 80 per cent to 92 per cent, and increase throughput by around ten per cent.
Ultimately, as we move closer towards industry 4.0, the ability to scale smart factory deployments will be essential to improve productivity, quality, flexibility, and services. In order to take advantage of the significant opportunity smart factories represent – and get a return on their investment – organisations must look to strategically tackle the challenges that are today hindering deployment at scale. By focusing on the above three areas, manufacturers can realise greater benefits from their initiatives.
Pascal Brosset
Pascal Brosset is CTO of Digital Manufacturing at Capgemini. A global leader in consulting, technology services and digital transformation, Capgemini is at the forefront of innovation to address the entire breadth of clients' opportunities in the evolving world of cloud, digital and platforms. Building on its strong 50-year heritage and deep industry-specific expertise, Capgemini enables organisations to realise their business ambitions through an array of services from strategy to operations.
www.capgemini.com