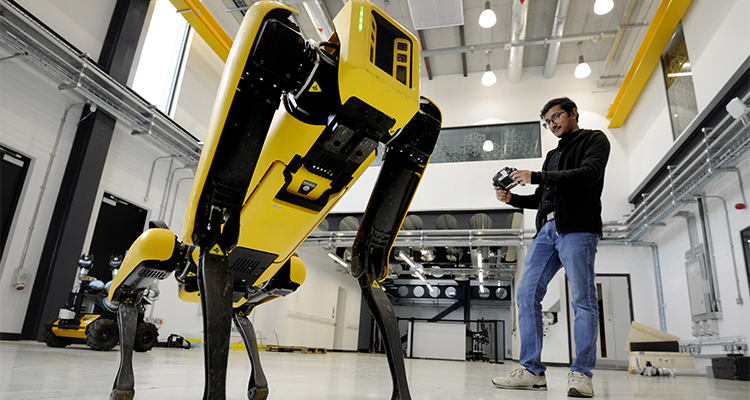 Taking ideas from laboratory to factory by Stewart Miller
Closing the automation gap could boost the UK's economy by £150 billion by 2035, according to government data. In order to achieve that economic boost, Britain needs to build a growth strategy for robotics manufacturing, taking its expertise in research and development and turning it into an economic advantage. I believe emulating Denmark's success in developing its robotics industry is one route worth examining.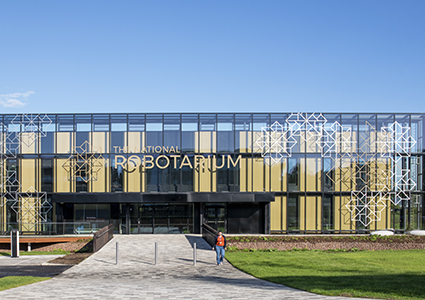 Coming up with great ideas for robots and autonomous systems (RAS) is only the first step. Once researchers and innovators have developed and refined their products and services, Britain then needs manufacturers that can ensure those RAS are available to make a difference to people's lives and our economy.
Britain is already having an impact on the global stage, with its universities and industrial research and development (R&D) partners coming up with innovative ideas with applications across a broad range of industries. Leading that charge is the National Robotarium, a joint venture between Heriot-Watt University and the University of Edinburgh, which offers world-class specialist facilities to carry out research into robotics and artificial intelligence (AI) and then commercialize those innovations.
Even before our center opened in Edinburgh last autumn, we were already busy working with partners round the globe to help a wide variety of industries to solve problems, from inspecting offshore wind turbines to providing high-quality interactions for residents in care homes. Start-up companies are already harnessing the facilities available in our premises, while collaborators from further afield are tapping into our expertise remotely.
Yet R&D needs to be backed up with manufacturing prowess. If the wider UK economy and workforce are to benefit from the development of RAS then we need to have design studios and factories that can take proven concepts through to mass production.
Britain is faced with a stark choice – we can either import the robots that we need from countries such as China, Japan, Germany, or the United States or we can build them here, generating highly-skilled and well-paid jobs and stimulating the supply chains that will fuel those factories. Domestic resilience can then also be the first step in creating an engine for export, sending our RAS overseas to help improve lives and boost economies abroad too.
Collaboration is key
The size of the prize is truly astounding. In 2021, the Department for Business, Innovation & Industrial Strategy (BEIS) calculated that if current adoption rates continue then RAS could add £6.4 billion of gross value to the UK economy by 2035 – but if full automation was embraced then that figure could soar to just shy of £150 billion.
BEIS's report, The economic impact of robotics and autonomous systems across UK sectors, outlined the impact that RAS could have across a broad range of industries, from agriculture, construction, and food and drink, all the way through to health and social care, warehouse logistics, and energy and infrastructure. Full automation could bring massive opportunities in particular for construction (£46.8bn), health and social care (£34.2bn), and energy and infrastructure (£23.4bn).
To close that automation gap, we need public sector policies that provide a roadmap, not just for the robotics industry, but for the wider economy. Politicians and civil servants have already demonstrated that they can grasp such far-reaching goals when it comes to AI, and so we now need clear robotics policies to complement the UK Government's National AI Strategy and the Scottish Government's AI Strategy & Playbook.
Collaboration is key. In order to create a healthy and resilient ecosystem – which links world-class R&D to robotics manufacturing and the wider economy – organizations like the National Robotarium have a key role to play in bringing together the public, private, and third sectors. Together, we can map out the RAS that are needed to grow the economy and change lives, and then help stimulate the creation of a manufacturing sector that will link innovative ideas to end users.
Time is of the essence though. Other countries are already making great strides when it comes to manufacturing RAS, and so the UK needs to develop the necessary policies and strategies at pace.
Learning lessons from Denmark
One of the benefits of other countries having already begun this journey is that we can learn from good examples overseas. Denmark offers one such model that's worthy of further study. In a relatively-short space of time – around ten years – the region around the city of Odense has become a hotbed for manufacturing RAS. The robotics cluster that's grown up in and around the city provides a potential valuable blueprint for success here in the UK.
Odense has not only generated its own start-up businesses but has also attracted existing robotics companies to the area. What's more, it's developed two large providers of complete robotics systems, illustrating the potential to develop a complete robotics manufacturing infrastructure.
How did the Danes do it? Based around early success in the R&D field – which we are already emulating here in the UK – Odense then focused on areas including education, skills, development, and testing. Having the appropriate levels of investment available was also a key brick in building the cluster.
Having that access to finance is a crucial step, along with targeted government investment to help stimulate the ecosystem and its infrastructure. Developing appropriate standards is another important milestone, so that a test certification regime for robotic systems is in place, which will allow RAS to be integrated into the UK's wider industrial base safely and efficiently, maximizing their interoperability with other systems.
Having a skilled workforce allows for connections to be made all the way through from R&D to manufacturing and the end users. It's not just about academia or assembly either – as well as world-class researchers and manufacturers, we also need designers, operators, and supervisors. What's equally important is increasing the knowledge and understanding about RAS in the wider education system and throughout society, so that people can use robots effectively and imagine new uses for them.
We're only at the start of this journey. Yet, with solid foundations in place thanks to organizations such as the National Robotarium, the UK has a fantastic opportunity to not only come up with the ideas for robots but also to take them from the laboratory to the factory. The next step is to put the strategies and investment in place to ensure we don't fall behind our overseas competitors.
Stewart Miller
Stewart Miller is CEO of The National Robotarium, the UK's centre for Robotics and Artificial Intelligence (AI). A partnership between Heriot-Watt University and the University of Edinburgh, the National Robotarium helps create innovative solutions to global challenges and rapidly move pioneering research from laboratory to market, developing skilled visionaries and delivering substantial benefits for society.