TAL Manufacturing Solutions
Leading the Robolution
Having identified robotics and automation as a key growth driver, TAL Manufacturing Solutions (TAL) created the TAL BRABO robotic solution, a revolutionary leap forward for India's manufacturing sectority
There are few trends within the world of manufacturing that are set to revolutionise the landscape of the industry more than robotics and automation. What began as rather rudimentary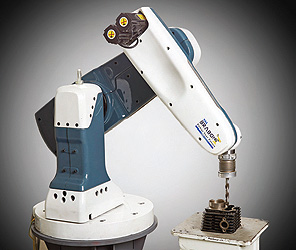 systems have rapidly become smarter, faster and cheaper, while also evolving to take on more 'human' capabilities and traits such as sensing, dexterity and memory. The result has been a global surge in the use of robotics, the number of robots ordered, the amount invested in robotics start-up companies and the number of published technology patents.
"TAL Manufacturing Solutions (TAL) has over 40 years of experience when it comes to implementing robotics solutions," explains Chief Operations Officer, Amit Bhingurde. "Past examples of this include the implementation of robotic welding cells for heavy industries, robotic handling, and pick and place solutions for heavy parts, robotic laser cutting cells and BIW integrated robotic welding lines."
A TATA Enterprise, TAL is a wholly owned subsidiary of TATA Motors. One of the leading companies within India, it has successfully delivered manufacturing solutions to its customers in the automotive, heavy engineering, aerospace, defence and robotics sectors for more than four decades. "One of our longterm ambitions, as we have grown as a business, has been to design and manufacture our own industrial robot," Amit continues. "It was in 2014 that we took a huge step in that direction by creating the first prototype of TAL BRABO."
TAL BRABO is an Indigenous Articulated Industrial Robot (IAIR), built in two variations with ten kilogramme and two kilogramme payload capacity, and 750 millimetre and 600 millimetre reach respectively. Having undergone two years of strenuous testing and validation, TAL BRABO robots made it to market in 2016, and as of April 2017 a total of 50 were installed across the industry. The robot possesses flip back capabilities and its five-axis design, along with repeatability measurements of 0.2 millimetres, allow it to be programmed to take on dull, dirty and dangerous jobs to complement a company's human workforce.
"Creating a product that was reliable, easy to use and to maintain was paramount for us when designing and developing our robot," Amit says. "TAL BRABO can be used for various applications, taking on tasks such as pick and place, the assembly of parts, machine and press tending, sealant tasks, camera and vision based applications, deburring, chamfering, abrading and welding. Together with its significantly low cost of ownership, we strongly believe TAL BRABO will help extend robotic automation solutions right down to the grassroots of the manufacturing sector. This, we feel, will revolutionise industrial production, in fact we like to call it a 'Robolution'."
What is often the case when any new product blessed with state-of-the-art technology is introduced to the market is that it is followed by a certain level of scepticism. This was not the case when it came to TAL BRABO, with the enthusiastic response it received far exceeding the expectations of even its makers. Such has been the reaction to the robot since its launch that TAL is now preparing to unleash the latest upgrade to its ground-breaking creation. "In the coming days, we will be launching the six-axis TAL BRABO welding robot," Amit enthuses. "This welding robot, which can be integrated with any power source, will also feature the same low cost of ownership that we are known for. Here at TAL we have a very strong culture of adopting new technology and entering into new arenas in which to do business. We take great pains to cater to the demands of our customers and the wider industry, which is why we are working to create upgraded versions of our robotic solution and successfully bring them to market."
Recognising just how pivotal robotics, and automation as a whole, will be to the future prosperity of India and the rest of the world, TAL has also recently entered into the education sector. "The concept of robotics is becoming increasingly popular, even down to primary level in schools where students are regularly participating in events such as Jr. Robocon, a national robotics contest for school children," Amit reveals. "In response to this we have created the TAL BRABO Education Cell, which allows students to learn about robotics and automation while studying. By being able to supplement their theoretical knowledge with hands-on practical experience with the Education Cell, students will become acquainted with robotics at an early stage. This allows them to consider a career path in later life that incorporates this technology."
Having achieved its aim of introducing an industrial robotic solution to the market, TAL's next long-term goal is to eventually become the sole provider of innovative manufacturing solutions. "We want to be responsible for spreading a wave of robotics and automation, changing the whole landscape of the manufacturing ecosystem in India," Amit declares. "To do this we will continue to deliver the very best engineered solutions to various industries, expanding our own portfolio through the creation of game-changing products."
TAL Manufacturing Solutions
Services: Manufacturing solutions