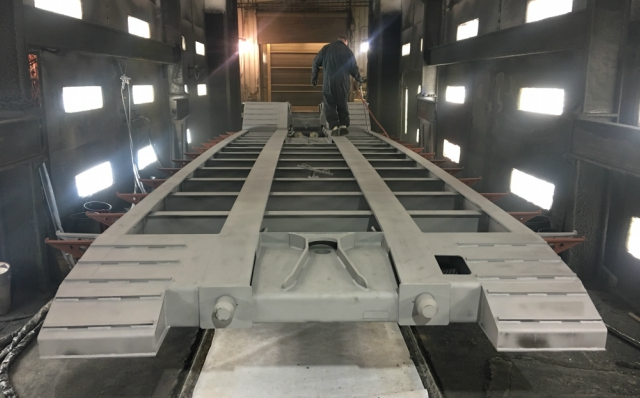 Talbert Manufacturing Inc.
Hauling large equipment from one jobsite to another is no easy feat. It takes highly-engineered and specialized trailers to avoid time-consuming equipment teardowns, multiple trips to jobsites and risk of injury.
Rensselaer, Ind.-based Talbert Manufacturing has been helping contractors from all walks of life transport heavy equipment since 1938. The company, which celebrates its 80th anniversary this year, is known for building world-class heavy-haul and specialized trailers to customer specifications.
"We're a custom solutions manufacturer," says Troy Geisler, vice president of sales and marketing. "We provide unique trailer solutions to our customers."
The company offers complete lines of heavy-haul trailers and specialized transportation equipment for the commercial, industrial, military and government sectors. Its trailers and equipment are used in applications that include renewable energy, aerospace, heavy construction, in-plant material handling, manufacturing and processing systems.
In October, Talbert Manufacturing landed a $17 million contract to design trailers and associated products for the U.S. Army Contracting Command Center in Warren, Mich. The project's planned completion date is November.
Revolutionary Design
Along with celebrating its 80th anniversary, Talbert Manufacturing also is observing the 70th anniversary of its crowning achievement – the invention of the removable gooseneck trailer. "It paved the way for how goods were loaded on and off the trailer and increased safety," Geisler says.
The removable gooseneck trailer gives contractors the ability to load large pieces of equipment onto the trailer by driving them on. The front of the trailer is detachable, which allows the trailer to drop to the ground and create its own ramp.
Designed by the company's founder, Austin Talbert, the removable gooseneck did something that no other trailer had done before its time. It eliminated the need to use wood block ramps to drive and lift equipment up and over axles, saving contractors time and money by making it possible to load and unload machinery faster, easier and safer.
Since then, Talbert Manufacturing has been known for introducing many industry firsts – including a hydraulically-operated non-ground bearing, removable-arch gooseneck trailer.
The company prides itself on its relationships with customers, as well as the durability and longevity of its products. It estimates that 92 percent of its trailers built since 1985 are still in use today.
"We have never been a take-it-or-leave-it manufacturer," President Andrew Tanner says. "If our customers have a need, we listen and then we fulfill it. It's how Austin Talbert made Talbert Manufacturing what it is today."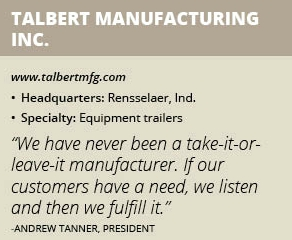 Heavy Hauler
Today, Talbert Manufacturing's product line includes 13 axle trailers, gooseneck trailers, East/West coast spread axle trailers, lowboy trailers, lowbeds of various types, tag-a-long tilt, utility, traveling axle, flat bed and hydraulic tail trailers.
"We have built hundreds, if not thousands, varieties of trailers over the years," Geisler says. "We've built anything from a tag-a-long tilt to a 200-ton plus trailer."
Last year, the company introduced a new versatile 55-ton, heavy-haul trailer with a retractable deck (55SA-TELE). The unit's deck length is 54-feet when open, allowing users to haul a wide range of large equipment that includes bridge beams, conveyors, generators, pressure vessels and tanks.
Operators also can retract the trailer to 32 feet, 6 inches. This shortens the trailer's length to 53 feet, eliminating the need for government permits required for vehicles that are over a certain length.
"Our customers needed a way to minimize costs to remain competitive when transporting the ever-longer loads, and the retractable deck helps them do that," Geisler says. "The 55SA-TELE gives customers the long deck length they need to transport equipment, yet offers the retractable option to fall within legal length on return trips."
The trailer also is equipped with Talbert's ENitro nitrogen-assisted dampening system, which is designed to provide a safe and stable platform that virtually eliminates the bridging of the spreader. This can occur if an entire load rides on the rearmost axle. In addition, the unit features one of the lowest deck heights in the industry (20 inches), which optimizes headspace for taller equipment – thanks to Talbert's four-cylinder hydraulic removable gooseneck.
Finally, the trailer is built with premium, high-strength 100,000-psi minimum yield steel, giving it the durability to withstand harsh day-to-day environments.
Humble Beginnings
When Austin Talbert started the company in 1938, it was a heavy haul, crane rental and construction equipment business based in Lyons, Ill. He quickly became known as a pioneer in heavy-haul trailer safety with his invention of the gooseneck model with removable rear suspension. Since then, the Talbert name has become synonymous with multiple other industry innovations, including removable goosenecks and beam deck units.
Talbert Manufacturing designs and builds its trailers at its facility in Rensselaer. It's the same facility Austin Talbert purchased in 1957 when he sold his crane rental and heavy-haul divisions to focus solely on trailer manufacturing. This is when Talbert Construction Equipment Company became Talbert Manufacturing. Austin Talbert died in 2010 at the age of 97.