Bright sparks
With more than 70 years of experience in the commercial vehicle industry, TAM-Europe is hoping to break new ground with its innovative electric city bus concept
The TAM factory was established in 1947 by decree of the government of the Federative People's Republic of Yugoslavia. With the TAM brand established to give a unified market appearance for various automotive products that were produced in its factory, it went on to become an icon in Yugoslavia with the launch of an entirely new line of vehicles, the TAM 2000 line. Further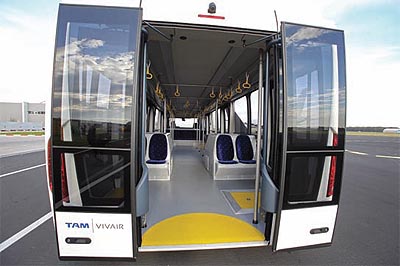 innovations took place over the decades. "The best time for the company was in the 1970s and 1980s when it had 10,000 employees manufacturing 7000 vehicles a year," highlights Bryan Zhao, CEO at TAM-Europe.
Today TAM-Europe focuses on the manufacture of buses that are developed and produced with a real understanding that every detail however small must be just right. Every member of staff operating at the facility is dedicated to doing their job to the optimum level through a teamwork approach that is aided by the fact that everything is done under one roof. The company is able to deliver a carefully crafted product to fit each individual client's unique requirements.
Bridging the gap between eco-friendly vehicles and reasonable pricing, the company's products are split into three segments, airport, coaches and the new electric model. Both airport buses and coaches have achieved significant success internationally. TAM-Europe's VivAir bus is its main attraction. Focused on design, function and comfort, the VivAir series of airport buses include five basic types as well as a VIP version and offers a wide range of options, all of which satisfy IATA and airport safety standards.
Powered by a MAN common rail engine, the VivAir range is equipped with automatic gearbox and retarder and has been a reliable partner for airports across the globe for many years. Moreover, the single engine-driven 44 KW air-conditioned systems ensures passengers are kept cool in humid destinations. While it is known for its versatility and ability to offer passengers comfort on their airport transfer journey, the VivAir is particularly vital to operators thanks to its design around an economical singleengine concept, which utilises quality European components and ensures ease of maintenance and low cost throughout a long working life. These benefits are behind many of TAMEurope's contracts involving VivAir, including a recent penetration in to new markets like Ukraine. With several VivAir delivered to the Kharkiv International Airport so far, TAM-Europe anticipates this is the start of a positive, ongoing partnership. "We are pleased to be a part of this recent modernised airport that is serving more than 600,000 passengers annually," added Bryan.
"Our biggest customer is still T.C.R. in Belgium, one of the country's biggest ground handling operating companies. It has operations throughout Western Europe, from Norway to Spain. TCR is focused on the Spanish market at the moment, which we are involved with. In fact most of the airport buses in Spain are provided by TAM-Europe. Another big customer is a ground-handling subsidiary from Saudi Airlines that operates airport buses in Jeddah Airport. We also have customers in Poland, Ireland, Serbia, Vienna, United Kingdom and many other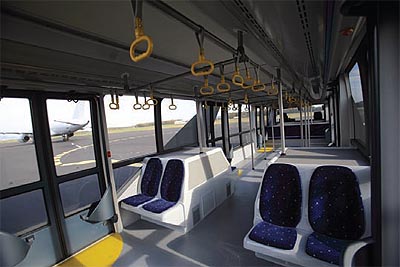 destinations," says Bryan.
TAM-Europe manufactured and supplied between 400 and 500 airport buses in 2016. "There are only two renowned airport bus suppliers in the world, Cobus is the leader with 40 per cent of the market and TAM-Europe is the second. In 2017 TAM-Europe is targeted to achieve a total of 30 per cent. We would be really happy with this figure as the competition is not fierce, it really is a niche market," explains Bryan.
Committed to research and development with the goal of delivering optimum customer satisfaction, the company is focused on providing a quick and flexible reaction to dynamic market demands while also ensuring TAM-Europe remains at the forefront of technological developments in the bus industry. This dedication to innovation is proving fruitful for TAM-Europe, regarding the new EV electric bus. Developed to reduce carbon emissions and to be as efficient as possible when it comes to fuel, the design and manufacture of an electric drive system and fully modular vehicle that can be adapted simply for a multitude of uses has been completed. "We will push the EV bus launch hard as the trend and demand is there. In September 2016 the London Mayor Sadiq Khan unveiled the first fully electric bus route in the capital and London is planning to ban all diesel by 2025. The same is happening all over Europe," explains Bryan. TAM-Europe's electric bus should be ready to go to market towards the end of 2017.
The future is full of opportunities for TAMEurope as it seeks to increase market awareness of its electric bus and source out potential new customers in other European cities. Moreover, the company is certain to continue generating attention for its highly popular VivAir bus, as it is the company's number one selling vehicle.
TAM-Europe
Products: Manufacture buses and commercial vehicles