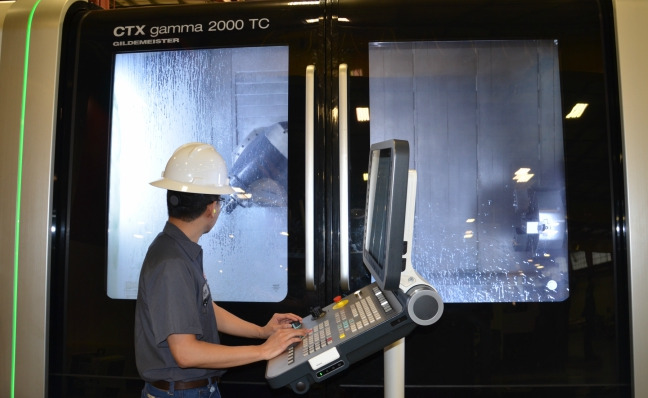 For 50 years, TAM International has remained flexible when serving clients, Vice President of Manufacturing Mark Newman says. "We've been quick to respond and we're nimble in how we do business."
This philosophy serves the Houston-based company well as it provides inflatable and swellable packers to the oil and gas industry, along with associated downhole products and services. Newman explains that six Texas A&M University graduates started the firm in 1968.
Under the name TAM Products Inc., the company sold inflatable packer elements, but its current owners family purchased the firm four years later. Under their leadership, the company changed its name to TAM International Inc. and added field service tools to its offerings.
Over the years, TAM added more products, including the casing annulus packer (CAP) line for annular gas migration control and the TAM-J, a downhole tool with a setting mechanism with a resettable, inflatable production/treating packer. The company also expanded its footprint with
locations in Canada, Latin America, Africa, Europe, the Middle East and the Asia-Pacific region.
Today, TAM has a leadership position with its products, Newman says. "We are the industry standard in inflatable and swellable packers."
"We've focused over the last year or so on the completion tools," Newman says, adding that the company recently won an Innovation Engineering Award from Hart Energy for its PosiFrac Toe Sleeve. The product is designed for cemented and un-cemented completions where a casing pressure test is needed to confirm casing integrity before opening the toe sleeve.
EPIC Products
TAM's Essential Products for Integrity and Containment (EPIC) offer packer and stage cementing systems for life-of-well cement integrity. These include its Casing Annulus Packer (CAP) product line, which consists of casing-conveyed, inflatable packer solutions that provide mechanical barriers in open hole or cased hole installations.
Its 22-inch CAP has a 10-foot seal and is designed to operate with a 22-inch cementing port collar. "The combination of the two tools was developed for a major international offshore operator who requires secondary cementing of the 22-inch casing," TAM says.
The company's HATCH Packer combines TAM's metal-to-metal seal port collar and CAP into an assembly for running with premium production casing. "The V0-rated HATCH Packer is the industry's first integral stage cementing assembly qualified to ISO 14998 V0 Annex A and Annex D, and ISO 14310," it says.
Team Players
A longtime veteran of manufacturing, Newman joined TAM in 2011. "My background is more job shop-related," he says, adding that the company is the first OEM he has worked for.
He credits TAM's success not only to its products, but also its employees and management team, who are the key contributors at the company. "They make it happen every day."
TAM takes great care in recruiting its associates. "We definitely look at experience, but they've got to fit into our culture of who we are," he says.
"We want people to take pride in what they're doing and want to be part of a team," he says. They also have to be willing to push the envelope, Newman adds.
TAM looks for people who are "not settled with the way it has always been or are stuck in a rut. We want people that can follow the process, but also are willing to try to innovate to improve [those processes]."
Changing TAM's Focus
TAM's market has evolved in the last few years. "With the oil pricing being down, we've changed our strategy and focus," Newman says. Some products that were once popular have become commoditized.
To cope, TAM has re-focused efforts in providing service on the inflatable tool side. "We also do a lot of third-party sales, so we support other operators," he says. "That's an area we find important."
The company also has become more focused on its global footprint so it can be more competitive in terms of lead times and costs. "We'll build satellite manufacturers to support a specific product line or customer base," Newman says. "We try to listen to the market and to the customer and satisfy their needs."
For example, TAM's facility in Calgary, Alberta, manufactures products to support that area. "We have product lines that are specific to that region that we support out of that center."
The company also recently opened a new manufacturing facility in Obninsk, Russia, which features more than 11,000 square feet of manufacturing space and over 4,000 square feet of office space.
Located on two acres, the plant has the ability to manufacture up to 4,000 swellable packers annually. TAM adds that it also can handle redressing operations on service tools and offer torqueing if required.
Newman says TAM continues to look at opening more locations where it makes business sense. "There are a couple other areas we're doing the diligence on."
The company also has invested in equipment, Newman says. "We've added [$6 million] in capital equipment and continue to add that in the downturn," he says.
For example, TAM recently moved from traditional manual lathes to Weilers, a cycle-controlled lathe that became a major contributor to improving productivity in its machine shop. "We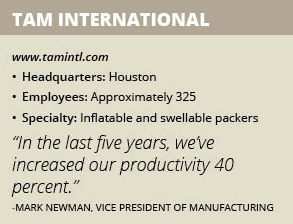 also added Charmilles Wire and Sinker EDMs," Newman says.
The machines allowed TAM to build workpieces out of one piece and improve features of existing designs so they work better. "This is one process that we attempt to keep in house due to lead times from most contract shops," he adds.
TAM also recently added machine CTX Gamma TC 2000 and Beta 800 machines from DMG/Mori. Both multi-function machines gave TAM the ability to combine operations, reduce the number of setups and number of touches. Combined, the two improve quality and throughput.
Although there was a learning curve to using the machines, the hard work benefited TAM, which enjoyed a high percentage of value. "We've recognized the benefit these machines offer and purchased another machine in December," he says.
The new acquisition is a CTX Gamma 3000 TC. "It is identical to our first Gamma except this new machine has an additional meter of turning capacity."
Staying Close
TAM focuses on strong vendor relationships. "We have key suppliers that support us very well," Newman says, adding that the company has many vendors that have long supported it.
As for prospective new suppliers, "We invite them to our facility to let them see who we are and what we're about. A lot of times, we'll work with smaller organizations that are similar to us."
These organizations place a similar emphasis on urgency and customer service. "That model has worked pretty well for us," Newman says, noting that TAM rarely uses job shops with 200 to 300 employees. "We'd rather use someone where our portion is a prominent portion of their business."
A Strong System
TAM places a strong focus on manufacturing quality, Newman says. The company has developed and implemented its own quality management system and operates with the goal of meeting and exceeding the requirements of its customers and the industry.
The company's commitment is reflected by its certification to international quality standards. "Certification to ISO 9001: 2008 recognizes our quality processes as world class as set forth by the International Organization of Standardization, a worldwide federation of national bodies," TAM says.
TAM also utilizes a hybrid of 5S and Six Sigma. Although the company does not follow the methods down to the letter, "We believe that those processes and procedures support the business," Newman says.
"We have deployed that throughout the shop floor, in both equipment and in process through quick-change tooling and having the right tool for the right job. Cleanliness also is very important to us."
But much of the quality is thanks to the employees who build it into TAM's products. "We have a mantra that's called 'Excellence at the Wellsite®,'" he says. "The decisions we're making are providing excellence."
TAM helps promote that culture through training. However, "We don't hire a bunch of non-skilled employees and bring them up," he asserts. "We will hire someone with a foundation, but we try to focus on how TAM does things and train them up to that level."
Together as One
TAM focuses on providing a safe work environment for employees, visitors, customers and contractors. "Our objective is to build a positive, proactive culture in [health, safety and environment] HS&E that is driven by the need to improve and protect rather than a culture driven solely by regulatory requirements," it says.
"HS&E, quality, production and service are not considered separate areas at TAM," it says. "They are woven together as one. TAM is committed to providing quality products and services in a safe and efficient manner."
TAM Pride
Newman is proud of TAM, which recently increased its throughput. "Our productivity has improved considerably over the last three years," he says. This is due to having the right equipment and focus.
By changing processes and implementing new machines, the company has increased its productivity by nearly 40 percent. "We're innovative thinkers," he says.
TAM has encouraged employee involvement from a continuous improvement standpoint. Its employees have developed manufacturing aides, safety improvements, process changes and other improvements.
Most, Newman says, are incremental improvements that add up to double-digit percentages over time. In addition to the mill turns, the company has added rubber extruders to replace rubber calenders. "This change is a major contributor in helping us achieve a TRIR of 0 in 2017.
"It has been a progression," he says. "Our culture has shifted in how we operate. Productivity has improved, but more importantly we are doing it much safer. Our TRIR was averaging in the threes four years ago. This is a company wide team effort and is in direct support of Excellence at the Wellsite."
Newman sees a bright future for TAM. "There's a lot of good opportunity as an organization. We're making the right decisions and we're focused on doing the right things. As long as we continue to focus on Excellence at the Wellsite and listening to what the customer tells us, then we'll be successful."
The company's zero debt status broadens its opportunities for success. "That allows us to take advantage of the market and pricing," Newman says. "We also have an owner that believes in us, and will take those risks, based on our suggestions."