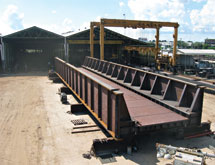 Tampa Tank Inc./Florida Structural Steel
Numerous steel contractors saw their business dwindle when the economy took a turn for the worse in 2008, and there was little chance for a fast recovery because of the specialized nature of this industry. But that wasn't the case for Tampa Tank Inc. and Florida Structural Steel (TTI/FSS), which diversified its capabilities and its geographic reach long before the recession took a grip on the construction industry.
"The market changing and being down the way it has been has not affected us the way it has affected other fabricators," General Manager Dale Ison says.
"Because of how diverse we are, I would say it hasn't affected us quite as badly as it has other people. We're an ASME [American Society of Mechanical Engineers]-code shop, so we're an approved fabricator for doing heavy vessels," Ison adds. "We can basically do any type of steel work there is that comes around."
Tampa Tank Inc. was established in 1953 and celebrates its 60th anniversary in 2013. Florida Structural Steel was acquired in 1984. The companies merged in the mid-1980s and today provide complete design, shop fabrication, shipment, field erection, inspection and testing of welded steel products to customer specifications.
TTI's product line includes shop-assembled and field-erected storage tanks, process tanks, piping, silos, bins, hoppers, stacks, stack liners, ductwork, breechings, bridges, structural steel, special heavy weldments, miscellaneous fabrications and other custom structures in carbon, alloy and stainless steels.
The company also offers tank inspection, repair and maintenance services. TTI operates as an open-shop contractor to deliver field construction work throughout the United States, the Caribbean and Central and South America.
FSS is an American Institute of Steel Construction (AISC)-certified fabricator and erector of structural steel and related products. It specializes in fast-track, on-time and quality fabrication and erection of commercial and industrial structures, steel bridges and complex steel buildings. This division also fabricates and erects miscellaneous steel, ornamental and specialty products in carbon steel, aluminum and stainless steel.
TTI/FSS also owns General Engineering Corp., which specializes in the field construction of domestic projects requiring National Transient Lodge Boilermaker labor. It also performs field construction of tanks, associated steel plate structures, piping, structural steel and related equipment in the Caribbean and Central and South America.
TTI/FSS and its subsidiaries primarily cater to clients in the chemical, oil, power, refining, mining, water and wastewater treatment, air pollution control, pulp and paper, and commercial construction sectors.
Safety is Top Priority
No matter what market it serves, safety always is the top priority for TTI/FSS. Ison says the company is committed to making sure its employees head home safely to their families after every job.
"Safety is always No. 1 for us and also for the general contractors that we work with," Ison says. "We have a safety department, in-house safety standards and safety guidelines for our shop and for our field departments."
The company's training initiatives and reward programs ensure its employees have safety at the forefront of their minds at all times. TTI/FSS believes this has set the standard for a zero-incident workplace.
In fact, in 2009, TTI/FSS reached a milestone by having no recordable lost-time accidents, which it attributes directly to its safety and training programs. The company's total recordable incidence rate dropped from a 10 in 2008 to a 3 in 2009.
The industry has taken notice of TTI/FSS's accomplishments with safety. In 2009, the company earned a safety merit award from the Fabrication and Manufacturers Association for its illness and injury incident rate that was at least 10 percent better than the industry average.
The company also earned an award from the Tampa Safety Council for working 639,996 hours without a lost-time accident from June 28, 2008, to March 31, 2010. Significant improvement Award for 2011 from the National Safety Council Occupational Ex­cellence Achievement Award for 2011 from the National Safety Council.
New Markets
TTI/FSS's recent diversification has brought the company into the liquid natural gas (LNG) industry. Ison says the company builds and erects tank farms for clients in this market, which includes fabrication and installation of high-pressure vessels and related piping.
Although TTI/FSS has similar experience in the petroleum industry, Ison admits the company has had to ramp up its equipment to cater to this market. However, he insists the investment is worthwhile with the amount of LNG work available in the United States and abroad.
"It's the same type of market we've been in for petroleum projects, but it is just a different market because the demand for gas may be increasing," Ison says.
"It is a little different, but we can do it all with the personnel we have and purchasing more automated equipment," he adds. mt