Smarter solutions
From the manufacture of its first GPS antenna, Taoglas has grown into an end-to-end IoT solutions provider, and has set its sights on $1bn in revenue by 2030
When Dermot O'Shea and Ronan Quinlan, both from Ireland, met in Taiwan back in 2003, they already shared a single vision: to start an international electronics business. With that, Taoglas was launched. The company initially sold a select number of components, including GPS antennas, before steadily building up its product offering, securing its first factory in Taiwan in 2015. A series of acquisitions followed, enabling Taoglas to steadily broaden its service offering.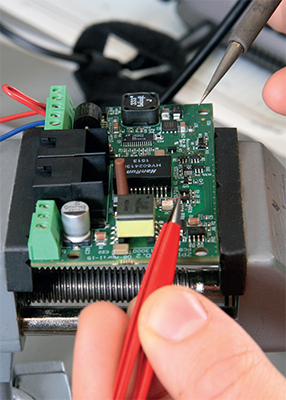 Today, Taoglas's business consists of two main elements. "Antenna, RF and audio represents our traditional components business," explains Dermot, Joint-Owner at Taoglas. "We manufacture everything from antennas, cables and connectors to filters, speakers, and more. It's a great area to be in, because with the launch of 5G, Wi-Fi MIMO, and multi-band GNSS, both connectivity and product complexity are on the rise. Whereas our customers would typically have bought one or two antenna devices, the latest 5G cellular routers have as many as 17 connectors, and for that they need 17 antennas.
"Despite this, size is still critical," Dermot continues. "If you're deploying an asset, whether it's an ambulance, police car, or field device, you don't want to have to install 17 antennas. Therefore, we've launched combination antenna solutions with options up to 17:1. Customers can drill a single hole in their roof, or make use of our adhesive mount solution, for a quick and easy install that still has all the antennas you need, with the capability to operate efficiently even when they're in close proximity. It's a fine example of our design expertise, and how we've been able to overcome key challenges with innovative, high-performance solutions."
For Dermot, this design capability is one thing that sets Taoglas apart. "We have more than 100 engineers experienced in the design and manufacture of products," he reveals. "Often, you see companies design something cool for their customers, but lack the required manufacturing capabilities to bring it to life. We have the experience to be able to achieve that consistently, delivering 100 percent quality, and testing everything before use. We're automotive and medical device compliant, and we have longevity: with 18 years of the same ownership structure."
The second key element within Taoglas's offering is its range of custom IoT solutions. "What's complex about the IoT market is the volume of customization involved," Dermot tells us. "Customers rightly want a bespoke solution for their business, and it's for that reason that the market as a whole remains fragmented: when a company wants a customized connected device designed and manufactured, that requires considerable resources, and very quickly you reach the limit of what you can take on.
"We're trying to scale that," Dermot insists. "It's like a flexible, modular design service. We would incorporate our component into your solution, and use our engineering capability to get you to market quickly."
One such beneficiary of Taoglas's innovative approach to the IoT is medication adherence technology company HealthBeacon. "Among their solutions is a smart syringe disposal unit," Dermot indicates. "When a patient disposes of a syringe, the solution has the ability to take a picture of the used medication. To create that, they took the base system we already had, and added a camera capable of recognizing a barcode and reporting the information up to a platform.
"We already had the hardware and the system, it's just a matter of adapting to their needs," he adds. "Now, the insurance company and the pharmaceutical company know the date, time and volume of medication taken to ensure medication adherence and they're able to verify that you're not using counterfeit products."
In 2021, Taoglas announced that it had completed yet another acquisition, Brisbane-based Smartsensor Technologies, an established end-to-end IoT provider, and pioneer of smart waste management solutions. "The solution amounts to a smart sensor that you install inside a bin, which then reports the trash level," Dermot explains. "That information is sent back to a digital platform, which then automatically routes council trucks in the most efficient way to collect that trash. By emptying the bins only when they're full, not only do you save on fuel, you also save on labour costs, with proven yearly cost reductions totalling over 40 percent."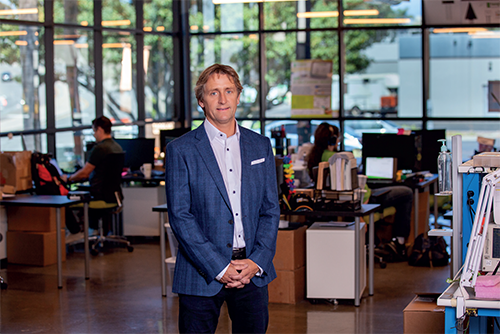 For its customers to utilize the software, Taoglas charges a monthly management fee. For Dermot, it's this that made the acquisition of Smartsensor Technologies such an attractive proposition. "We're traditionally a component provider," Dermot points out. "But within the IoT space, a recurring revenue model is crucial, and we're no different. We've tried to establish that in the past, but starting from the ground up, it's very difficult. Acquisitions, however, allow you to move into a new area much faster, and in the example of Smartsenor Technologies, that's what we have."
Taoglas believes that smart waste is an area ripe for exploration. "There's an awful lot of opportunity," Dermot remarks. "We're currently working on a project to detect contamination. On construction sites, for instance, waste will typically be separated into concrete, plastic, and more – all valuable waste. But one issue, particularly in places like Canada and Australia, is that people will dump toxic waste into the same dumpsters.
"To go with the Smartsensor technology, we're therefore working on a smart vision solution," he goes on. "It amounts to an additional camera, which can then be used to detect not only the presence of toxic waste, but whether there's an animal present, or any other contaminant that the customer needs removed."
These innovations aren't going unnoticed. In 2021, Taoglas was awarded 'Smart Agriculture Solution of the Year' at the 2021 IoT Breakthrough Awards Program, for its industry-first, self-cleaning silo monitoring IoT solution for farmers, wood-pellet and biomass users. A partnership with LvLogics, the solution provides accurate and reliable silo levels.
"A big problem with silo monitoring is that there's so much dust and dirt flying around, it clogs up traditional ultrasonic and optical sensors," Dermot says. "LvLogics had a specific solution that included a self-cleaning mechanism. We were able to connect that to our EDGE hardware and our EDGE Insights system to enable the user to view the measurement from any device or receive an email alert when the level reaches a set threshold."
Despite its success, recent years haven't been without difficulty for Taoglas. Like all businesses, the company had to grapple with the challenge of Covid-19, combined with ongoing chip shortages. "Our factory shut down at the very start of the pandemic," Dermot recalls. "Although we quickly got things back up and running, many of our customers remained closed for business."
Dermot believes that the company has navigated supply chain challenges better than most. "Our factory in Taiwan has a very established, mature management team," he emphasizes. "Lead times returned to normal last September, where some of our competitors are still quoting up to 27 weeks, or even a year in certain cases. Because we've done a fantastic job, we've seen our business grow. In 2021, we saw a huge jump of 40 percent growth, and we're on track for 25 percent growth this year."
The company also benefits from a robust supply chain. "We're not just reliant on a single place," Dermot confirms. "We manufacture in Taiwan, China, and Vietnam, and we're opening up an additional facility in APAC later this year. We also have final assembly in San Diego in the US, and in Ireland, and we've even run some urgent full assembly projects through those operations where it was necessary for our customers. It's more expensive, but at the end of the day, sometimes it's just about speed."
Looking ahead, Taoglas has high hopes, with a target of $1bn in revenue by 2030. "To achieve that, it'll be more of the same," Dermot concludes. "We're launching new product areas in our components division, and we're actively pursuing acquisitions. We're also hoping to take our smart waste solution globally, with a particular focus on the US. Our profits will be reinvested back into growth, and we'll be seeking out new opportunities wherever they emerge."
Taoglas
www.taoglas.com
Services: Antenna, RF, audio and IoT solutions