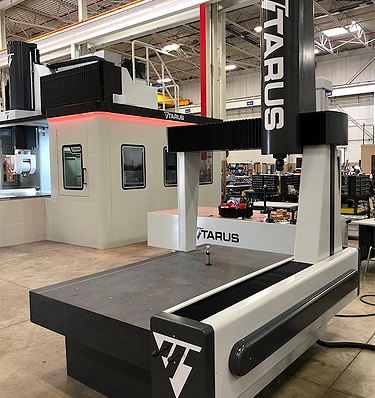 TARUS Products makes changes to improve processes and products for the next half-century.
TARUS Products manufactures four different product lines of machines, making it unique among competitors. Those machines are 5-Axis CNC Milling Machines, multi-Axis CNC Deep-hole Drilling (sometimes called "gun-drills") Machines, 5-Axis Design Studio Milling Machines and Coordinate Measuring Machines (CMM). "Most of the TARUS competitors specialize in only one of those," Vice President Douglas Chase says. "A customer, such as a mold and die shop, can come to TARUS for a 5-Axis Milling machine, a gun drill and a CMM – all from same manufacturer. They are able to get synergy across product groups."
The machines are mostly standardized for manufacturing efficiency, but offer a range of options. However, TARUS was founded in 1969 by Doug Greig Sr. as a builder of custom machine tools and it will occasionally still completely customize a machine for a client.
The company's main customers are mostly within five industries; aerospace, automotive, energy, mold and die and general industry. Those customers are seeking machines that deliver high-quality parts with a high level of accuracy and precision.
Since TARUS was founded 50 years ago, its competition has increased around the globe. "Customers, when looking at acquiring a machine, they typically will do a global search," Chase says. "We ship machines all over the world."
To service customers worldwide, the company has support partners in Sweden, India, China, Japan, Canada and Australia.
Reliability and Service
The U.S. Midwest has the highest concentration of mold and die manufacturers anywhere in the world. That works to Michigan-based TARUS's advantage. "We're one of a very few machine builders in the United States building what we build," Chase says. "'Made in the USA' is important to a lot of our customers."
Another advantage is the company's competitive pricing and direct service support. "You get more machine for the money," Chase says.
Equally important to those customers are the reliability of the machines TARUS builds. "They define quality by machine up-time," Chase says. "TARUS is historically known in the industry as building one of the most durable machines there are. It is not uncommon for TARUS machines to still be operating decades later. While the company still builds extremely durable machines, they have added a lot more features and improved performance significantly."
TARUS machines are built to last and come with the longest warranty in the industry, Chase says, but should a customer require any support, TARUS has a 17-person service department available. TARUS services its customers either directly or by using one of their support partners depending on customer location. "Many of our competitors are off-shore," Chase says. "It is
common for those competitors to use distributors to aid and support equipment. Many overseas competitors have difficulty providing timely service simply due to geographical distance. This presents challenges to customers using their machines obtaining in- warranty and after- warranty service support when they need it. As a result, they can experience longer machine down-time waiting for needed support."
Embracing Change
In 2015, Doug Greig Sr. retired and his sons Dave and Doug took over the reins of the company. Over the past three to four years, the company has initiated numerous changes; enhancing product lines, improving processes, reducing cost of quality and increasing flexibility – allowing TARUS to offer some of the best machines they've ever produced. Continuous improvement is the guiding cornerstone that drives the day-to-day operations of the company.
"It's the old cliché: change or die," Chase says. "In TARUS's early years, they were market leaders and innovators. Over time, the competitive landscape has changed, customer requirements have changed and technology has changed. Now, the conditions and the market has forced the company to make the changes necessary to prosper for another 50 years."
In its earlier years, TARUS was vertically integrated, outsourcing mainly raw materials. "As technology changed and customer demands changed, sometimes that philosophy can limit you in being able to keep up with those changes," Chase says.
In recent years the company has begun to outsource more assemblies, sub-assemblies, controls and milling heads. "They offer latest technology and improved reliability and more features," Chase says of TARUS vendors.
Another example of changes can be seen in TARUS' on-floor machine designs.
When setting up a large machine on a shop floor, it's typical for substantial pre-foundation work to accommodate the placement of the machine. This foundation work can include concrete pits of various configurations below floor level. Such pre-foundation work can easily cost $80,000 to $150,000 or more, Chase says. TARUS' on-floor machine designs ameliorate or eliminate the pre-foundation work thereby saving the customers the substantial pre-foundation work costs upfront. This feature provides high value to customers.
While the company has always been interested in improving its products, it has embraced lean manufacturing principles focusing on minimizing waste within manufacturing systems while simultaneously maximizing productivity. TARUS has a formal QMS in place along with CIP throughout the company focusing on improving effectiveness, satisfaction and standardizing processes – making things repeatable and well-organized. Related to that, TARUS is working toward ISO 9001/2015 certification, which it anticipates obtaining by third-quarter 2019.
The company uses TPI Shop, an ERP System TARUS created for most processes involved in the daily operation of the company. Key focus areas include sales, accounting, purchasing, service, task management, order entry, inventory, cost analysis and time attendance. TPI Shop is unique in that costs, project timing and accounting can all be done in real-time which helps keep projects within budget and on-time. Everyone in the organization has access to it, which improves communications.
"Obtaining real-time accounting and costs are key," Chase says. "With many other competitive ERP systems, you have to wait a period of time to run a report." TARUS offers TPI SHOP as a stand-alone ERP system product available to customers as well.
Change sometimes doesn't come easy. Implementing new software and controls, for example, took longer than management originally anticipated – causing product launch delays. "During the past three to four years, the growing pains were significant in the early going," Chase says. "[Now], the company has embraced change and we are improving every day and every week."
Treating Employees Fairly
With low unemployment, TARUS finds recruiting talent can be difficult. "We are in the greater Detroit area," Chase says. "The skill level of talent in this area is very high and there is essentially a shortage of qualified people available which makes hiring needed people extremely challenging."
TARUS tries to catch potential workers young. It offers plant tours to teenagers from local high schools and hires interns from colleges. "We try to nurture, train and grow them, enhancing their skills to the point where they would want to stay," Chase says.
The company also works to retain its existing employees. "You treat employees fairly and make sure they are paid competitively," Chase says. "You do what you can to give employees an opportunity to acquire more skills and responsibility. You provide cross-training and work-related flexibility, allowing employees options to work in other areas of company. Offering top-notch health care benefits, all-employee town halls, PTO, and a family-friendly and employee-friendly atmosphere are just a few of the advantages TARUS offers. TARUS has very little turnover, most of the company's employees have been here a long time. Employees here have a voice and direct access to ownership."