Prints charming
At the forefront of litho print for more than 75 years, Taylor Bloxham has strategically diversified its services to become the communication partner of choice for its growing customer base
Since its establishment in 1938, Taylor Bloxham has developed its reputation to become a recognised name when it comes to optimum quality printing services. Understanding that every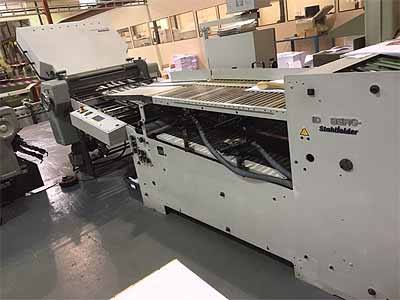 image is unique and that each job requires specific attention to detail, the company is a pioneer in ultra-high definition litho print with standards of quality in this arena that are unparalleled.
Over the years, Taylor Bloxham has embraced the evolution of the print market, making the strategic decision to diversify into complementary areas such as digital print, direct mail, fulfilment, e-commerce and retail point of purchase. Discussing this development is Robert Lockwood, CEO of Taylor Bloxham: "Around eight years ago we were still a traditional lithographic print company, however all analysis available said this would be a difficult market to operate in. Because we have great connections with marketers, who we produce for, and had previously had requests for non-print support, we took the view that we needed to increase the scope and scale of our non-print activities.
"The most obvious and simple evolution, was that most of the printed material we were producing required storage and distribution, so we began to offer this service for clients. Once we got our heads around this development, we began offering more broader direct mail facilities for non-print clients. Two years on, we dabbled with wide format printing and saw there was a great market with point of sale. With this going well in the market we now have a business that is 50 per cent litho print in terms of manufacturing, while the other 50 per cent of our operations is focused on direct mail, which we have expanded significantly over the last eight years; our point of sale facility has been developed into a dedicated site and has all of the latest wide format and printing and handling equipment. Furthermore, we have a dedicated, significantly sized warehouse for handling the merchandising of people's marketing materials."
Following these major milestones in the company's history, Taylor Bloxham today is split into three brands under the group's umbrella: Taylor Bloxham, which focuses on lithographic printing, ultra-high definition printing, digital printing, wide format printing, large format printing, digital asset management and augmented reality; Fastant, a multi-channel marketing communications company that focuses on direct mail, data fulfilment, fulfilment, bulk postage, data cleansing, cross media, e-commerce, email marketing, web2print, digital print solutions and point of purchase; and Instore, which designs, creates and delivers uninhibited creativity for retail brands. Pushing the boundaries against the norm with the goal of creating unique, stand-alone designs, in-store focuses on point of purchase, retail, creative design, 3D structural designs, installations and store surveys as well as prototyping and manufacturing.
Naturally, this diversification of services without the sacrifice of quality, attention to detail and craftsmanship that Taylor Bloxham is known for has resulted in the company generating new business and gaining a stronger customer base, as Robert comments: "The litho print part of the business has always been positioned as high quality, thanks to our ongoing commitment to go above and beyond when it comes to meeting the expectations of customers, so what we have tried to do is take this philosophy and put it in each of our offers.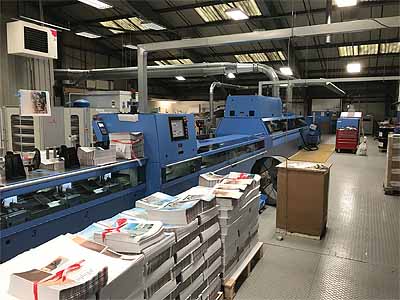 "As a result of this, we have been introduced to new clients that only use or require specific manufacturing in one of the operations we offer. One of our largest clients is Arcadia, for which we handle a lot of their point of sale business; this is the only service they come to us for, but Arcadia knows the design led element is vital to our fantastic staff and that we offer a complete service starting from creative ideas right through to production and installation. We also deal with L'Oréal, for example, in the direct mail part of our business only as we provide their direct mail sampling service."
To stay ahead of the competition and attract blue chip customers to its services, Taylor Bloxham makes strategic investments in the upgrading or replacement of its facilities, with the most recent examples of this including the upgrade of a wide format print capability, which is comprised of a HP Scitex 11,000 high speed industrial flatbed printer and a Fuji Acuity flat bed printer, which enables it to handle white and higher quality prints. "The latter investment means if someone wants a very small print we can handle that to a high degree of quality. We have also installed a new Muller Alegro perfect binder line and a Muller Primera saddle stitching line in September 2017, and currently operate with four 12 colour litho presses that cost £4.5 million each. We have a very pragmatic approach to investment, instead of investing in the latest machinery, we invest in something appropriate that will support the business; it is all about having high speed, high quality equipment that will boost efficiency and quality and help take the business further."
Alongside investments in machinery, the company has also moved the point of sale operation into a dedicated facility in August 2017 and invested another £1 million in equipment for this segment of the business. These strategic investments will ensure Taylor Bloxham's evolution as a marketing service provider for higher end customers continues smoothly over the coming years, despite uncertainty in the market caused by Brexit and companies facing tighter budget restrictions. "The death of the litho print market has been exaggerated, but the market is competitive. With this in mind, litho print will remain a significant part of our business while the other three non-print activities continue to grow in a market that has space for them," Robert concludes.
Taylor Bloxham
Products: Print, direct mail, fulfilment, e-commerce and retail point of purchase