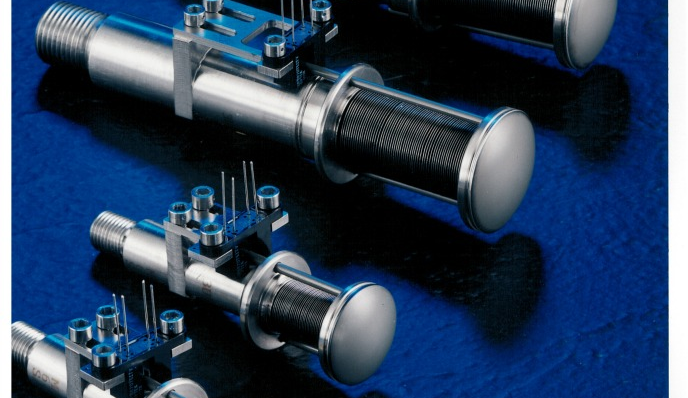 Some firms offer only off-the-shelf solutions, but Taylor Devices Inc. thrives on doing custom work, CEO Doug Taylor says. When a client approaches the company, it listens to their problems.
"We have to decide what the solution would be," he explains, noting that this can range from something simple to the more complex. "You'd be surprised at the number of the customers that cannot use an off-the-shelf product."
Based in North Tonawanda, N.Y., Taylor Devices specializes in shock and vibration control products including shock absorbers, dampers, buffers, isolators and springs. Taylor's father, Paul H. Taylor, started the company in 1955.
"He had been an aeronautical engineer for the Curtiss-Wright company and worked his way up to vice president of the Buffalo, [N.Y.], plants," Doug Taylor says. But when World War II ended, Paul Taylor was laid off and tried working for the tool and die business.
"He wasn't so happy with that and wanted to get back into something related to airplanes," his son recalls. "He said, 'I'm going to start a small company, make hydraulic parts and sell them to the airplane companies.'"
One of the first inquiries Paul Taylor received was from the U.S. Navy for an arresting hook centering spring, which will snag the cable of a jet when it lands on an aircraft carrier. After fixing it for the Navy, Taylor Devices thrived.
"We ended up building 12,000 of those for the U.S. Navy over the next 30 years," Doug Taylor says, noting that the company makes them to this day. "We still have some countries that purchased older aircraft from our Navy, and we're still seeing them today."
Paul Taylor also ultimately split his company's focus between serving the aerospace and commercial markets, so Taylor Devices would avoid laying employees off and market failure. "He didn't think it would be possible in the normal U.S. economy for both of those sectors to be down," his son says.
"For the most part, he was right," Doug Taylor continues, noting that 40 percent of the company's work today is for the aerospace sector, while the remainder is for commercial clients. "We tend to put our current marketing efforts in the aerospace end to bring it to a 50/50 mix."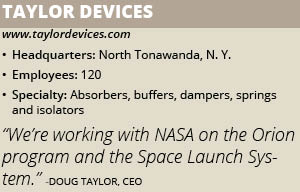 Up to the Challenges
Taylor began working for his father's company at the age of 14, mowing its lawns. "When I turned 16, I became a real employee here as an assistant maintenance person," he recalls, noting that he worked his way up to the role of president when his father retired in 1991.
He credits the company's success to its ability to serve its customers' most challenging needs. For example, "We're working with NASA on the Orion program and the Space Launch System," he says.
Most of its commercial work, he notes, consists of earthquake dampers, which can range up to 45 to 50 feet long. "Buildings and highway bridges all over the world [use them] with the purpose of damage reduction and life safety if they have an earthquake," Taylor says.
The dampers, he adds, can require significant customization. "Everything has to be worked out to get the damper inside a building or bridge," he says. "We're probably the only firm in the world that does this."
Built to Last
Taylor Devices' customer base includes nearly every branch of the U.S. Department of Defense, Taylor says. "On the commercial end, our customers are the building owners," he says, noting that this is an ever-expanding base for the company.
Whenever a project is at work in a high-seismic zone, "They've got a need for our products," he says. "Obviously, we're real active in California, Washington and Oregon."
The company's work also has taken it overseas, which has included providing dampers for London's Millennium Bridge. When it originally opened, the bridge had to be closed 48 hours later due to excessive motion. This earned it the nickname "the Wobbly Bridge," Taylor recalls.
"They came to us and we said, 'We can fix it,'" he recalls, noting that the company installed hermetically sealed dampers that it originally developed for NASA. "We put 37 of these special dampers on the bridge and it was fixed essentially overnight."
A crowd of 2,000 people, along with helicopters and Her Majesty's Coastguard ships witnessed the final test for the bridge. "The test went perfectly and it no longer wobbled," he says. "We expect the dampers to last at least 50 years on the bridge."
Exceeding its Goals
Taylor Devices plans for expansion, Taylor says. "Our goal has been to grow with our own cash at a rate of roughly two to three times the rate of inflation," he says. "We exceeded the goal over the years at a pretty good amount.
"There's always funding going on for new programs," Taylor says. "We're constantly being asked to develop new programs by the aerospace industry."