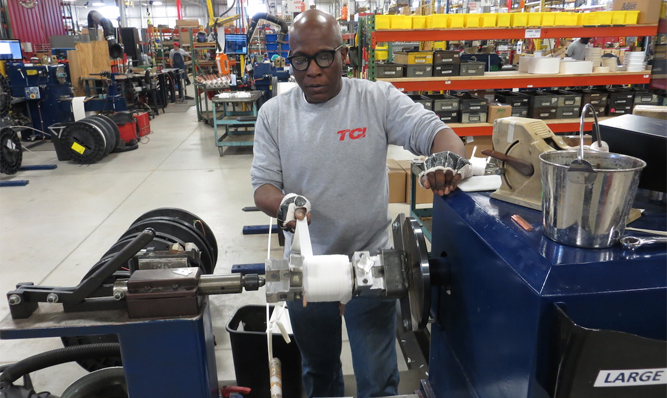 The variable frequency drive has been a boon to manufacturing plants, wastewater treatment plants and other industrial users. For example, a wastewater plant's pump motors used to run at a single speed dictated by the frequency of the electrical power they received. That necessitated use of a choke valve to slow the flow of water to the desired level. Now pumps have variable speed drives and can slow or speed up their motors to achieve the correct flow or pressure.
If the variable frequency drive has been a boon to industrial users, harmonic distortion has been its bane. The use of these drives can create an unwanted side effect: harmonic distortion on a plant's electrical grid. "Twenty years ago, you had one variable frequency drive in a plant, and that would be the norm," TCI LLC President and CEO Ashish Bendre recalls. "Now you're getting equipment where 30 to 50 percent of your loads in modern plants are variable speed drives or some type of power electronic load that generates harmonics on the grid."
TCI's harmonic filters fit between a plant's power grid and a variable frequency drive or other type of power converter, such as an uninterruptible power supply or welder. "If you have a power quality problem, we can provide a solution," Bendre declares. He estimates approximately 1,500 distributors offer TCI products mainly in North America, although the company's business in South America has increased over the last three years.
"We work with facilities where there's an installed base or a planned expansion of drives to make sure that they are in compliance with a utility's specifications," Bendre continues. "The utility doesn't want the user to draw primary harmonics off the grid. So at some levels, it's an accessory product to power converters." TCI's filters operate with equipment that runs at thousands of amperes and hundreds of volts.
One important use of TCI's harmonic filters is in the energy industry. "A lot of these deep oil wells have motors that are 15,000 feet underground, and the drive is up on the top," Bendre notes. "So with those really extra-long cables, our filters go in-between the motors and the drive to protect the motor. That is a big deal when the motor is down 15,000 feet – it's very expensive to pull the motor up and service it."
Active and Passive
TCI's harmonic filters range in capacity from a few amperes up to 1,500 amperes. They can be passive filters that do not adapt to varying electrical loads or active ones that do. The passive filters are usually manufactured from steel and copper and resemble transformers.
Active filters act more like live cancellation systems. "You measure the harmonics and then correct for them by injecting the opposite electrical current into the grid," Bendre explains. Other TCI filters fit between the power converter and the grid, or the power converter and the load to provide full-feature filtering.
Sometimes, a single TCI filter will handle a number of power converters or motors. The company's largest electronic filter can handle up to nearly 1,500 horsepower of variable frequency drives. "Instead of placing all these little filters in front of every drive, they put one unit upstream which takes care of the entire plant," Bendre explains.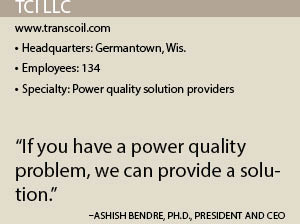 More data about a plant's entire operation is being collected electronically. "When you have electronic products, you can monitor the quality and the usage," Bendre points out. "That is where the technology is going – more and more electronics, and more and more intelligent products. We are the only manufacturer in the United States that makes both electronic and passive products in the same location – nobody else makes both."
A competitive advantage for TCI is being a one-stop source for all of a company's power quality equipment. "We can mix and match active and passive solutions so you can end up with the best performance point at lowest cost," Bendre says. "Or sometimes cost is not the issue – space is the issue. So we can provide solutions that optimize space or other factors, like customers want redundancy. Because we have all these solutions available – all designed, built and manufactured here – we can provide the right solution for any application."
The company's website includes the HarmonicGuard Solution Center, which enables anyone that registers on the site to model their system. They can determine whether they need harmonic filters at their plant, and if they do, it allows them to mix and match different ones to see which models or combinations work best.
New Plant
TCI upgraded its own manufacturing plant in 2014 by moving from a 33,000-square-foot facility in Milwaukee to a 66,000-square-foot one in nearby Germantown, WI. "We were able to set up our manufacturing so there is a nice flow in the facility we have today," Bendre says. "That has been a tremendous benefit with the new facility to improving efficiency on the floor."
This has enabled TCI to ship approximately 25 percent of its products in four hours instead of three days in the old facility. The company now ships approximately two-thirds of its orders within three days, much faster than the industry average of two to four weeks. "I think this is pretty impressive in terms of what this new building has allowed us to do", Bendre says. "It has allowed us to build up the right type of inventory to really get that number from three days down to half a day.
"The way we set up the products is they use a lot of common parts, and the common parts are what we stock in inventory," Bendre explains. "When an order comes in, it looks like a custom order, but it's not really. It uses 90 percent of the same base parts, and it's only the few other parts that you need to make."
For the future, Bendre anticipates the company will broaden its offerings into other power quality products such as power factor controllers, surge protectors or current-limiting devices. He attributes the company's success to its willingness to listen to customers. "We've always been very focused on the customer and how to really bring our customers something that would be perceived as valuable by them, and if it's not, we usually don't do it," Bendre says.
He also attributes the company's success to its employees and culture. "There's a real entrepreneurial, can-do culture where people are willing to take risks," Bendre observes. "Our success is a combination of focusing on the customer, and then having a tightknit group of really high-quality people that work well together."