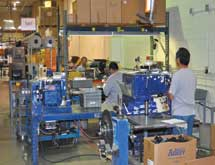 After 45 years, TCI LLC has become a well-known firm in the variable frequency drive (VFD) industry, according to Presi­dent Steve Copp. "We have de­veloped what we be­lieve is the most comprehensive selection of filter product solutions and what many also consider as the most knowledgeable team of engineers and technical support professionals in our industry," he says.
The Milwaukee-based company manufactures power-quality products for industrial and commercial applications. "Our products protect variable speed drives from the effects of power surges, [and] that filter harmonic distortion from power transmission systems," Copp says. "They [also] protect the insulation systems in electric motors being powered by variable frequency drives."
TCI started operations in 1966 as a four-person, coil-winding shop. Five years later, Kerry Shoemaker ac­quir­ed the company and rebranded it as TCI (Trans-Coil Inc.) By the mid-1980s, Shoemaker and his lead engineer, Dean Mehlberg, created and marketed a standard version of a line reactor that offered a technical alternative to isolation transformers.
In 1994, TCI added passive harmonic and dv/dt filters to its product lines and implemented cellular manufacturing processes at its plants. "The impact of those decisions [morphed] TCI from a regional manufacturer to one with a sales network and customer base that extended through the lower 48 states and Canada by 1996," Copp says.
Today, TCI has a global reach that includes all of North, Central and South America. Copp adds that it regularly supplies products to its clients more efficiently than competitors. "Over the years, TCI has built its business processes around time based manufacturing (TBC) methodologies," he says. "This allows the company to manufacture the majority of its standard product in one [to] three days.
"Because of TCI's short lead times, the vast majority of the electrical distributors selling TCI product no longer have to maintain shelf inventory," he adds. "Our external customers are principally VFD OEMs, their distribution networks and system integrators," Copp says. "Their singular most im­portant expectation is that TCI meet every commitment we make to them."
TCI knows its suppliers are also part of the reason for its success. "[TCI] has high performance standards for suppliers, but is also very loyal to them on every level," Copp explains. "It understands they have to be profitable too, and works closely with suppliers to make doing business with TCI as seamless as possible."
Eliminating Time
TCI focuses on making its operations more efficient and has implemented quick response manufacturing (QRM) and lean methodologies. "Everyone knows about lean, but few are aware of QRM," Copp says. "Our principal emphasis is eliminating 'white space' or order queue time."
According to Copp, QRM studies show that queue time comprises the majority of manufacturing lead-time and can increase costs. "Those studies revealed a three-to-one relationship between times and process cost," he says. "For every 3 percent of time eliminated from a step in a process, the cost of that step in the process is reduced by 1 percent."
The company has experienced exactly those results after applying QRM techniques, Copp reports. "We use the technique to create a dynamic, fluid work force capable of being deployed to any of our business system functions based on point-in-time demand," he says.
"TCI utilizes cross training in every functional area of the business with the Manufacturing area having the largest number of cross-trained em­ployees," he says. "Backup resources exist in every area of the business two to three levels deep. This depth has allowed the company to steadily improve service levels to the market and dramatically increase sales with virtually no increase in employee count."
Back on Track
A longtime veteran of manufacturing and distribution, Copp joined TCI in 1989 as its comptroller. He became president in 2002. "My entire in­volvement with this technology and the variable frequency drives industry has occurred while at TCI," he says.
"I've been on the learning curve for 22 years," he adds. "The competitive landscape of our business environment is so dynamic and the rate of change so rapid, I can honestly say I'm learning something new almost daily."
Copp says the company is set apart by its management team and employees. "Both groups strongly believe there are several important things that differentiate our company from others," he says. "We strive to consistently offer the shortest lead times available, superior customer services and technical support to customers.
"We are constantly looking for ways to improve the customer's experience with TCI and make it the best among all the customers' suppliers," he stresses. "So when TCI doesn't meet that standard, our people at the company see it as an opportunity to improve."