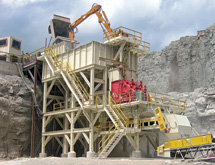 TCI Manufacturing & Equipment Sales Inc.
Mike Maynard, president of TCI Manufacturing & Equipment Sales Inc., knows that great equipment is important in his business, but he also acknowledges that the most important tool for the success of his company is its people.
"The key to any company is the quality of the people who work for that company," he says. "At our company we have excellent people who live and breathe TCI. We have extremely low turnover and we have several people who have worked together [in the industry] for more than 30 years."
Building for Growth
Experienced people, innovative machinery and the right relationships have resulted in continuous growth – even when the industry that had provided the largest amount of work for TCI started to slow down.
"When the construction aggregate industry started slowing down in 2008, the [fracking] sand market took off," explains Jack Ackerman, TCI sales manager. "TCI had been doing business with those companies before the fracking boom hit, so there was already a relationship established, which put TCI in a very good position."
The company is also strategically located close to some of the largest frac sand suppliers in the Midwest.
To accommodate its consistent growth, TCI has expanded its manufacturing facilities twice since the company opened its doors in 2000. The first expansion, completed in 2008, added 26,000 square feet of manufacturing space, with new equipment and a complete safety program in place.
In 2012, TCI had to expand its facilities again to accommodate customer demand, adding 32,500 square feet of manufacturing space with more tooling and overhead cranes designed to increase the company's production capabilities and efficiency.
"One of the reasons that spurred the new addition is that, for the last three years in a row, we have had to turn down projects because we couldn't meet delivery dates," Ackerman explains. "So we increased our [manufacturing] capacity to meet those timelines for our clients."
The new manufacturing expansion is complemented by a new 4,000-square-foot office facility that was completed in March, and accommodates the purchasing, accounting, and sales departments as well as a growing engineering department.
Creative Tooling
TCI has some standard equipment that it sells at aggregate machinery retailers across the United States, Canada and Mexico, but the company also offers a variety of custom solutions, Maynard notes.
"We can design, engineer, and fabricate anything, from a small conveyor to a complete plant project," he says.
While some companies specialize in certain areas, such as screens or conveyors, TCI has the capabilities to bring it all together as a package, from the engineering to installation.
The company recently proved its versatility when one of its clients was presented with a unique challenge. "The customer needed to convey a large amount of sand over an area of heavy traffic, both inside the plant and then also crossing a county road," Ackerman explains. "We designed a solution that would elevate the conveyor high enough to get above the traffic, incorporating custom-engineered supports which would allow a greater span between them, so they wouldn't interfere with all of the traffic."
The solution implemented by TCI consisted of a two-phase conveyor system with a capacity to move 500 tons of sand per hour. The first phase of the conveyor covered 400 feet and the second 200 feet, with both suspended 30 feet high.
"The conveyor also had to go between buildings and around other obstacles," Ackerman explains. He describes it as looking "like a suspension bridge with 70-foot tall tower supports that have cables and rods that support the conveyors."
Welding School
The high demand for its services also meant TCI needed to increase its workforce. The company's location in a rural area means that access to trained and qualified personnel can be challenging.
Taking a proactive approach to the problem, Maynard started its own welding school to train the company's own workforce.
"We started the program in October [2012]," Maynard says. "It is available for anybody in the area who is either unemployed or underemployed, and who is looking for a job in manufacturing."
The program accepts a maximum of eight people at a time and meets for 10 weeks in the evenings, covering a variety of topics that prepare people for a job at TCI.
"We educate them on OSHA for safety reasons, so they're familiar with our safety program," Maynard explains.
"We also teach them how to use hand tools properly, basic blueprint reading and welding."
TCI does not charge for its course and offers jobs, as they become available, to applicants who excel and prove their reliability by showing up for every single class and demonstrate a high level of enthusiasm and interest.
With its new manufacturing and office facilities in place, and a program to secure qualified employees, TCI is poised to continue its growth. In keeping with its proactive approach, the company has purchased land close to its current plant to enable another expansion when the time comes.