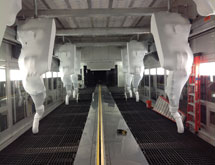 For more than a quarter-century, TD Industrial Coverings (TDIC) has striven to design and manufacture the best covers available in the world for robotic and other industrial applications. The company has sought to develop long-term relationships with original equipment suppliers by providing them with a variety of durable, reliable and high-quality coverings.
TDIC is based in a state-of-the-art facility in Sterling Heights, Mich. It has about 34,000 square feet of manufacturing space at its facility, as well as a 10,000-square-foot warehouse just around the corner. Its manufacturing facility is outfitted with everything from computer-aided design to digitized pattern development and fast, accurate computer-controlled cutting equipment. In addition, the facility includes a Class 100 cleanroom, which provides a clean, sealed atmosphere to ensure a dirt-free product for customers.
As the company has evolved, it has expanded its industrial covering uses to include welding, painting, finishing, assembly and other applications for an array of industries. The company's protective covers are used in many different settings, but more than 90 percent of TDIC's business is done in the automotive paint sector.
"We have about 65 percent of the automotive paint marketshare," President Mark D'Andreta says. "We are dominant in that area. We also have strong business in the medical and aerospace sectors."
Ability to Innovate
The key to TDIC's domination of the automotive paint market is its design and prototype capabilities. The company uses the latest technology in CAD software to create precise designs for products, and it is driven to provide the most reliable production possible. Its product development and production teams work closely to ensure efficiency during prototyping.
"We have to be flexible and fast because our products are tied to assembly lines," D'Andreta says. "If our product fails or isn't delivered on time, we can cause the assembly lines to shut down. We have very rigid processes and leverage technology so we can blend an old world tailoring talent with new world 3-D CAD capabilities."
The company has come to realize that it can't be just a product-oriented organization, and its work isn't only about selling covers to the auto industry. Instead, TDIC is selling production time and process improvements to the auto industry.
"We go in and learn their painting process and figure out how our products can improve their process," he says. "Their ability to run assembly lines continuously is key. If they have to stop to clean the robots, that costs them money. We sell them more technical products, which can cost more but also increase their production time. That is valuable to the client."
In other markets, speed isn't as critical a consideration, but TDIC must still display a high degree of creativity. "We have to understand their specific problems," D'Andreta says.
In the aerospace market, for example, robots are used to spray coatings on aircraft. As part of that process, masking must be done to protect various areas. TDIC designed covering systems that can mask specific areas to allow for coating to take place.
For the medical market, the company makes coverings that protect medical robots while performing surgeries, as well as simple equipment storage covers.
TDIC also created its Motor City Denim subsidiary, which creates, designs, prototypes and manufactures customized apparel. "We work with outside apparel designers, and our niche is small-run, custom apparel," D'Andreta says. "Designers can come to us with ideas, and we can satisfy their needs for small runs until they get to the point where they have to ramp up their volumes."
The Right Pieces
In all parts of its business, TDIC is keenly aware of the importance of investing in the right technology and establishing relationships with the right suppliers. On the technology side, the company's use of 3-D CAD software is something that D'Andreta says gives the company a unique edge. TDIC devotes time and resources toward training its people.
"We try to help our people be creative so they can address what the customer needs from us," D'Andreta says. "We cut and sew products, and that is old world, but we leverage design technology, creativity and manufacturing processes so we can be innovative."
Technology also helps TDIC in its quality control. In the clean room, covers are inspected and packaged by highly trained technicians. It conducts particle count tests, Helmke Drum tests and tests for cratering to ensure that tight tolerances for quality and cleanliness are maintained.
On the supplier side, TDIC has established relationships that allow it to utilize a wide range of advanced materials and fabrics. The company has unique needs, so it is focused on working with suppliers that can help it develop new fabric that can be used in highly technical settings.
"We need suppliers that can tweak things and respond fast," D'Andreta says. "Developing long-term relationships is important because it creates respect, trust and understanding between us and suppliers."
TDIC is cautiously optimistic about the improving economy in the United States. It also sees opportunity in the auto industry in Mexico.
"As a relatively small, family owned and operated company, we put in the effort to ensure that our people know we care about them," he says. "This needs to be a welcoming place that fosters creativity and family."