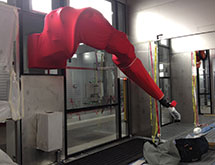 Tailors are experts in altering fabric to achieve a perfect fit and that's exactly what Italian immigrant and tailor Tommaso D'Andreta did more than 30 years ago for the automotive industry.
"My father knew an engineer that installed robots for the automotive industry who made the comment that he wished he knew someone who could make a coverall for the robots," President Mark D'Andreta says. "So, he created a coverall for these robots and then it grew to making 10 per week and so on. It all started in my parent's basement."
In 1981, the Sterling Heights, Mich.-based company pioneered the design and manufacturing of protective covers for robotic and other industrial applications. Today, TD Industrial Coverings has expanded its industrial covering uses to include welding, painting, finishing, assembly and other applications not only for the automotive industry, which remains its main customer, but also for the medical, aerospace, recreational and packaging industries.
TD Industrial Coverings prides itself on the quick turnaround time of prototyping, designing and manufacturing its protective covers, which D'Andreta also says is a major distinguisher of the company from its competitors. "We complete the process in hours and days, whereas my competitors take days and weeks," he explains. "Customers expect a cover that is clean and fits just right so it won't tear or bind up to impede the robot's movement."
A Perfect Fit
Because TD Industrial Coverings' "secret sauce" is its design capability of protective coverings, the company uses proprietary 3-D computer-aided design software that allows for fast and accurate creation. "We create 17 new products each week and have more than 23,000 patterns," D'Andreta says. "We have to be flexible in manufacturing and our sewers have to be quick and efficient."
Once the customer approves a protective cover design, the prototype is sent to the cutting room where the pattern is cut by a computerized machine and sent to the sewing stage. After sewing is complete, the covers are sent to the clean room where they are laundered to remove any dirt or fibers, tested and then sealed into a plastic bag for delivery.  "I invented our testing chamber because there was nothing on the market to accurately test the coverings," D'Andreta notes.
To ensure its sewers are quick and efficient in the manufacturing process, TD Industrial Coverings trains new employees for six to nine months with a seasoned employee overseeing their work. To help his employees stay motivated and increase productivity, D'Andreta created an incentive program that rewards employees monetarily.
"If a batch should take an hour to sew and they do it in less than an hour we make money, so we take that money and split it with the employees at the end of the week," he explains. "They look at the board every morning to see if we beat the man-hours or if we are behind."
The incentive program has increased productivity and helped build camaraderie among sewers because they rise and fall together, D'Andreta says. "If one sewer sees someone doing something they can do differently and more efficiently they help each other," he adds. "It's not a case where each employee focuses just on their job, but they look to help the person next to them work better and harder."
One of the major challenges for TD Industrial Coverings is finding skilled industrial sewers. In an effort to resolve this situation, D'Andreta helped establish the Detroit Garment Group Guild/Makers Coalition, a nonprofit 10-week industrial sewing certificate program. "We want to create jobs in the area and I'm dying for labor, too," D'Andreta admits. "The whole idea here is to create workers and reestablish a cut-and-sew industry in the Detroit area."
Evolving Needs
In the automotive industry, painting technology is changing with new environmentally friendly systems that use different paints and processes, which is having a dramatic impact on the coverings made by TD Industrial Coverings and every other protective cover manufacturer. "The paints behave way differently," D'Andreta says. "The changes are requiring more covers and for us to innovate the types of materials we use in the manufacturing of our covers."
TD Industrial Coverings created and patented a special fabric to respond to these changes, but the design requires automotive manufacturers to buy more covers. "Their cost is increasing for my product, but they have to have them," D'Andreta says. "A typical plant may spend two to three times more on covers and they are looking to me to say this is an issue and come up with fabrics that will meet these new needs."
Leading the Industry
As the automotive industry rebounds and factories are consuming more of TD Industrial Coverings' protective covers, D'Andreta is focusing on the importance of the manufacturing mindset because that impacts the number of skilled laborers available. "There has been an exodus of the manufacturing mindset and we need to get the message out that people can learn skilled trades and work with their hands still," he says. "Somehow we lost this message to this generation."
D'Andreta says that he is working to reinforce that learning a trade and making something with your hands is good for the country and there is satisfaction in the work. "We lost the understanding that manufacturing is necessary and good," he adds.
Aside from working to get manufacturing seen in a different light, TD Industrial Coverings will continue to innovate new designs for its protective coverings and strive to stay the biggest player in the automotive protective cover industry, D'Andreta says.