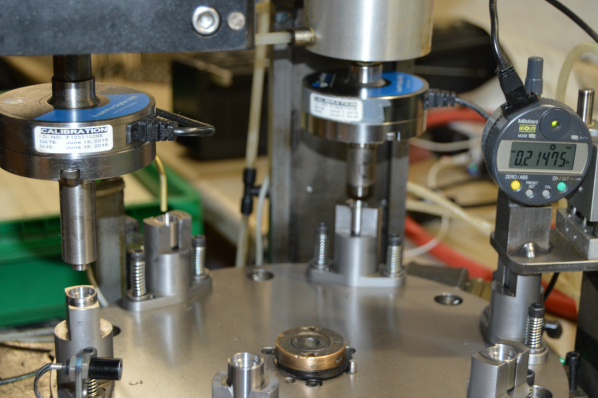 Diversity is a way of life at Teale Machine Co. Inc., President and owner Mike LaRock says. "We can service our customers with an array of programs," he states. "We will produce and stock a customer's required [product] as they see fit."
Rochester, N.Y.-based Teale Machine manufactures parts for airplane engines, automobiles, (fuel delivery and automatic transmissions), gas emissions products, pumps and solenoids. "We also machine almost all types of raw materials, [including] all copper alloys, all steel alloys, most stainless and high-temp alloys," LaRock says.
Brothers-in-law Henry Teale and Henry Gaudriot founded the company in 1943 as the first Davenport-equipped screw machine shop in Rochester. Several years later, Teale Machine designed a building to allow for the efficient production of socket screws with automatic oil filtration, chip handling and process flow capabilities.
In 1952, Teale and Gaudriot built the facility at 1425 University Avenue, which is still the home of its main production. "Teale at one time had its own tool-producing room, plating and heat treating in-house," LaRock adds. "Outsourcing these functions now better fit in our business model.
"During the '50s and '60s, they also became a job shop, producing customer-designed products," he continues. "What many people don't know was that several companies were founded from the people that gained access to this industry through Teale."
Yvonne Gaudriot sold the company to LaRock's father, Ron LaRock, and Bill Cowgill in April of 1987. The resurgence of a great company was reinstated for years to come.
Previously, Cowgill owned H&C Tool Supply and LaRock had managed two other machine shops in Rochester. "[He] was approached by Bill to acquire Teale," Mike LaRock recalls. "My father was an expert and very well respected in this craft." He notes that he and his sister, Aimee LaRock, joined the company that same year.
"In 1994, my father purchased Bill's shares, and Aimee and I became invested in the company," Mike LaRock states. "By 1997, the company's sales increased [by tenfold]."
Today, Mike and his sister are the sole owners of Teale Machine. Although there are many competitors in the company's worldwide market, "We are set apart by the multitude of machining operations we can perform," he says.
These core processes include multi-spindle machining, CNC machining, center-less grinding and assembly. "We also do not shy away from difficult, complex pieces," he adds. "Through our preplanned engineered processes, [we] find an economical way to produce them."
Top Technology
Teale Machine has a long history of investing in technology. For example, in 1988, shortly after acquiring the company, Bill Cowgill and Ron LaRock purchased two Miyano CNC lathes, which enabled it to enter the precision machining market.
"We have continued to invest in this category by buying a machine or two every couple of years," Mike LaRock says.  Due to the expansion in this field, a second location was created to house the current 20 machines of various capabilities.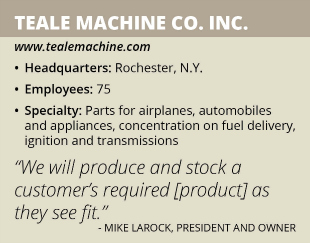 In 1995, the company purchased two center-less thru-feed grinders, LaRock says. "One already existed from the purchase of Teale, but this machine was strictly used to grind bars holding .0006 tolerance for the use of the automatics," he recalls.
"The two new ones were purchased to grind production parts holding .0004 inch and better tolerances," he continues. "In 2001, we purchased an in-feed grinder allowing us to grind diameters of a work piece that were of different sizes. Then, in 2006, we purchased one with a servo-regulating wheel, providing even more control of feed rates and increasing the tolerance and geometry we could perform."
Teale Machine also expanded on its Davenport capabilities by joining Davenport Corp. in a group effort to improve the machine's design with the use of servomotors. "The Davenport Servo Model B was developed. A few years later, Teale patented our own improvement package for the machine," he says. "Over 100 perishable parts were removed from the machine, making future maintenance much more economical while providing added capability at the same, a win-win.
"We currently have six of the Teale servo machines in production today," LaRock continues. "We also have developed many attachments using servo motors to add capability to the Davenports that are unique to its abilities."
Teale Machine currently is implementing ERP V10, a new system from Epicor Software Corp., after using a previous supplier for 20 years. "It was a good system when we started it, satisfying our needs, but as our business and diversity grew, the next step up in a manufacturing system was required," he recalls.
Teale Machine researched many systems, leading it to switch to Epicor. A major factor in the decision was the location of Comtec Solutions, an Epicor partner in Rochester that implements the system. "They're hands-on right from start," LaRock adds.
So hands-on, in fact, that Comtec has scheduled the six-month training itself to ensure Teale's continued success. "They come in and train before you go live," he stated. "They will know when you're ready."
Staying Strong
LaRock is proud of Teale Machine and its reputation as a family company. "[We are] the small manufacturer everyone knows and works together [with] to achieve a mutually satisfying relationship," he says.
It also enjoys longevity in its staff. "At least 30 percent of our workforce has been employed at Teale over 15 years," he states. "We also have a great mix of younger personnel that have entered the market to learn the trade of machining."
LaRock predicts Teale Machine will continue to grow between five and 10 percent annually. "[We'll expand] within current customer requirements and new industries," he says.
The company plans to grow in all markets. "We want to stay diverse," LaRock asserts. "We don't have any one customer that has over 20 percent of our sales. If [one] market goes down, the other markets are there to keep us strong."
Teale Machine also will keep updating its equipment, LaRock says. "We plan to continue investing in CNC lathes and multi-spindle machines, expanding our capabilities and will continue [our] rebuilding program on the Davenport machines," he states.