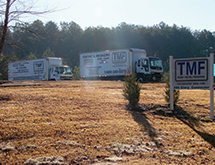 Team Metal Finishing Inc.
At Team Metal Finishing (TMF) Inc., all employees are ready to pull their own weight, Vice President of Sales and Marketing Quentin Holbrooks says. "No one minds working hard to ensure that we provide the best possible metal surface finishing services," he declares.
Based in Toccoa, Ga., the firm's services include gold, silver and nickel plating, electro polishing, anodizing, passivation, and chromate conversion and chrome replacement coatings. TMF started operations in 1988, providing zinc-plating services, Holbrooks says.
"We quickly learned that [it] wasn't very profitable," he admits. "We moved to nickel, anodizing, gold and silver plating, [and] we've just expanded from there to meet customer and market demand."
Today, TMF serves many industries, including automotive, aerospace and defense, as well as manufacturers such as Yamaha Motor Corp. USA and Energizer. "There's a little bit of everything that comes through here," Holbrooks says.
Guaranteeing Quality
TMF stays successful thanks to its focus on quality and keeping customers happy, Holbrooks says. "Our goal … is to continuously improve our quality management system to guarantee we deliver consistent quality metal finishing and excellent customer service," he says.
The firm ensures customer satisfaction with its structure of policies, procedures and practices, he says. For example, TMF is currently ISO 9001:2008 and NADCAP certified.
"Meeting the criteria of these stringent standards affirms an ongoing commitment to the customer," he says. TMF also meets the requirements of the U.S. military and the American Society for Testing and Materials.
The company continually tests its production lines so that they stay in the optimum range of performance. "We also have computer programs that we use to help keep up with production orders, along with trained employees who help keep production running smoothly and look for any potential improvements," he says.
"With TMF being in the metal finishing business for 25 years now, we have obtained and gathered a great deal of knowledge that we are able to apply to our current and future customers, providing them with the best finish possible," he says. "Turning out high-quality product within an allotted time frame is what we do best at TMF."
Green Contribution
TMF is committed to meeting and exceeding local, state and federal pollution control standards, Holbrooks says. "Our waste management and exchange system is a testament to TMF's goal to contribute to a cleaner environment," he says.
For instance, "The water we send back to the city, once treated, is even cleaner than when it arrived at our shop," he says. "We are very proud of that fact."
TMF's commitment also includes a general waste elimination and recycling program that reduces or eliminates the materials going to a landfill. "We also use double- or triple-rinse techniques that reduce water consumption greatly," he says.
The firm also eliminated the use of processing chemicals and coatings that were not environmentally friendly. "We have also replaced the lighting at TMF with a more energy-efficient system that is designed to produce more light while cutting costs," he says.
Being the Best
TMF plans to maintain its current philosophy going forward, Holbrooks says. "[We] just try to do the best job possible we can for customers," he says.
Vice President of Operations Chris Terrell adds that TMF is proud of its 25-year legacy. "A lot of the companies we work for are repeat [clients]," he says, adding that 90 percent of TMF's customers have worked with the firm for more than a decade. "They're happy with our business."
He adds that TMF wants to be the best in its market while continuing to grow. "We've got a long way to go, but we're defiantly going to get there," he says. "We do believe we're one of the largest in this particular area."