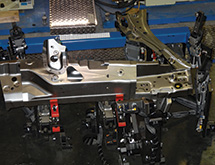 Tec-Option was founded 20 years ago in Blissfield, Mich., by Bryan Domschot, who utilized his background in welding and knowledge of the business. He firmly believed Tec-Option could offer solutions that would greatly enhance efficiencies and save money for Tier 1 automotive suppliers. "I'm a robotic welding engineer by trade," Domschot says. "I have been involved in many different processes during my career, but mainly focused on resistance welding. I have found that few people truly understand resistance welding."
Domschot took Kaizen classes while working for a Tier 1 automotive supplier and was motivated by the messages conveyed. "They were challenging us to think outside the box," Domschot recalls.
Kaizen methodology promotes sustainable continuous improvement as a daily way of life for every member within the organization. It supports the flow, implementation and recognition of improvement proposals made by all collaborators.
Clearly, Domschot was thinking about his professional future as he absorbed the principles of Kaizen. He wanted to make a career change for a variety of reasons, among them eliminating his 240-mile round trip drive to work each day. Yet Domschot wasn't able to go without a job while working on a business plan for his own company. Instead, he accepted a job at an automotive industry supplier in Toledo, Ohio, located 30 minutes from his home. At first, he worked for the company on a full-time basis while working on plans for his company during his spare time. Eventually, Tec-Option became a full-time endeavor, while his other job became part-time work.
He wasn't concerned with having a big company but rather aimed at creating the best company in the market. His goal was clear. "I wanted to create something unique and different but not necessarily a commodity," he says.
Tec-Option achieved that objective during the company's early years when a recession caused many small companies to go out of business. They weathered the storm and didn't lay off any employees during that time. "We wanted to keep our key people," Domschot says. "I'm pretty proud of that, and during that time we focused on designing an even better product."
A Flexible Solution
Today, Tec-Option is a leading manufacturer of flexible modular assembly systems, automated assembly and welding equipment. Tec-Option provides its extensive expertise to numerous Tier 1 automotive suppliers and to other companies with similar weld applications in North America.
Tec-Option's patented modular solution allows for tool change over in typically two minutes without requiring a forklift or skilled technician. The modular system allows the operator to connect the weld circuit, electrical, pneumatics, water and select the weld schedules all with one push of a button.
Additionally, the company's interchangeable welding tooling allows manufacturers to switch to different processes such as spot welding, projection welding, light assembly, even piercing or other tooling applications without stopping production. The efficiency and cost-savings for manufacturers is significant, Domschot says.
Tec-Option is unlike most other machine builders who build a dedicated machine to the customer's specifications, but once the model changes, the machine becomes obsolete. Tec-Option machines, with all their welding components, can be retooled. Only the tool module will be designed and built for the next product, retaining the base machine. The modular-tooling capability allows one machine to replace several dedicated machines, saving valuable floor space. As a result, companies can minimize spare parts inventory. "Our typical customer runs three or more tool modules in a single machine," Domschot says. "There are typically over 4,000 spot welds in a car. We offer a manufacturer more value out of capital equipment. We incorporate lean manufacturing advantages, utilizing one common machine style and several options to allow for numerous types of processes to be performed."
Challenges and Satisfaction
Solving automation challenges are ongoing as technology moves forward. "We often think that we offer a service rather than a product since our flexible, value-added process systems supply our customers with so many different modular, interchangeable, efficient solutions," Domschot says. "I enjoy the challenges our customers bring to us. It is fulfilling once a challenge has been solved and we see the design working on our shop floor."
But Domschot also enjoys nurturing his employees. "The most satisfaction comes by helping our employees grow and improve their skill sets because ultimately they are the backbone of the company," Domschot says. "People come in with a certain skill set." He is responsible for additional training to prepare them for the automotive industry. "I have to develop a team that meets the continuing demands of the Tier 1 automotive industry. There's always someone [a competitor] out there trying to put you out of business."
He adds that he has built his team with individuals who are willing to learn and are passionate about their positions. "I enjoy growing with my employees," he says. "We are a small company, a family. We have to solve problems together."
Domschot says that partnerships with key vendors also are a major component to his company's success. One vendor that Tec-Option has relied on is Senstronic. The Clinton, Mich.-based company designs and manufactures detection-based solutions and the associated connectors for control equipment and vehicles. "Senstronic has provided a robust solution for Tec-Option's Tier One automotive customers on sensors and cables, helping to reduce machine down time," Domschot says.