A strong cell
Expert suppliers of bespoke laser equipment Tec Systems is expanding its portfolio with a standard range of high quality, cost-effective laser systems
Taking pride in the diversity and technical complexity of the projects it successfully undertakes, Tec Systems has developed a reputation as the UK's leading supplier of bespoke laser systems since its inception in 2009. Business sectors that can take advantage of Tec Systems' expertise include automotive, aerospace, electronics, plastics, food and pharmaceutical, as the company's 20 strong employee base strives to provide cost-effective, high quality solutions to the most stringent and demanding of industries.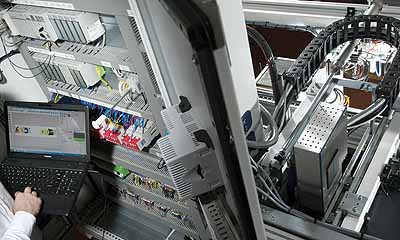 Able to offer a full service from design to automation production, Tec Systems focuses on both form and function whether it is creating small standalone cells or full turnkey systems. Key to the company's competitive edge is its commitment to technological advancement and how quickly it integrates new technologies and engineering innovations into projects; using this knowledge and experience in market innovations, the company can provide customers with advice and state-of-the-art solutions whether they require lasers, robotics, servo systems, bespoke mechanisms or intelligent vision systems. In addition, Tec Systems also offers customers a full service and spares package, which includes extended warranty, repair and test service, PLC software support and programme modifications, robot programming and support, spare parts manufacturing and training.
"Our main strength is our broad spectrum of knowledge, which means we can usually find a solution to most issues our customers have," confirms Tony Jones, Managing Director of Tec Systems. "We are also highly diverse and have long-term experience in using lasers; although we have only been established since 2009, most of the key personnel within the company have been working together in the same industry for 30 years. Bringing this expertise together has been very positive for us, market conditions have been very good, particularly in the automotive and aerospace sectors, and our turnover is in the region of £4 million per annum."
Located on a 12,000 square foot site in Barrow Upon Soar, the Midlands based firm is fully prepared to meet the needs of its customers thanks to its cutting edge mechanical design facilities, electrical design facilities, software engineering and build facilities. Indeed, it is here that the company recently worked on a 20 kilowatt laser solution for The Manufacturing Technology Centre (The MTC), a system that is at the forefront of assembly, fabrication and joining technologies.
Despite the major competition for the pioneering contract, Tec Systems won the high profile venture and went onto prove its manufacturing prowess with the creation of a laser cell that boasts a 20 kilowatt Ytterbium fibre laser with a four way beam switch, an active cell guarding structure, a six axis robot, two multi axis servo driven manipulators and a range of laser heads and optics to cover a wide range of applications. With these ground-breaking features, the cell is able to process complex 3D components up to 5000 kilogrammes and three metres in diameter; MTC can now also fully record and document projects thanks to data monitoring and capture capabilities that have been integrated into the system. Discussing this major project, Tony states: "The 20 kilowatt laser cell is being used for cutting edge research and development, which will result in new laser processes. It is the largest production laser in Europe and looks spectacular."
By working with all of the major laser source and laser head/optics manufacturers, Tec Systems can provide a wholly custom-made solution that complies with current legislation. On top of this, by using its expertise, the company can also integrate other equipment, including vision systems and mechanisms, for the automatic loading and unloading of the cell.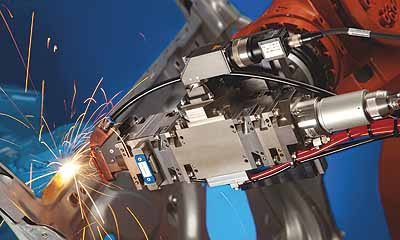 Although bespoke automated solutions are at the heart of Tec Systems' operations, the company has recently made the strategic decision to launch a range of standard laser cells for the processing of metals, plastics, fabrics, composites and ceramics/glass. Known as the Hyperion range, these standard laser cells suit a wide range of production requirements and can also be configured to suit each customer's specific requirements.
"This is a new venture for us as everything we have built traditionally has been one off specials to suit customer specific requirements. This new range of standard laser cells, which we have named the Hyperion range, is an important step for us as it means we can supply customers with systems for cutting, drilling, welding, cleaning, ablation and cladding. There are eight different cells to choose from, so instead of paying for a bespoke solution, customers can buy a standard cell that suits 90 per cent of their requirements; we can then modify the system to suit the little bits, which is far more cost effective," highlights Tony.
Within this range is the Tec-Hyperion-MG4-CF, the latest standard flatbed laser cutting cell, which is suitable for the laser cutting of composite materials such as carbon fibre reinforced plastics (CFRP). Using a combination of galvo scanning and conventional high-speed CNC axes, the system can cut at high speed without de-lamination of the material. Having integrated a fibre laser into the base of the machine, Tec-Systems has created a cell that can cut with high quality and faster speeds in comparison to other solutions.
Another new product is the Hyperion MG6-CF, a flatbed cutting system for the cutting of metal sheets up to eight millimetres thick and sheet sizes up to two metres x one metre. Fitted with a three kilowatt fibre laser, this compact machine not only takes up minimum floor space, but is also a more convenient design solution thanks to its efficient wavelength coupling and steerable beam.
The most versitly machine in the range is the Tec-Hyperion-MaR-125-WFY, which is an eight axis laser welding cell with the ability to load and unload products whilst the cell is in operation. The cell is designed to provide the ultimate solution in flexibility and productivity. The combination of a six axis robot and the tilt and turn manipulator gives full eight axis movement allowing clients to process the most complex shapes and 3D geometries
As new laser technology continues to enter the market, Tec Systems capitalises on these innovative developments with its strong, long-term knowledge of the industry. However, these rapid progressions also serve as a challenge for the company as it strives to stay ahead of the game by finding uses for these new innovations. "Knowing about these new technologies and finding out what they can be used for is a continual challenge for us. Nevertheless, it is exciting times ahead for us as we focus on the continual development of our standard range of cells, particularly for the automotive and aerospace sectors, and also maintain our number one spot for bespoke solutions. Although our standard range is in its early days the market attention is encouraging, which means we will certainly be adding more staff over the coming years," Tony concludes
Tec Systems
Products: Automation and laser systems
Sites: One
Employees: 20