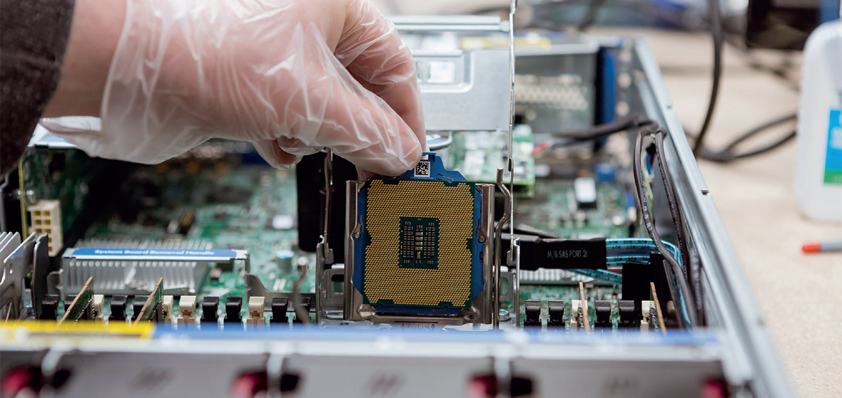 The IT factor
Benefitting from partnerships with some of the world's leading IT manufacturers, including HPE, Dell, and Lenovo, Techbuyer's sustainable technology solutions are proving increasingly popular around the globe
Since 2005, Techbuyer has been helping its clients maximize their budgets through the supply of quality, cost-effective, new and refurbished enterprise IT equipment. A global specialist in the buying, refurbishing and selling of servers, storage, and networking equipment, laptops and desktops, the company leverages partnerships with major technology manufacturers like Dell, HPE and Lenovo to help deliver efficient, sustainable IT solutions to customers the world over.
"I've been with the company for 12 years now," says Managing Director Mick Payne. "We are in a very competitive market, so we have to provide the best service. It's important for us to look after our customers, especially in the long-term, so we always try to improve, every day, bit by bit, until those little improvements become big, significant strides.
"However," Mick adds, "if I were to select one factor that differentiates Techbuyer, it's the quality in what we do. Of course, you expect new products to be perfect, but within refurbished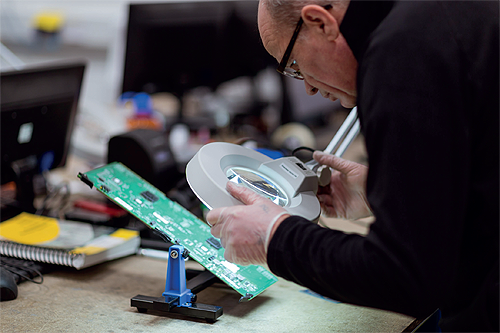 products there is a scale of quality and we aim to be at the very top end of that scale. It's about educating customers on the whole refurbishment process, what refurbished products can bring to a business – and then delivering on those claims. It's vital that we live up to customer expectations because there is nothing worse than claiming refurbished is as good as new and then not providing that."
In the last few years, Techbuyer has expanded its portfolio to include IT Asset Disposition (ITAD), a secure, sustainable service that sees the company buy laptops, desktops, mobile phones and other IT hardware that can be decommissioned, refurbished and, eventually, resold. The ITAD service was joined in January 2021 by Interact – a one-of-a-kind machine learning software tool that provides vendor-neutral infrastructure recommendations and, therefore, allows data center professionals to reduce their carbon footprint, limit CO2 emissions and realize significant cost reductions.
"These new innovations mean we can now help clients not just with their infrastructure, but also with their full IT solutions," Mick reports. "We have a very broad client base, so our work ranges from three-to-six-month infrastructure projects with multinational corporations, to replacing equipment for a local company whose server has just gone down.
"Perhaps the most unique part of our set-up is that many of our suppliers end up becoming customers, and vice versa. For example, we might supply a large company with a few hundred thousand pounds worth of equipment at the beginning of 2020 and then, in 2023, they might want to do a refresh with more computers and a bigger system, so we help with all that. We frequently end up buying back the equipment we sell, so many clients become suppliers, as well as customers."
Though the company is headquartered in Harrogate, United Kingdom, Techbuyer operates seven world-class facilities in key locations around the globe, including the USA, Germany, France and Australasia. Named on the Sunday Times International Track 2021, the firm is set to record £50 million in turnover later this year – a figure supported by 40 per cent international sales growth over the course of the last two years.
"To reinforce our international growth, next month we will be moving our French operation to a facility three times the size of our current site, which will complement our locations in Germany and the UK," Mick states. "We have a fairly sizeable facility in New Jersey, which is where Kevin – the Owner and Founder of the company – is currently, as well as a sales office in Minnesota and a new location in Canada. These sites sit alongside facilities in Australia and New Zealand that enable us to cover all time zones and deliver quicker lead times to every part of the globe. When procuring goods from clients, which is a very big part of the business, it means we don't have to send product all over the world, saving time, energy and resources."
Together with Techbuyer's international presence, Mick believes that the company's impressive year-on-year growth has been encouraged by a company-wide commitment to continuous improvement. This mentality has been brought to life through a substantial reinvestment program that is allowing the firm to expand faster than ever before.
"We've hired around 50 team members since October 2020, which takes us to around 225 employees in total," Mick reveals. "It's really sped up growth, but there's still room for more. The IT market is so huge, and whilst £50 million in revenue is a big number to you or I, in terms of the entire IT sector, we could easily be at £100 million before long. At present, with resources dwindling, the whole world is looking for more sustainable options and so the market for refurbished IT equipment is growing and growing."
Serving a host of repeat customers, as well as many businesses purchasing refurbished equipment for the first time, Techbuyer has become renowned for providing innovative, tailored IT solutions to suit all budgets and requirements. The company has, over the years, built strong relationships with major firms like British Engines, who turned to Techbuyer for help with an IT hardware expansion.
"British Engines needed to replace their current networking equipment with newer systems more suitable for their global operations," Mick recalls. "As part of the company's dedication to sustainability, they reached out to our team for cost-effective, reliable IT hardware that also minimized their environmental impact. They also needed versatile solutions with the ability to add extra components over time."
On learning the full scale of British Engines' exacting demands, Techbuyer quoted quality refurbished networking equipment including HPE BladeSystem 1G SFP RJ-45 transceivers and Cisco switches. These refurbished IT solutions provided the same performance as the relative new technology, but at a much lower price, and with a three-year warranty included as standard.
"A few years ago, we decided to give a three-year warranty to all end users for everything we sell, which is exactly the same as if you bought new," Mick remarks. "I think it really highlights our confidence in the equipment we are selling, but it also gives the customer complete peace of mind when choosing refurbished technology over new products."
Techbuyer's belief in its refurbished products is fueled by the company's ability to produce its own testing tools in-house. The latest iteration of this software allows the company to test four times the amount of equipment it could do previously, meaning Techbuyer can now stock more equipment without the need for more staff onsite.
"The next step for us is to automate more of our picking systems, which is difficult because we are not a classic manufacturing operation where everything arrives in pristine condition," Mick notes. "We are still searching for automation that could work really well with our business model, so obviously, if someone can produce that, there is a real opportunity for them as there are lots of businesses out there like ours."
After making it through the Covid-19 pandemic unscathed – restrained budgets across the business world and supply delays in the new IT sector meant many companies favored the firm's cost-effective, refurbished equipment over new technology – Techbuyer is now ready to look more optimistically towards the future. Though Mick would like to see the firm reach £100 million in turnover within the next five years, he is more concerned about the business continuing on its current positive trajectory, regardless of the figures involved.
"As long as we know we are doing our best, that our people are interested, that they want to do better for themselves and the business, then I think things will continue on the right track," Mick declares. "Without setting any firm targets, we just want to keep growing. We believe the market is expanding and we are in a prime position to expand with it."
Although Techbuyer has its eyes on considerable future growth, the company has no plans to modify elements of the business that continue to make it successful – namely, the sustainability credentials that place the firm at the head of the modern market. If anything, Techbuyer recently made a statement of intent for the decade ahead by becoming a main partner with the Circular Economy for the Data Centre Industry project (CEDaCI).
"Set up and backed by the European Commission, the CEDaCI project drives sustainability within the data center industry, which has previously been rather wasteful and actually takes up a sizeable proportion of the world's energy consumption," Mick asserts.
"We are one of only six full members of the project in Europe and the reason we have been made a full member is because of the Interact tool we developed through a knowledge transfer partnership with the University of East London.
"Interact came about after two years of research into different servers and how much energy they use. Not only does the tool help clients save on their energy consumption, but the research resulted in a paper published by the Institute of Electrical and Electronics Engineers," Mick points out. "The work with CEDaCI is just one of around 12 main sustainability initiatives we have. The impact we are having is far-reaching and deeply positive."
Techbuyer
Services: Sustainable IT solutions
www.techbuyer.com