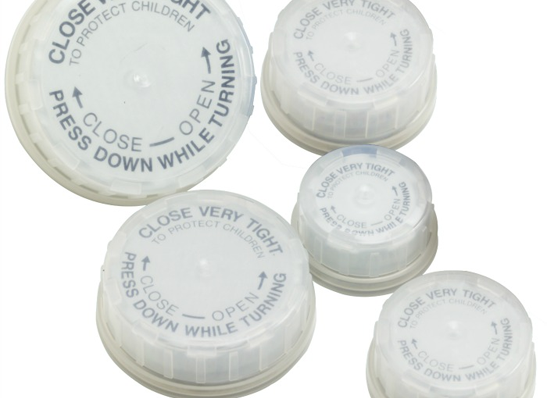 Tecnocap manufactures metal closures and capping machines for a variety of industries including food and beverage, cosmetics, body care and wine. The company was founded in 1993 in Italy and made a name for itself through growth and acquisitions and become the third-largest metal closure manufacturer in the world. It counts six production plants in five different countries, 35 commercial offices worldwide and more than 650 employees.
Tecnocap's U.S. division manufactures the widest variety of closures in terms of diameters, ranges and style in North America. It does this out of two U.S. facilities: a 220,000-square-foot facility in Glen Dale, W.Va., with about 150 employees, and a 55,000-square-foot facility in Warren, Ohio, with about 50 employees.
"Tecnocap has the flexibility to accommodate minimum order quantities and respond to customer requests and customization," President of U.S. Operations Paolo Ghigo says. "We have unique products, too. The variety of things we do, compared to the big groups that are ahead of us, really sets us apart."
Extremely Nimble
In the last four years, Tecnocap went live with three new business lines to get deeper into the wine, spirits and cosmetics markets. For example, one of its wine customers wanted to switch from traditional cork closures to metal closures because that customer's winery supplier believes metal closures make the product last longer. To get into these niche markets, Tecnocap must be nimble in changeovers of its manufacturing lines.
"You have to be able to accommodate the small volume," Ghigo explains. "This is a challenge manufacturing-wise because the lines are designed to accommodate the need to be responsive. We have a relatively short time to market unless something extremely customized comes in. We can usually accommodate new projects from five weeks to a couple months. When we survey our customer, we are pretty quick in accommodating new requirements."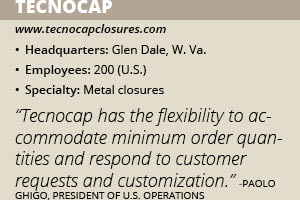 Not only can metal closures keep products fresher, but they are more recyclable as well. Many food and cosmetics companies – think of products such as pasta sauce or facial scrub – now prefer to house their products in glass jars with a metal closure.
"The glass jars and metal closures are definitely a green solution and highly recommended if you want the highest level of protection for food, along with compliance with regulations in Europe and the United States," Ghigo says. "The glass jars and metal closures can stand heat treatment for food, which is the best we can give to the end-users. The cost is affordable and it is all recyclable. Glass jars are preferred by top brands at the highest level of the market. If you want to target private label to be perceived as the best product, you will usually do glass and metal closures."
To help its customers further, Tecnocap implemented a new IT system through Syspro. The company is now in phase two of implementation, linking its production to accounting. "The purchasing and supply chain system is a state-of-the art tool that can give you forecasts," Ghigo says. "Being part of the metal industry, you can buy plate overnight, but for the most part we have to get coils from steel mills and lead time is three months. You have to make a good projection and forecast that. Our system supports us in analytics for the finished goods. You can try to invent the crystal ball to see into the future, and based on the database, we have we can try to see where the market is going."
Working Together
Everything at Tecnocap is driven by customer needs. If a customer requires a customized product, Tecnocap's teams in service, production, engineering, manufacturing and distribution all work together to accommodate that need. Thanks to this dedication, Tecnocap is having the best three years of growth and sales in more than 10 years and Ghigo says 2016 was the best year ever.
"Hopefully, it will continue that way," he says. "The way to implement success is communication. We implemented an internal newspaper with where we are going, what we're doing, how we're doing it and spreading the numbers internally. People should be aware of how their business is doing – and the performance of Tecnocap is great. Everyone can take credit for the result of that."