Rugged ingenuity
Acompany with a reputation for putting its customers first, the name Teguar has been synonymous with excellence for 11 years now. After identifying a niche in the market for affordable, aesthetically pleasing, industrial-grade computers, CEO Jonathan Staub founded the business in 2010. Just over a decade later, Teguar is one of the fastest growing companies in North Carolina.
Vastly different from regular consumer PCs, Teguar's industrial and medical computers are specially designed to provide reliable performance in the most demanding environments and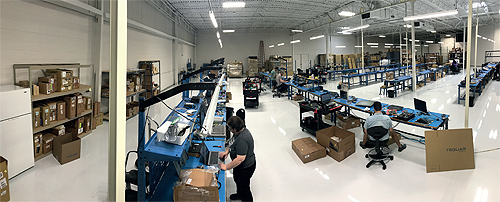 applications. Built with premium components to ensure reliable operation, the company's units routinely include features like fanless cooling systems, IP/NEMA-rated waterproof housings, and extended operating temperature ranges. An ISO 9001:2015 certified business, Teguar's commitment to quality not only makes for lower total cost of ownership, but also helps to create a faster return on investment.
"In general, companies that use regular, consumer-grade computer systems on their production lines suffer a high likelihood of having to replace those units quite frequently, which causes an increased cost over time," reports Technical Services Manager Richard Pikul. "Conversely, the computer solutions we deliver have a very low total cost of ownership because we are very good at creating longevity and keeping units up and running for long periods of time. Some Teguar customers have been using the same unit for up to a decade and it still runs reliably, even in harsh environments."
Supported by a product management team always active in its search for the latest consumer needs and demands, Teguar regularly releases new, advanced solutions. Among the company's most recent product launches is a rugged tablet built to withstand rigorous, long-term operation in the toughest environments. Running on an Intel Kabylake or Skylake Dual Core processer, the tablet's IP65 rated housing protects it from water, humidity, dust and dirt, as well as accidental drops, shocks and falls.
"Our rugged tablets are becoming increasingly popular across the board," Richard says. "We are currently supplying a business that sells rugged tablets to consumers who use them for viewing sporting events. It's the kind of customer that would have settled for a consumer-grade tablet in the past, but now wants to convert over to something that can take a little bit more abuse."
At the end of 2020, for the second year in a row, Teguar was named on the Charlotte Business Journal's Fast 50 – a list ranking Charlotte area companies based on percentage growth over a three-year period. One hundred and eleven percent growth since 2017 also earned Teguar a spot on the renowned Inc. 5000 list.
"Demand for industrial-grade computers is increasing and I think that demand will be here for years to come," Richard asserts. "The medical sector's desire for more medical-grade computers has been one of the biggest factors behind our growth. Similarly, rugged tablets are really starting to live up to their potential as a portable solution for remote applications, capable of taking on harsher environments than an iPad or a Samsung device."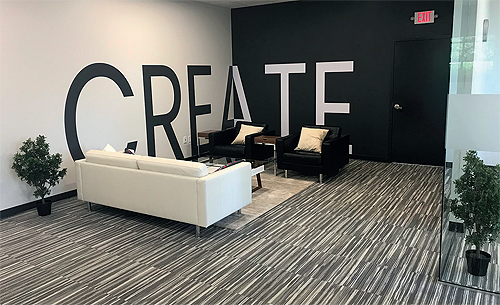 Customer focus
On the customer side of the business, Teguar's success has been fueled by the company's ability to establish and maintain long-lasting relationships that see its clients return time and time again. According to Richard, it's this customer focus that elevates Teguar above the industry and helps to transform it into a market leader.
"Putting the customer first is the number one priority in everybody's mind here," Richard states. "Unlike some competitors, we are not just here to sell products; we are also here to support customers after the sale. We have a lot of positive feedback from our clients telling us that this portion of the business is what keeps them coming back. That commitment to the customer after the sale was certainly an instrumental factor in 2020 when, as many of our industry peers lost around 30 per cent of their revenue, we actually remained revenue positive."
With one eye on the future, and in order to facilitate its continuing growth, in early 2021, Teguar relocated to a larger facility in Charlotte's Olde Whitehall district. The new site will now act as the company's headquarters, offering Teguar more room to expand in the years ahead, particularly in terms of its service department and warehouse space.
"Our previous site was a 6500-square-foot office, warehouse and production space, but we outgrew it years ago," Richard reveals. "We have now moved into a newly remodeled, 25,000-square-foot building, which has around 10,000 square feet of office and conference areas, and 15,000 square feet of production and stock room space.
"Aware that our future will require more electronic infrastructure, we have also installed wireless access points throughout the building, as well as fiber optics for our production lines, which will speed up our imaging process from 45 minutes to five minutes," he adds. "Strengthened by this new equipment, we are starting to become more efficient when it comes to implementing a 5S type environment where everything has its place and we know where everything is at all times."
As we move into the second half of 2021, Teguar's main focus is to manage its supply chain effectively, navigating issues triggered by Covid-19 and ensuring that all the company's customers receive products quickly and efficiently. In the longer term, Richard is determined to see the company grow further, so that by 2028, Teguar is a bigger and better force in the industrial and medical rugged computer and tablet market.
"We are well on our way to fulfilling our ambitions and I think there is a very bright future ahead," Richard declares. "2020 put a bit of a roadblock in our path, as it did for many firms, but we made it through and we are going to come out of that period stronger than ever.
"Having laid out a framework for success over the last 18 months, it is now time to act. In order to achieve our goals, we must remain collaborative – a key tenet of our organization since the very start. There is a lot of vital teamwork that goes on behind the scenes at Teguar and our highly-engaged workforce guarantee that our clients are taken care of every day. The needs of our customers are our highest priority and, in keeping with a culture that filters down from our Founder and CEO Jonathan Staub, we strive, every day, to deliver a customer experience that is second-to-none."

Teguar
www.teguar.com
Services: Advanced industrial and medical computer solutions