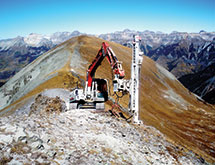 Since its earliest days, TEI Rock Drills has been committed to manufacturing superior, American-made drilling equipment. Founded as Tech Enterprises Inc. in 1980 in Montrose, Colo., by Bill Patterson, TEI Rock Drills remains a family owned company that has become a leading manufacturer of drilling attachments and limited-access drills.
"We have three main product groups: drilling attachments, limited-access drills and drilling components," Vice President Joe Patterson says. "We employ 39 people in our Montrose factory, which is where we build everything. We have a sales team that is selling direct in the United States, and we also have distributors all over the world. Internationally, we're seeing increased business in the U.K., and we also do well in South America, Australia and New Zealand. We're just now starting to get involved in India and Asia, too."
Market Focus
In its earliest days, the company was heavily concentrated in the mining industry. During the 1990s, TEI Rock Drills started exploring more opportunities in the construction industry, which became its main focus. Now, the company is looking to build on its core operations in the construction market while also seeking extensive growth in the mining industry.
"Construction has always been strong for us because we are focused on commercial construction," Patterson says. "Even when there aren't many new roads or buildings going up, the old roads and buildings always need repairs. We're seeing new construction pick up, and we aren't tied to the housing market at all."
As for its reinvigorated presence in the mining industry, factors such as rising population growth and the expanding middle class in emerging markets are driving increased demand for minerals and metals.
"Mining isn't as cyclical now because there is always a demand for steel, coal and copper base metals," Patterson says. "That is why we have been looking back at that market more because we think the cycles will be more manageable."
One important part of TEI Rock Drills' ability to grow in both markets is its go-to-market strategy. The company has the internal expertise to reach both markets domestically, but establishing strong ties with distribution partners overseas is a must.
"You need those local partners that speak the language and know drilling in their part of the world," Patterson says. "We look for those that know the industry and can represent your product as your business partner, although we do sell direct in Australia and New Zealand because that is the preference in those markets."
Always Improving
TEI Rock Drills' path to becoming a leader in the design and manufacture of drilling attachments, limited-access drills and drill rig components required a focus on innovation, safety and cutting-edge technology. To maintain a leadership position, the company continuously looks for ways to reinvest in its suite of products.
"In drilling attachments, we're seeing increased demand for products like longer and longer hollow bar soil nails that can be placed faster," Patterson says. "Increased use of radio controls, new safety features coming in from Europe, growth in smaller products for niche segments are also trends that we watch."
As for its limited-access products, TEI Rock Drills is looking to respond to customer needs for more power in a smaller package. "We do a lot of research into making products that are easily portable and can be broken down and reassembled," Patterson says. "This is because of the nature of the difficult access and locations of the jobs where the products are used."
On the component side of its operations, TEI Rock Drills is constantly taking feedback from manufacturers and incorporating those ideas into its offerings. "We have had some inquiries from the mining and blasting market looking for percussion units with smaller, light-weight rotating parts," Patterson says. "Developing different components helps us reach niche markets."
In the years ahead, education and teamwork will play a major role in the continued success of TEI Rock Drills. On the education side, the company runs operation and installation schools along with an annual Open House Expo. Attending and exhibiting at many global trade shows and seminars helps TEI visit with customers and learn new technologies. For example, its TEI Hollow Bar Drill School 2014 focused on the installation and testing of hollow bar micropiles and soil nails, combining detailed classroom work with hands-on field training.
"At our schools, we are always bringing in new test equipment so our customers can come in and use the best test equipment and learn about what they'll see in the field," Patterson says. "We train our people on new equipment, and if they need anything to help them work better, we'll get it."
Continued investment in its manufacturing operations will ultimately improve drill performance. TEI Rock Drills knows that the latest technology is extremely important, and the company regularly makes facility improvements, designs and builds new equipment inhouse.
TEI Rock Drills continues to demonstrate its ability to come through. For example, a TEI measuring system is being used to help carve Crazy Horse Monument in South Dakota's Black Hills, and its new Mountain Drill MT100 helped GeoFirma complete a challenging earth retention pipeline project near Nashville.
As the company looks to the future, it will strive to always keep its focus on building the strengths of its people while consistently coming out with new products. TEI Rock Drills knows there are a lot of competitors trying to take its place as a leader in the industry. That is why it must work as a team to stay ahead of the markets and listen to customers so it understands the challenges in the industry.
"We are Team TEI," Patterson says. "Everyone here lives our values and works together closely. This is an amazing company that works well as a team."