Global coverage
Through long-term dedication to research and development and an eye for developing market trends, Teknos has become one of Europe's leading suppliers of industrial coatings
Since its foundation in 1948, third generation family company Teknos has become a strong global player in the paint and coatings manufacture market, with production facilities in seven countries, sales organisations in 17 countries and exports to more than 20 countries via a network of dealers. Operating in Finland, Sweden, Denmark, Germany, Poland, Russia and China, the Finnish company employs approximately 1200 staff, with 190 employees dedicated to research and development. Proud of its strong technical knowledge and ongoing investment in R&D, the company boasts a group turnover of 295 million euros and is well on its way to becoming the preferred paint partner for its diverse customer base.
"Teknos operates within the metal, mineral and powder coatings, the industrial wood, and the decorative coatings business segments. Over the past four years alone we have witnessed significant growth in all areas of the company, which has averaged at around seven per cent each. Our customers are diverse; in the metal segment it is companies operating within the agricultural, construction, machinery and energy sectors, while our customers in the industrial sector tend of be in joinery. Our decorative segment tends to be around 50/50 between consumers and professionals," explains Paula Salastie, CEO of Teknos.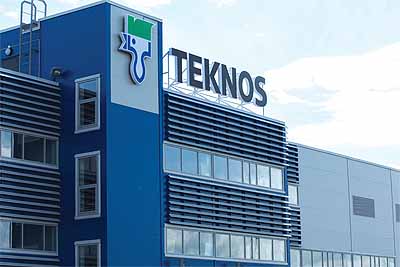 Having painted Hubtex special fork-lifts since the 1980s, Teknos has been a long-term reliable partner to the leading manufacturer of customised industrial trucks, side loaders and special equipment, with the two organisations working on a number of highly successful projects together. For example, Teknos developed the paint Teknodur Antislip 9204-01 to meet Hubtex's demand for increased safety on accessible machinery parts. The two component, high solids polyurethane paint has a rough surface for slip-resistant coating of accessible machinery parts and constructions; it also has a low solvent content and conforms to VOC for low-emission processing, is quick drying and offers weather resistance.
Another recent innovation for the company is Teknos FR Façade, a fire-retardent coating system for interior and exterior use. Suitable for timber cladding, panels, ceilings and boards, Teknos FR Façade allows wood to be used in projects where it was previously forbidden due to safety regulations. During a fire the paint swells to form a protective foam layer, which partially uses energy and partially insulates the underlying wood. Should the fire continue, the wood turns to charcoal but does not ignite.
With customer requirements and the development of environmentally friendly products that are durable and easy to use at the epicentre of Teknos' activities, the ISO 9001:2000 and ISO 14001 certified company's core drive is to manufacture and deliver paint products and related services in a way that ensures customer satisfaction while also maintaining safety, a lower burden on the environment and profitability.
To make its operating policy a reality, the company strives to develop knowledge and enhance competence in all areas of operation, while also providing guidance to customers and meeting their performance and application requirements by selecting the optimum product for their unique needs. Moreover, Teknos is continuously developing low-solvent and water borne technology and reducing its environmental impact through efficiently using raw materials and further developing its manufacturing processes. "We have invested a great deal in environmentally friendly products and have also invested in our interior wood site to further enhance our service offering," says Paula. "In addition to this, we have recently acquired a Swedish company, Wedevåg Färg AB, which is in the interior wood industry. This investment will be beneficial for our strategy to create a stronger imprint in the interior wood market."
Signed on 15th November 2012, the acquisition of Wedevåg Färg includes the company's total business in industrial wood and metal coatings, as well as all production and R&D facilities in Vedevåg Sweden. Strongly focused on high quality, water based interior wood coatings, Wedevåg Färg will significantly strengthen Teknos' position in industrial wood coatings, while also providing the company with a much wider sale platform. Since the acquisition, Teknos has focused on integrating the organisation into its business and also developing its strategic plan to develop a centre of excellence for interior wood in Vedevåg.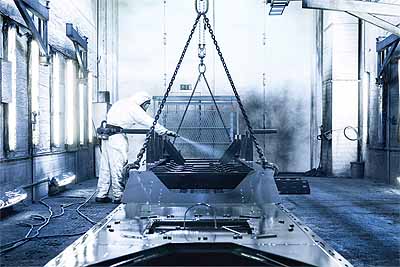 At the end of 2013 Teknos made two new acquisitions, when it bought Burcharths Farve & Lakfabrik A/S in Denmark, and a 40 per cent share of its toll manufacturing partners factory in Changzhou China. By creating the joint venture, Teknos has also reinforced its R&D, technical service and procurement capabilities. Burcharths is a Danish company whose main business is serving metal wet paint customers with advanced water based solutions. One of Burcharths' main customer groups is the vehicle industry. Burcharths' production has been integrated into Teknos' Denmark Vamdrup production unit. After this acquisition of Burcharths, Teknos became one of the biggest paint producers in Denmark.
Not a company to rest on its laurels, Teknos' most recent development has been the completion of its paint plant in St Petersburg, Russia, which was inaugurated on 9th June 2015. Employing approximately 100 people, the plant produces water-based and solvent-based paints for the metal and woodworking industries, architectural paints and coatings and powder coatings; it has capacity to product up to five to ten million litres of paint, with the option to increase this up to 20 million litres.
"We previously had two smaller plants in Russia as we have worked in the country since the mid 1980s, however this new plant is universal, which means we can produce a comprehensive range of coatings and powders. This will definitely have a positive impact for us in this area, particularly with regards to the economic climate at the moment. All projects have slightly slowed down in Russia, but it has always been a country that has rapid growth and rapid dips, so whenever the country is ready to go forward, we are ready."
Already in an enviable market position, Teknos is keen to continue broadening its network portfolio, developing new and innovative products and finding new opportunities for growth in strategic markets. By focusing on these key areas, the business can be confident its trend for success will continue.
Teknos
Products: Paints and industrial coatings
Sites: Seven