Embracing innovation
Celebrating 25 years in operation, Tele-Fonika Kable SA (TF Kable) is the largest cable company in Central and Eastern Europe and the third largest manufacturer of its kind
Established in April 1992 in the city of Myslenice, in close proximity to Krakow, Tele-Fonika civil partnership company began by constructing a modern and state-of-the-art production plant that specialised in the manufacture of copper, computer and fibre optic telecommunication cables. The company swiftly became a leading supplier in the Polish market and took the strategic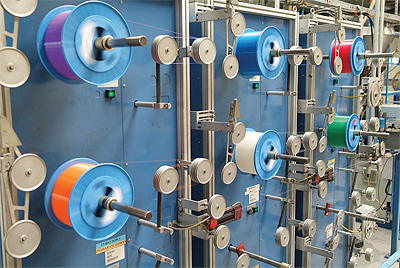 decision to maintain its position by initiating the production of advanced copper telecommunication cables that allow for data transfer in a bandwidth up to 100Mhz at a maximum speed of one Gbit/s.
Having undertaken further developments over the years, TF Kable today is the largest wire and cable manufacturer in Poland, with operations taking place at six production facilities. Boasting a significant local market share, the group produces approximately 25,000 different products for its broad customer base; split into six main categories, this range includes: one kV cables, medium voltage and high voltage cables, telecom cables, wires, rubber isolated cables and other cables.
Discussing how the company has progressed since it was previously featured in Manufacturing Today Europe in August 2016, Bartlomiej Zgryzek, Vice President of Tele-Fonika Kable begins: "We are introducing innovative solutions aimed at delivering specific values. We carry out business-value projects for partners who seek modern transmission solutions that are basedon high quality standards and safety, while also taking environmental standards into account. As such, in 2016 we completed the modernisation of the production plant in Bydgoszcz, where we have switched from fuel oil to natural gas; this has significantly reduced the emission of pollutants into the atmosphere. Moreover, we have modernised the lighting in our production halls by exchanging energy consuming luminaries for energy saving ones and also recovered 80 per cent of waste heat during the modernisation of compressors in all production plants; this waste heat is now used to heat offices and production halls."
Thinking about notable contracts, he continues: "Some important projects that have recently been undertaken include the provision of highly specialist cables to submarine farms in the UK, high and extra high voltage cables for an energy company in Peru, mining cables for mines in South America and, more locally, cables for energy blocks in Kozienice and Opole. The most up-to-date project that we will start this year is to consist of a full review of our operational areas, with a view to enhance our activities aimed at the sustainable development strategy."
Indeed, the company is currently involved in a number of internal and external projects that have a significant influence on increasing its productive potential; the company aims to expand the market by offering cables and systems that are based on state-of-the-art technologies and include environmental safety requirements as well as stringent national and international regulations in force. "Safety considerations have inspired us to create a new series of reflective mining cables that meet the requirements of work safety in difficult mining conditions. As a result, our reflective cables are equipped with reflective coatings that offer exceptional mechanical parameters thanks to polyurethane insulation; they are also resistant to high mechanical stress, abrasion and tear and show great flexibility. Furthermore, the reflective outer coating provides visibility in the most difficult conditions in tunnels and excavations," highlights Bartlomiej.
"Another example of product developments are our halogen-free cables and wires that do not spread flame. Their numerous applications, thanks to their properties such as no emission of toxic, dense fumes or corrosive gases, allow the use of these products as power and signalling cables in highly populated buildings. This includes wherever there are increased fire safety requirements as well as when the requirements of the CPR (Construction Products Regulation) directive must be met," he adds.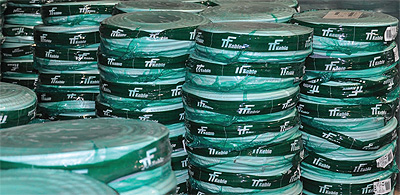 Having started actions in January 2016 that were aimed at introducing changes to fire safety for cables and wires harmonised in European Standard EN 50575:2014 – which has an implementation date adopted for 1st July 2017 – TF Kable has made significant advances in implementing CPR regulations. These actions include carrying out several hundred flammability tests in the fire test laboratory at its production plant in Krakow, with the tested components given further tests for their notification by the accredited certification body the Building Research Institute in Warszawa. "For more than two years it has been our priority to fully adapt to the requirements and standards contained in this regulation. We have established a team of specialists in our organisational structure who have undertaken a series of activities to meet CPR requirements completely," says Bartlomiej. "We have come a long way in implementing the requirements of the CPR regulation, but thanks to these efforts, by the end of the transition period on 1st July 2017, our customers can be sure that Tele-Fonika cables and wires are compatible with the new EU safety standards."
Having reached a major milestone in its history, the 25-year-old TF Kable shows no signs of slowing down as it continues to undertake projects that will streamline processes and boost efficiency when used for market opportunities based on sustainable development. "This is a special year for us as we celebrate the 25th anniversary of the group's operations. I hope the coming years will bring both satisfaction and new experiences, which will fully translate into further development projects," concludes Bartlomiej
Tele-Fonika Kable
Products: Copper and aluminium cables and wires and optical fibre cables