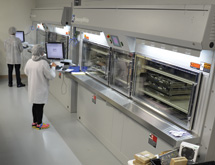 As a full-service contract manufacturer specializing in defense, commercial and industrial electronics, Teledyne EMS offers its customers surface mount technology, mixed technology box and subassembly builds, coating and bonding, and full spectrum testing. Now, with the move of Teledyne's microelectronics division from Marina del Rey, Calif., to Teledyne EMS's 170,000-square-foot manufacturing plant in Lewisburg, Tenn., products that previously used the services of both divisions can be produced without the transit time.
"We've retrofitted 25,000 square feet of our facility to house the microelectronics production," declares Shane Green, Teledyne EMS vice president and general manager. "Through lean processes and elimination of waste, we were able to consolidate activities in that section of the building and free up that floor space to allow the movement and construction of the microelectronics facility."
The microelectronics division produces integrated circuits and hybrid microcircuit devices. It offers device packaging, wire bonding, flip chip and ball grid array packaging technologies. These microelectronic devices are the components that can be placed on the circuit card assemblies and box-level builds that are produced in Lewisburg.
One of four buildings on the Marina del Rey campus is being retained for Teledyne sales and a prototype engineering fast response center. "Other pieces of the microelectronics production line were relocated to other Teledyne facilities in southern California," Green continues. "So it's a consolidation of moving production lines to other complementary facilities within the corporation and turning over a multi-building leased site back to the landlord for cost reduction." He estimates the 70,000 square feet of manufacturing space that is being returned will result in a $3.5 million savings on an annualized basis.
'Supermarket' Layout
The consolidation of production lines over the past year has saved space at the Lewisburg plant. "At any one given time, we have 40 different customer programs and products running in the factory," Green explains. "So if you have, for example, four lines and you have 40 different programs, you can't really dedicate a line to a program. But you do have common processes as far as the types of technology. So instead of laying out on a program-by-program basis, we're now laid out on a process basis. We build mixed-technology products primarily, so we now have high-speed surface mount lines feeding a 'supermarket.'"
The subassemblies that are needed for a variety of products can be pulled from that 'supermarket.' "We're set up to focus on those common processes," Green says. "We segmented the production by process, primarily separating the surface mount processes from the hand operations or secondary operations." This process continues to maintain the needed separation between various customers' products, while improving the utilization of the capital equipment assets.
Teledyne has invested more than $3 million in capital equipment and committed more than $800,000 worth of capitalization and renewal associated with the improvements, such as process and testing equipment. These changes have resulted in a 15 percent improvement in facility utilization, Green estimates.
Vertically Integrated
Centralizing circuit board assembly with microelectronics production in Lewisburg has vertically integrated Teledyne EMS as a domestic supplier. "We now provide not only traditional EMS-type services with circuit card assembly and box-build, but also now device construction, as well," Green says. "So it can be one-stop shopping for customers with advanced packaging requirements, especially customers who are focusing on miniaturization."
This includes customers in the aircraft, medical and handheld markets. "For unmanned aerial vehicle markets – drones – where size and weight are very critical, we provide the types of products and services that are directly applicable and advantageous to those customers," Green asserts. "For every area where size, weight and power consumption are of a primary concern, this is very attractive."
Supply Chain Challenges
Teledyne EMS is working hard to keep its supply chain flowing. "As the economy has gone through its recovery, we've seen a lot of pressure in the supply chain, especially associated with small manufacturers remaining viable," Green reports. "We've seen some consolidation, and we have seen some small businesses go out of business due to the general overall reductions that have been in the economy of the last couple years. So the challenge is to find replacement sources for the products that these manufacturers had provided."
Green attributes Teledyne EMS's success to having a diversified mix of programs in different stages of lifecycle development. "By maintaining a diverse portfolio of programs, it's allowing us to be steady through this process," he concludes.