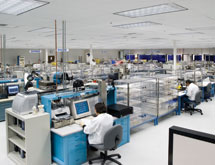 Traveling wave tubes (TWTs) have been around since the 1950s, and since then the basic concept of this product has remained the same. The way these products are designed and manufactured, however, has improved greatly over the years.
The devices are still used to take power or energy within a specific frequency band and amplify that power so that more concentrated energy travels out of the TWT. Its smaller counterpart – solid-state high-power amplifiers (SSPAs) – achieve the same purpose but for equipment that require lower power levels. Both TWTS and SSPAs are used in a variety of applications. SSPAs work well in consumer products or testing and measuring equipment while TWTs are used in high-power critical applications such as radar equipment and electronic warfare equipment. Because of that, the engineering and manufacturing of TWT products has to be state of the art and foolproof.
"Back in the 1950s, some of these TWT shops looked like dirty old garages," explains Michael Ryan. Ryan is the general manager of Teledyne TWT Products, which designs, develops and manufactures broadband metal ceramic TWTs, traveling wave tube amplifiers and SSPAs. "The other major difference with these products is, in the 1950s, they never conceived that people would be operating in the frequency levels we operate in now. In order to get to these frequency ranges and high powers, there are so many engineering techniques that we've incorporated into the product."
Teledyne's 160,000-square-foot manufacturing facility in Rancho Cordova Calif., was built in 1984 and doubled in size in 2004. The facility houses an 8,500-square-foot clean manufacturing facility that is a fully outfitted to the equivalent of a class 10,000 cleanroom. The company's in-house manufacturing capabilities include an on-site chemical and analytical lab, and expert-staffed environmental test, inspection and calibration departments.
"The physics behind TWTs haven't changed but the way we manufacture, the materials used and the methods for testing has changed," Ryan says. "Everything we do now has some level of automation to it or computerization to it. From automated testing to tracking product as it travels through the plant, the level we are able to accomplish this at is so much better."
A Working Model
Teledyne's facility also houses a full machine shop with a highly trained staff of machinists who maintain equipment to strict standards and tight tolerances. Teledyne's machining center includes several fully automatic CNC milling centers, a numerically controlled Bridgeport mill and a Hardinge wide-bed lathe. The staff's intimate knowledge of Teledyne's products and processes allows these craftsmen to create tooling and components in real-time, turning a design into a usable prototype often in a single day. This quick turnaround allows Teledyne to compete in the military market, which is a key growth sector for the company.
"When working with the military, we understand that getting the initial engineered prototype designed, manufactured and working is critical to us getting that large-volume opportunity from those customers," Ryan says. "Our people here understand that process and are able to complete it 100 percent of the time."
The process starts with an in-depth knowledge of its customers' needs. The company does carry a catalog of standard products suited for testing and measuring equipment. However, military and aerospace equipment typically call for a more specialized solution. The company's team of program managers and field engineers visit customers, look at their requirements and work toward a custom-made solution.
"Our engineers travel extensively, making sure the product does everything it's supposed to do," Ryan stresses. "We look at any tweaks that need to be made to our designs to make the product perform even better or if it needs more power than the current design. We'll look at the physics and see if the design can allow that or if we need to change the design to give more amplification."
Raising the Power Bar
Ryan says the trend in both TWT and SSPA is to continuously reach toward higher-power products.
Manufacturing products that give greater power and at higher frequencies is what continues to push innovation in this industry, he says. Teledyne is also focused on manufacturing these products with reduced weights and sizes.
"Customers always want a higher level of performance of their overall product, especially within aerospace, so anything we can do to take out weight and allow the transportation to move faster and consume less fuel is also a continuing trend," Ryan explains. "The industry just continues to go down the path of mining for better and better products for our customers."
As Teledyne continues to push the technology to achieve better results, the ISO 9001-certified company makes sure that quality is at the forefront of its process. Teledyne houses separate quality engineering and quality assurance teams. The quality engineering team is integrated onto the plant floor and works with the assembly and manufacturing teams to ensure proper techniques and best practices are used throughout the production process. The quality assurance team reviews the company's overall business model on a regular basis and audits new products.
"Our desire is to continuously improve and look for opportunities to see if any level of improvement can be made in our productivity," Ryan explains. "It's key to maintaining our ISO certification."
Competitive Quality
The company has integrated quality into each and every component of its manufacturing. For instance, the company's in-house chemical and analytical lab handles precision processes required in the development and manufacturing of TWTs – such as plating, anodizing, and electro-polishing, as well as material analysis. All of these processes are done under the control and supervision of Teledyne's expert chemists, technicians and engineers. This on-site presence allows Teledyne to react quickly to manufacturing requirements and to refine processes within rigorous schedules. The lab's capabilities include:
Dull Ni plating
Electroless Ni plating
Copper sulfate plating
Gold plating
Ni/Cu ID plating line
XRF
Anodizing clear/black
Chemical cleaning and electro-polishing
AAS
C/S analyzer
Volumetric analysis
Teledyne's thorough testing departments ensure reliability of the end-product. Its environmental test department – headed by an environmental test technician with more than 24 years of experience – is equipped to perform a broad scope of tests in accordance with the latest military and industrial standards. The test facility is fitted with a full suite of test chambers and equipment to allow testing for altitude, humidity, temperature, vibration and shock.
The Teledyne inspection department includes measurement capabilities to support both incoming and final product inspection. The inspection lab is equipped with everything from basic inspection hand tools to cutting-edge technologies such as its DMIS-based coordinate measuring machine. All inspections are performed in accordance with ASME Y-14.5 requirements. Teledyne's inspection staff encompasses more than 125 years of combined inspection expertise, with all senior inspectors certified through the American Society of Quality.
The company also boasts a calibration department equipped to handle a broad scope of calibration duties, from basic mechanical calibration of hand tools to time, temperature, humidity and RF load system calibrations. All calibration is performed in accordance with ISO/IEC 17025 and ANSI/NCSL Z540, with standards directly traceable to N.I.S.T.
"Our high-quality products are directly related to our people," Ryan insists. "The technicians we have here are some of the best and most of them have some level of specialty within the production and that is something we look for in our hiring. At least 50 percent of them come to us with an Army, Air Force or Navy background and have used our products in the field so they are very familiar with it. People like that bring with them real-world experience and they tell us how the product is being used and what we need to do to make it better."