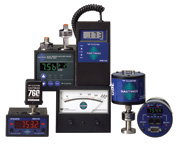 Teledyne Hastings Instruments
Teledyne Hastings has set the standard – and yet it continually raises the bar on process and product improvement. This philosophy has propelled Teledyne Hastings Instrument's reputation as a leader in developing quality, long-lasting vacuum instruments and gas mass flow gauges and controls.
The nearly 70-year-old firm manufactures gas and vacuum measurement and control devices for a variety of industries. Applications for its mass flow controllers include leak testing, vapor deposition, pollution monitoring, gas blending, medical research, gas chromatography and semiconductor support systems. Its vacuum controls are used in semiconductor processing, refrigeration, metallurgy, food processing and lighting production applications. In addition, the company has achieved ISO certification and CE mark approval.
"Our products are recognized for their reliability and longevity," Executive Vice President Mike Camper says. "We routinely re-calibrate Hastings instruments that have been in use for over 30 years."
Making high-quality instruments is what the company is all about. Its website boasts side-by-side visual comparisons of other vacuum gauge tubes with Teledyne Hastings'. "Our design, construction and product cleanliness are like new jewelry compared to every available sample – which is why our part-to-part quality and reliability in service exceeds all others," Camper says.
Quality Manufacturing
A major reason for Teledyne Hastings' superior quality is its proprietary manufacturing process. The basis for thermocouple gauge tubes are fine wires made of noble metals such as gold and platinum. Hastings' engineers have determined that any contact with these wires damages or creates stresses in them – which can lead to a failure in the field. To alleviate this issue, the company developed a proprietary system that dispenses two dissimilar noble metal wires as small as 1 mil, creates a uniform thermocouple junction and welds the thermocouple onto the electrical header without damaging or stressing the wires. There are typically three thermocouples in each gauge tube. Camper claims the resistance accuracy of the resulting "assembly" is controlled to less than 1/10th of an ohm per thermocouple.
"We look at the entire manufacturing process – from the very beginning – to find ways to improve our products," Camper says.  He adds that fostering long-term relationships with its suppliers helps ensure quality materials are used in manufacturing, as well.
Well entrenched in the industry, Teledyne Hastings has adapted its products to meet the changing demands of its clients. In the vacuum arena, the company offers a full line of analog and digital instruments incorporating thermal, pirani, piezo and ionization technologies. Its model VT and CVT incorporate rugged TC gauge tube technology and vacuum sensors. The firm also offers the Model 2002 dual vacuum sensor, known as one of the most versatile of the product line.
In flow, Hastings' current designs can accommodate flow rates from 5 sccm [standard cubic centimeters per minute] to 15,000 slm [standard liters per minute]. "We have recently expanded and modernized our infrastructure for clean air generation and bulk gas storage systems to assure calibration-quality gases are available for growing customer demands and the company's planned product line growth," Camper adds. "On site, we maintain an unlimited supply of calibration-grade air [oil- and moisture-free], a constantly re-generated supply of nitrogen gas, 50,000 cubic feet of helium and various gas cylinders to provide a wide selection of non-hazardous gases for mass flow calibration and valve performance testing."
The company's portfolio of products can be repurposed or repackaged to comply with unique applications. One client had a semiconductor application that required one of Teledyne Hastings' specialty devices. However, there was only a 6-inch clearance to accommodate the device. "We reconfigured the device to fit their space limitations while ensuring that it performed to our quality standards," Camper explains.
In another instance, a European client needed a vacuum transducer for an auto application. "Our standard product provided the measurement signals that they needed, but the packaging was inadequate for their platform," Camper notes. "After discussions with our client, our engineers designed custom hermetic packaging and tailored the product to fit the application's unique requirements."
Continual Improvement
On June 1, 2012, Teledyne Hasting's plant in Hampton, Va., was hit by a tornado. Fortunately, it was after hours and no injuries were reported throughout the impacted area. Although there were no lost work days, the clean-up allowed the company to take a step back and determine how to make the best use of its manufacturing spaces, improve cleanliness, and shorten material and work flows.
In the past, the manufacturing concepts were divided between the vacuum and the gas mass flow technologies. "We're reorganizing our manufacturing from a two-team to a single-team approach by moving the manufacturing processes of both product lines into one area and all testing into the other area," Camper says. "This way, we're assured our various manufacturing processes do not affect final product test and certification activities and that we deliver the cleanest products possible."