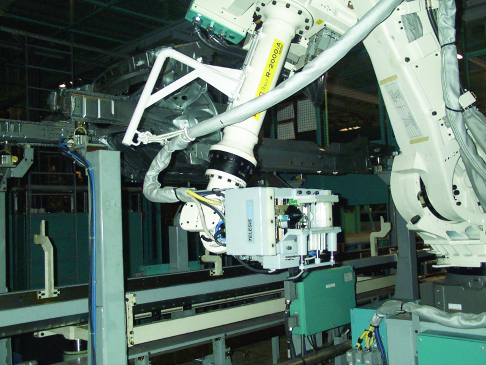 Telesis Technologies Inc.
Telesis Technologies has been at the forefront of traceability technologies since manufacturing plants began automating and mechanizing these systems. Founded in 1971, the company initially offered an automated approach using pin marking systems to apply vehicle identification numbers to automotive parts.  Major automotive, medical device, and aerospace manufacturers are the industries where the Circleville, Ohio, company's systems can be found.
Today, President Steven Sheng says that the company's focus on marking systems alone has enabled it to offer not only state-of-the-art mechanical marking products with its Pinstamp marking systems, but also Telescribe engraving systems, advanced laser marking systems and custom automation solutions. The company has been an industry pioneer since-inception.
"Everything we as consumers purchase today has some marking that allows companies to track that item," Sheng says. "Medical devices and instruments, automotive components, pharmaceuticals and even food packaging feature barcodes or graphic markings that enable the products to be identified and traced once they're sold to the end-users."
Telesis prides itself on its ability to create and integrate high-speed, high-quality product identification systems for a broad range of industries. "Whether products are plastic, delicate medical instruments, large diesel engines or tiny 1/8-inch bolts, your company as a producer will benefit from Telesis' extensive design and product integration experience," the company claims.
Sheng notes that its products are extremely reliable, providing around-the-clock automated marking and engraving services in thousands factories around the world.  He states that Telesis equipment has a long lifespan. "We have clients who are still using Telesis marking equipment that has been in use for 15 to 20 years," he says.
Many Solutions
Its marking know-how has enabled the company to introduce its floating pin technology as well as the first fiber laser marker. "For many of our competitors, marking is only one of their overall efforts," Sheng notes. "Because Telesis is entirely focused on marking systems, we've been able to develop many dedicated, fine-tuned solutions."
He adds that Telesis' products are continually evolving. "We introduce anywhere from three to six products per year – either new or enhanced versions," Sheng notes. "We're always on top of technological advancements."
One example of Telesis' continuous evolution to meet customers' increasingly sophisticated needs is its incorporation of UV Laser technology into its product line. UV can mark on virtually anything, including dark or multi-colored plastics, thereby offering greater marking capabilities for more specialized materials.  Another example is Telesis' patented Dual Headed Laser technology that reduces cost  and increases yield for multi-laser applications.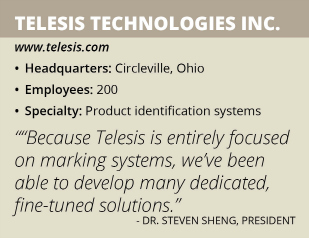 Telesis' Pinstamp marking systems, the worldwide standard in dot peen technology, are available in both single- and multi-pin formats. These systems are used globally in a myriad of industries, from small job shops to being integrated into a full blown production line.  Its Telescribe marking system is its benchmark product for automotive frame and body applications requiring vehicle identification number (VIN) stamping.  These markers work through pneumatically driven, floating metal pins that indent the marking surface with either dot matrix or continuous line characters that can include graphics, company logos or proprietary codes.
Sheng notes, however, that lasers have become a very popular solution in the last 15 years. The company offers options including diode-pumped YVO4, fiber and CO2 marking products, all driven by Telesis' proprietary Merlin Software.  Advanced features such as dynamic focusing and integrated inline camera vision systems are added for more demanding applications.  He says its laser marking systems can apply text, bar codes, 2-D codes, logos and graphics to a variety of surfaces including metal, plastics, silicon, and glass, as well as on electronics, circuit boards, microchips and medical instruments.  In addition, material processing such as micro drilling can be accomplished with these tools.
Custom Solutions
Telesis also offers custom solutions. "In addition to the marking tool, there are ancillary subsystems involved such as robotics, valve, input/output and sorting, along with mechanical protection systems," Sheng says. "We can deliver a full package that integrates the marking tool, software interface and robotic elements, and make them work seamlessly within the manufacturer's assembly line."
"Every manufacturing line is different," Sheng notes. "For instance, a car company has different production lines for its different models which can vary the shape, material and marking process." With automotive parts, the VIN must be deeply marked into several places on the engine block and also on the chassis.
"Set by a central computer, a mechanical arm must move an engine block to the correct position and hold it in place to be marked," Sheng explains. "Once it's marked, its identification numbers are verified along with the time and date. All of this information is then stored in the manufacturer's data banks."
Sheng asserts that its supplier relationships have enabled Telesis to offer these customized systems as well as the standard models cost effectively with high quality. Although many have been with Telesis for many years, the suppliers are continually apprised of their performance using scorecards to measure performance. "We give them feedback to improve," he says. "All new suppliers are put through a rigorous vetting process, where we have a very good material-sourcing group that carries out these processes flawlessly."
Global Reach
With 45 percent of its business taking place outside of the United States, Telesis offers its offshore manufacturing clients quick response for both service and parts. In addition to its two US offices in Circleville OH and Fremont CA, the company has sales and distribution offices in the Netherlands, Germany, England and China. "We provide more than 35 countries in Europe and Asia with our products," Sheng says. "We have a quick-response network readily available and we can handle delivery to remote parts of the world."
Sheng indicates that the trend toward moving manufacturing facilities to more remote areas of the world where labor is less expensive has heightened this need.  "Wherever the manufacturers go, Telesis' services follow," he notes, "either through our direct offices, or in remote areas of the world, there will always be a fully trained distributor to take ownership of a customer's needs."