The power to move materials
Through continuous investment in new product development, manufacturing capabilities, and human talent, Telestack has built the reputation of a flexible provider of bespoke mobile bulk material handling solutions
Four years after becoming part of Astec Industries, Telestack – a specialist in the complete design, manufacture, installation, and commissioning of mobile bulk material handling systems, recorded its best-ever year in 2018. Having operated in the market since 1985, the company has naturally matured into two distinct divisions – Telestack Aggregates and Mining and Telestack Ports and Inland Terminals, but its expertise also reaches out to sectors such as stockyard management, power stations, rail yards, steel mills, and cement kilns.
"We are now considered one of the world's leading manufacturers in the international material handling industry," claims Telestack's Managing Director, Martin Dummigan. "Our broad range of products designed to handle free-flowing bulk materials like ores, coal, aggregates, fertilisers, grains, woodchips, and pellets, includes ship loaders and unloaders, hopper feeders, truck unloaders, bulk reception feeders, stockpiling conveyors, link conveyors, and telescopic stackers.
"Mobile systems are finding an ever-expanding application globally, because their innovative nature provides operators with the ultimate flexibility in handling dry bulk," Martin notes, going on to expound some of the positives brought about by the use of mobile solutions. "The products' flexibility contributes to overall cost reduction, as lower capex investment is required compared to fixed infrastructure and mobile harbour cranes. Furthermore, their integrated dust extraction and containment systems are environmentally-friendly features that are becoming more and more appealing for our customers.
"In general, mobile systems also guarantee shorter lead times as opposed to traditional solutions and they are ideal for multi-cargo berths when different types of goods are being handled. Finally, Telestack's systems offer attractive resale values, thanks to the fact that they can be quickly and easily disassembled on-site, packed into containers and then resold globally," he continues.
Throughout the years of its existence, Telestack has created an exciting portfolio of international reference sites that validate its leadership position. In 2018 alone, the company won several big contracts for groundbreaking projects, thus continuing the tradition of delivering 'global firsts' in innovative products and systems.
"We had a particularly successful year within our Ports division, where we were appointed in a £5 million deal to supply a unique ship-loading system as part of a $15 billion infrastructure investment in the Port of Salalah, in Oman. In fact, we began discussions with the Port's technical and operational teams quite a few years ago – in 2013, to design a system that would provide optimum flexibility, be simple to use, and help the port achieve increased production rates and lower cost per tonne. Comprising of two ship-loading systems, the equipment is designed to load commodities at average rates of up to 1000 tonnes per hour to Handymax, Panamax, and Post-Panamax vessels. It also displays the type of innovative and original features that have made Telestack a sought-after provider in the sector," Martin proudly explains.
Following the work done for the Port of Salalah, the company secured additional business for its Ports department, winning new contracts with a combined worth of £20 million in Asia, Russia, North America, South America, Africa, and Europe. "One particularly newsworthy project we have got involved in, is for the supply of a suite of ship-loading systems to Transnet Port Terminals in South Africa, where we are working in conjunction with their distribution partner, ELB Engineering Services," Martin adds.
"The commissioning includes two systems and each suite comprises of a TB58 All-Wheel Travel ship loader fed by a Titan dual-feed All-Wheel Travel 800-6 Bulk Reception feeder. Similar to the solution we designed for the Port of Salalah, the equipment for Transnet is designed to load iron ore and manganese at average rates of 1000 tonnes per hour to Handymax, Panamax, and Post-Panamax vessels."
Commenting on the impressive growth Telestack is enjoying at the moment, Martin cites innovation and listening carefully to customer requirements as the two principal reasons behind the company's astonishing success. "We have two major value streams – tracked product and custom projects. Being able to agree the technical specifications, perform the load calculations, engineer a solution, manufacture to the customer's need-by dates with tight cost controls and project management, and hand over a fully-tested unit anywhere in the world is what sets us apart. Every project we deliver is completely bespoke to our clients' needs."
Martin goes on to detail the steps Telestack follows in its manufacturing process: "First of all, our team of designers utilise Solidworks 3D modelling software live-linked to our Siemens PLM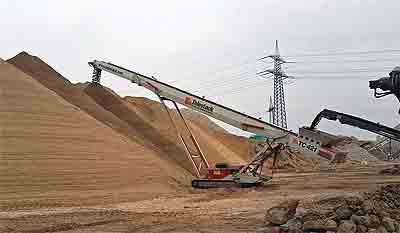 software. We have recently commissioned our state-of-the-art steel processing centre, which allows us to machine, drill, and cut the steel lengths to a very high precision. It is a networked CAN centre linked directly to the engineering CAD servers, which means that the drawings and files are the latest revisions by default.
"Thence, we have the fabrication phase where 30 welders work on small and large weldments with movements by overhead gantries, as they marry plasma cut and folded steels with the sectional elements. Once these weldments have passed through two stages of quality assessments, they undergo a shot blasting process, prior to paint. We have actually made a significant investment of £1.6 million in a blast and paint facility in 2017 to optimise the process. We use primer nd/or zinc-based wet paint processing with certain elements being either galvanised or powder-coated.
"Finally, during the assembly phase all the bespoke-purchased components are added. This is the stage where the machinery takes the shape of the customer's order. When assembled, we test the product externally, due to its very large size, before breaking it down for containerisation. For us to have full control of the discussed processes, we have recently invested in a fully-functional ERP system, as well," Martin finishes his overview of Telestack's manufacturing capabilities.
As it is key for the business to keep the balance between engineering for backlog and engineering for the future, not long ago, Telestack announced that it is planning to invest £5 million in a new factory in the Doogary Industrial Estate, right next door to its existing facility in Omagh. "It is a move that will help us accommodate our anticipated growth. We have outgrown our current capacity, so we purchased the new premises, which will be a mix of final assembly of circa 40,000 square feet in the first phase of its development, and associated engineering offices and welfare facilities for our workforce. As we expand, we will continue to add new capabilities to the factory, which is large enough to fit them," Martin discusses.
Given the strong order book for 2019, Telestack's Managing Director expects this year to be every bit as good as 2018. He concludes: "Knowing that we will be kept busy in the foreseeable future gives us the confidence to reinvest our profits in the business on an ongoing basis. Our long-term strategy is to double in turnover and to achieve this, we will remain active in releasing new products, entering new markets, and investing in new talent."
Telestack
Products: Mobile bulk material handling systems