Meeting challenges head on
A multinational business with unrivalled technical expertise and over a century of experience, TENMAT strives to be recognised as a world leading player in the manufacture and supply of high performance engineering materials and components
Trafford Park, Manchester, holds the special distinction of being the location where the first composite engineering components were created at the turn of the twentieth century. Today, it is an evolving industrial area on the Manchester Ship Canal and is home to over 1500 companies, one of which is TENMAT, a leading manufacturer of advanced materials and components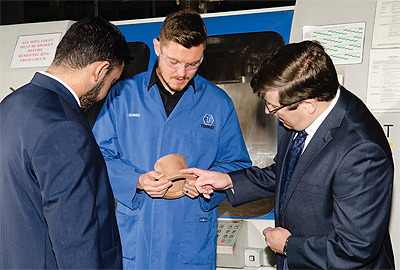 with over 100 years of experience in its own right, and the largest entity within the wider Diamorph group of businesses.
"We make advanced materials and components for highly demanding industrial environments," begins Gordon MacLeman, TENMAT's Chief Executive Officer and Managing Director. "Our products go into a wide range of industry sectors, such as construction, transportation, hydro power generation, and metals and glass production. We use a portfolio of material technologies, including intumescents, ceramics, cermets, polymers, resin impregnated fabrics and refractories to create technically advanced solutions for our customers."
TENMAT seeks to provide solutions for safety critical and high cost of failure situations in a range of extremely demanding industrial environments. "Typically, we create products with very high wear resistant properties or very high temperature resistant characteristics," Gordon continues. "Our expertise lies in creating customer and industry solutions, using deep knowledge and understanding of the properties of our portfolio of highly specialist materials. These are generally positioned at the highest performing end of the spectrum. Put simply, we provide performance and peace of mind in highly complex and challenging environments."
One example of a TENMAT product would be passive fire protection barriers that restrict the spread of fire within buildings, allowing occupants the time needed to exit, and fire fighters time to enter and take control. Another example would be high temperature and wear resistance coatings for carbon ceramic brake discs used in hyper-performance cars. These components can withstand extremely high temperatures, improving safety and performance.
"As a solutions provider, our business is driven by curiosity," Gordon states. "The more difficult the challenge, the more TENMAT's materials engineers are motivated to find the solution. Throughout our history, we have continued to innovate in response to technical challenges faced by customers in our chosen sectors. We are not afraid to invest in longer term development, and we understand that for the applications we serve, rigorous testing and approval processes are the norm. It means that the secret to our success comes down to curiosity backed up by stamina!"
Over the years, TENMAT has built up an extremely diverse customer base in terms of size, industry sector and geographical location. "Given the spread of the markets we serve, we also have quite diverse routes to market, which are supported by a global network of vendors and distributors," Gordon adds. "Today, we are seeing demand growing strongly in North America, Asia and the Middle East, however, given the specialist nature of our products, specific market characteristics and developments often have a larger impact on our sales than overall macroeconomic trends."
From a manufacturing perspective, the company focuses heavily on material performance, upon which the final machined component depends. Therefore, selection and control of raw materials is absolutely critical, and process controls are focused on ensuring that material performance is always within specification. TENMAT has a long, enviable track record of being the supplier of choice in some extremely demanding sectors, and as well as maintaining ISO quality standards across its manufacturing operations, it also has to ensure than it satisfies a number of industry approvals standards.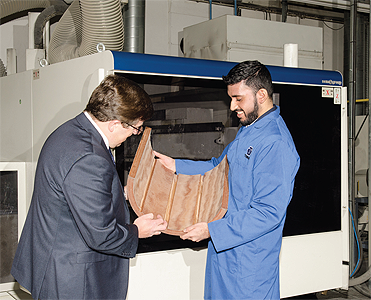 "As an example of this," Gordon goes on to reveal, "in the UK, the National House Building Council (NHBC) has just issued a new, very important, technical guidance (6.4/10 – May 2016) which, in short, recommends that all recessed downlighters should be either fire rated or fitting with fire hoods. TENMAT has been investing for a number of years in order to become the leading manufacturer of downlight covers specifically designed to improve the safety of our homes, and comply Ltdwith the most stringent regulations around, which it does very successfully."
The success of the company was again on display for all to see this past April, when TENMAT was thrilled to announce that it had been awarded the prestigious Queen's Award for Enterprise for Innovation, the third time that it has been bestowed an honour by the most prestigious business awards body in the UK. This year's award was in recognition of its excellence in innovation, specifically in relation to its passive fire protection solutions. "We are particularly pleased to receive this award for an innovative solution that can be applied to improve building safety, not just in the UK but around the world," Gordon enthuses. "The award was achieved as a result of continuous innovation to keep improving the performance of the product, and by working closely to understand developing requirements in a highly-regulated sector of the market."
As evidenced from the above, 2019 has been an extremely positive year thus far for TENMAT. "We have launched a number of new products in the first half of the year, and we expect to see further growth in the second half, before accelerating into 2020 as product launches gain traction," Gordon concludes. "In the meantime, we expect to see growth continue through a combination of increased market penetration, territorial expansion and new product development in all of our business areas. In particular, we expect to see increased focus on our temperature resistant businesses, where a mix of innovative products and strong market fundaments offer significant opportunities."
TENMAT Ltd
Products: Advanced materials and components