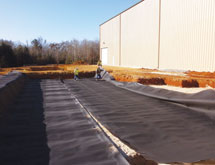 Quality and service set Tennessee Galvanizing apart in a crowded metal finishing market. The company strives to be innovative, focusing on providing top-quality, competitively priced hot-dip galvanizing that is environmentally friendly.
When the company was founded in 1992, it had a single production line. Over time, it grew to four lines and the business continues to expand.
"Our focus has to be on quality and service because there is a lot of competition within 100 miles of us," President and CEO David Ware says. "Quality and service are what built this business, and we have also found some niche markets and developed patented processes."
Strong Bonds
The process of hot dip galvanizing applies a zinc coating to fabricated iron or steel material. The material is immersed in a bath of mostly molten zinc, a process that forms a metallurgical bond between the coating and the underlying material. Zinc applied to steel can add 40 years to the life of a component or facility, and galvanized steel is more cost-effective for structural durability with better rust and corrosion protection than painting.
Tennessee Galvanizing provides hot dip galvanizing services for many different configurations of steel, including threaded rod, nuts, bolts, angles and fasteners. The company is ISO 9001 and ISO 14001 registered and certified. It uses only special high-grade zinc because it is low in impurities and toxic metals. This is different from some competitors that prefer to use prime western-grade zinc, which can contain as much as 1.4 percent lead and up to 0.2 percent cadmium.
"We have many hardware and industrial customers, and we work on things like highway department signage structures that end up all over the country," Ware says. "We have about 450 accounts, and we work with a lot of OEMs, some higher-standard fabricators and AISC member fabricators. Because we are ISO certified for quality and the environmental, we have audited systems in place that keep us in compliance with ISO international standards, which helps us to work with those OEM accounts that are also ISO certified."
In addition, the company doesn't use a chromate quench system because the hexavalent chromium used in these systems can be hazardous to employees, customers and end-users. Chromate quench systems also create stormwater run-off concerns.
The company developed its state-of-the-art Galvathread system, a proprietary, patented system that is environmentally friendly, self contained and based on resource recovery and recycling. Because the company operates four lines and has a shipping and receiving department that operates at least 18 hours each day, Tennessee Galvanizing can handle a great deal of volume and offer on-time delivery.
Tennessee Galvanizing is also very careful about the vendors and suppliers it chooses to work with. The company is a member of the American Galvanizers Association and part of the Independent Galvanizers Cooperative, and those relationships have provided it with lists of preferred vendors. "We buy our zinc and a lot of our acid from a smelter in Clarksville," Ware says. "We have an acid recycling unit here that takes zinc and iron out, and the waste becomes fertilizer."
New Addition
One of the biggest undertakings for Tennessee Galvanizing is a $2.5 million expansion of its 23-acre location so it can bring in a new centrifuge process and additional warehouse space. The investment will also create 35 manufacturing jobs. Part of the money for the project has come from state grants to spur economic development.
"The state is aggressive about bringing business here, and the Southeast Tennessee Development District is very business-friendly," Ware says. "We are hoping to have customers move in around us, and the development district can help facilitate that."
The expansion project should be completed in time for Tennessee Galvanizing to start using its new centrifuge process and additional warehouse space in March. "Every year we do something new, whether that is investing in a new building or improving our lines," Ware says. "We are always looking for easier, faster and more automated ways to work. This is traditionally a labor-intensive industry, and we want to streamline it."
Even during the economic downturn, Tennessee Galvanizing has been doing a volume of about 60 million pounds a year because it has a substantial and diversified customer base. Ware predicts that the business will continue to grow, and that there is already a solid level of demand for the centrifuge capability. Overall, the company believes there are many industry sectors where opportunity exists, which is why it is investing in new services and added capacity.
"We try to stay ahead of the curve, as we have done with our environmental approach," Ware says. "We've gotten environmental awards from the EPA, the state and the Tennessee Chamber of Commerce. Our biggest challenge now is to get our new plant staffed and trained up to handle the volume of work we expect to see."