Mug Hog and EZ Trac. Many people are very familiar with the quality, performance and innovation of these products. Those who are not will more than likely become familiar with these products and their parent company – Terra Drive Systems (TDS) – at some point in the future.
The first product was shipped from TDS in 1976. That product, which was designed, developed and manufactured in its Indiana based facility, was the legendary Mud Hog. Mud Hog was the pioneer in hydraulic rear drive systems for harvest equipment, such as combines, forage harvesters and cotton pickers, and remains the pre-eminent designer and manufacturer for major OEMs across the globe.
TDS has seen continual growth since its beginning over 40 years ago. The factory now produces more than 10,000 axles per year and, through lean manufacturing principles, has the capacity to double the company output. All of this growth has occurred while TDS has held on to its roots: strong work ethic, quality and innovation. The people at TDS want to work there and take pride in their work. "That work ethic has driven our growth for the past 41 years," Katie Kleinschnitz, vice president and general manager of agricultural business. As proof of this, some employees continue to work and apply their knowledge after 30, 35 and 40 years with the company. The average tenure of work experience at TDS is more than 14 years, which speaks to a company that values and treats its employees well.
Building on the power of its products and company roots, TDS is expanding its technology to the EZ Trac product line. EZ Trac is an industry-changing application for the trucking market. Why is EZ Trac industry changing? An EZ Trac hydraulic drive system provides all wheel drive (AWD) with superior tractive effort, without raising the truck, with lower weight (a huge regulatory advantage) while maintaining the factory steering angle. Major truck manufacturers, as well as utility companies and municipalities, are switching to the EZ Trac AWD system. The future is promising.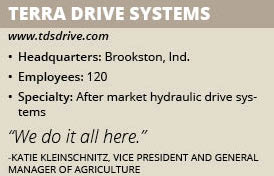 TDS has a 110,000-square-foot facility on 16 acres of land. The company does every stage of production in-house – start to finish. From fabrication to machining, welding and paint, TDS covers the spectrum. "We do it all here", Kleinschnitz says.
So many of its employees have been at the company for their whole careers and TDS takes pride in the quality and delivery performance that comes from this type of expertise in manufacturing. With an internal scrap rate of 0.05 percent of sales and warranty rate of 0.12 percent of sales, the proof is in the numbers. Additionally, TDS has industry-leading, world-class delivery performance. When asked when the last time it missed a delivery, company leaders could not recall. "We do not miss deliveries. We will do whatever it takes," Jeff Campbell, vice president and general manager of EZ Trac operations, says.
TDS is essentially a technical company. Its products are very highly innovative and require a high level of engineering expertise for their design. As the company has been transitioning to a new culture with new product development, a new engineering leadership strategy was devised. TDS President and CEO Phillip Joy had the idea to take three highly capable and well-respected engineers from various areas to create the office of the vice president of engineering. Kassie Coverdale is an expert in project engineering, Daniel Skelton is an expert in hydraulics and electronics engineering and Lane Kirby is a senior mechanical engineer with 20-plus years of experience at TDS. With this new leadership, Joy created a group that was well respected internally, as well as externally, in both the agricultural and trucking industries.
With this new technical leadership, TDS has developed technology that will be the next generation of products for both industries – technology that no one else offers. This technology provides full system platform integration. TDS' technology ties directly into the CAN bus of the OEMs machine and directly interfaces with the platform for more precise control, offering more torque, more power and more real-time proactive responses to changes in environment. For the Mud Hog product line, TDS has developed the only wheel-to-wheel independently controlled hydraulic drive system with traction and hillside assist, using those technologies mentioned above. EZ Trac and Mud Hog both will lead the future of their industries for powered integrated drive systems.
Over the last five years, TDS has worked to become a fundamentally stronger company. TDS has historically been an agricultural company with a very strong dependency on one market and its fluctuations. The EZ Trac product line for the trucking industry helps offset cyclicalities in the agriculture market, making TDS a fundamentally stronger company. Growth in the trucking industry adds new markets for TDS to rely on in the future. Not to mention that EZ Trac's performance, flexibility and service are industry leading. EZ Trac just might be on the verge of replacing mechanical.
Additionally, TDS has worked to build stronger and more collaborative relationships with its OEM customers. TDS has expanded its Mud Hog product line to include several new applications and products in the agricultural industry, such as non-powered axles, rear powered steerable tracks on a combine (that's right, you heard it right – rear powered tracks), and tractor axles to name a few. The major OEMs know that TDS can and will competitively support them in designing drive systems, regardless of the application.
This is one of those success stories. One of those success stories that is founded on the right principles with the right products. Success whose biggest asset is its incredible people.
TDS is that company. Changing culture, changing products, changing industries.