There is never a point when the leadership of Tethon 3D is completely satisfied with its product offerings. President and CEO Karen Linder says the Omaha, Neb.-based company continuously innovates to meet customers' needs.
"We respond to customer demand to create new materials and are continually reformulating our existing products to improve them," she describes. "They go through versions that are updated typically every six months with new formulations."
Tethon 3D manufactures ceramic powders for binder-jet printing and photo-curable ceramic polymers for SLA and DLP 3D printing. Linder and her husband, Jim Linder, founded the company in 2011, taking its name from the word for "white buffalo" in the language of the Omaha Sioux Native American tribe.
Over the years, Tethon 3D has built on the research of Professor John Balistreri and Gregory Pugh of Bowling Green State University's Ceramic Arts department. The Linders, who have backgrounds in medical science, were introduced to additive manufacturing through its use in the biotechnology field.
However, "We focused fully on ceramics because of the pioneering advances made at Bowling Green State University and the desirability of ceramic's physical properties in additive manufacturing," Karen Linder recalls.
Industry Edge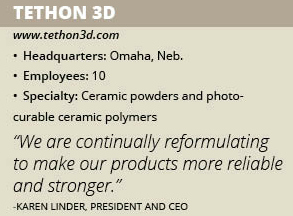 Today, Tethon 3D concentrates on developing ceramic materials that are applicable for many different industries, including automotive, aeronautics, archeology, architectural, biotechnology and dental markets. "We're the only U.S. company that sells ceramic powders and ceramic resins for 3-D printing," Linder says. The company has formed strategic partnerships to expand the use of ceramics in additive manufacturing.
This status has helped Tethon 3D grow its revenues year-over-year. "We do business globally on every continent except Antarctica," Linder adds. "That and the unique properties of ceramics is what gives us an industry edge and sets us apart." The company also holds intellectual property in 3-D printing hardware, methods of manufacture, articles of manufacturing and 3-D printing materials.
Tethon 3D's newest products include Genesis, a photopolymer development base resin it introduced late last year to meet consumer demand. "It's a polymer resin material that serves as a base formula, which in combination with solid powder materials allows users to create their own custom resin material," she says. "We're excited by the success that it has had. Genesis is an innovation jumpstart to expand the number of materials that can be used for additive manufacturing." Tethon3DInfo
Meeting Demand
Tethon 3D utilizes lean practices, which are a good fit for its operations. "3-D printing is not ideal for mass production at this time," Linder states. "We've seen its value more in customizing and prototypes."
In fact, according to a 2016 Price Waterhouse Coopers report, 71 percent of U.S. manufacturers are currently utilizing 3D printing technology, mostly for prototypes, but 42 percent believe that in the next three to five years it will be used for high-production volumes.
Lean allows Tethon 3D to reduce production time, cost and material use. But one area where the company continues to see increases is in customer demand.
For example, the company has experienced strong demand for
its Porcelite® ceramic resin since its launch in February 2016. "We've moved all the manufacturing to a large-scale contract manufacturer," Linder says. "That frees us up to do more R&D to develop the next product launch."
Providing Guidance
Tethon 3D operates a residency program for people and companies who want to learn about 3-D printing and ceramics, Linder says. "We offer onsite housing and training on the use of our products with a variety of existing 3-D printer hardware technologies, so visiting residents may develop their own additive manufacturing businesses," she describes.
The company also regularly partners with academic institutions. "They are all interested in ceramic manufacturing and 3-D printing," she says. "We give workshops to assist schools with incorporating ceramic 3-D printing into their curriculum."
Doing the Impossible
Linder is proud of Tethon 3D's client support. "We've been able to address the needs of our customers and provide them with materials and service that have been rejected by typical manufacturing operations," she says. "We feel we're able to accomplish the impossible and unimaginable."
Some ceramic designs cannot be made by hand, milling or slip casting, Linder says. "But with 3-D printing, we can take a computer model, translate it to the printer and create complex geometries that can't be made by any other method," she says.
The 3-D printing industry began to enjoy much attention in the previous decade and that popularity continues to grow, Linder says. "We're excited to be expanding our menu of available materials," she says, noting that it plans to launch up to eight new materials in 2017.
These include Flexalite®, which will be the next product Tethon 3D launches. The photocurable polymer resin has a transparency and flexibility that will be useful for hobbyist, as well as industrial applications. "It's a material for 3D printing that our users asked for," she says.