Waste not, want not
Using its innovative plasma technology, Tetronics International is able to offer a wide range of waste management and resource recovery solutions to treat everything from spent catalysts to electronic waste
For as long as the world has had industrial capabilities, hazardous waste management and resource recovery have been complex problems to resolve. Subsequent decades gave rise to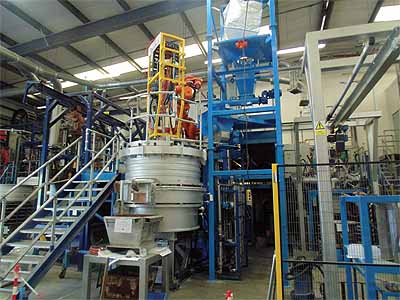 innovative solutions to tackle these, however it has only been in more recent times that a select few companies have been able to create and perfect technology that means that these issues no longer need be problems.
One such company is Tetronics International (Tetronics), a world-leading UK based environmental waste management company delivering clean plasma technology for maximum resource recovery and the highest level of hazardous material destruction, which transforms these materials into a safe inert product. With over 50 years of experience in delivering best-in-class technology, Tetronics currently has over 120 patents either granted or pending across 12 families.
"Our core business for many years has been the recovery and recycling of precious metals from various sources," begins Ian Mitchell, Tetronics' Head of Business Development, who joined the company in July 2017, having spent two decades in the petrochemical industry. "Our strong history when it comes to R&D has also allowed us to demonstrate a number of interesting, innovative solutions in a number of industry sectors, from fly and grate ash treatment to the recovery of metals from electronic-waste."
An individual who has witnessed the development of the company at close quarters is Technical Director, Dr Tim Johnson, who has been with Tetronics for the better part of 20 years. "I have watched this business grow from being a fairly small entity to one that has experienced huge investment and enormous growth, transforming itself from a £2 million company when I joined to one approaching a £20 million per year turnover."
As Tim goes on the explain, Tetronics is one of a very select few companies found anywhere in the world that supplies businesses with a total plasma package including the technology and the equipment needed to support plasma heating treatment methods in their processes. "This is a very difficult business to operate in," he states. "Many plasma companies have come and gone in the last 20 years, primarily due to concentrating on only one area of expertise. What gives Tetronics its competitive edge, and has allowed us to thrive where others have failed, is our strong knowledge base and R&D focus, which has allowed us to supply plasma systems for everything from heating steel and making glass, to treating waste from incinerators and steel plants. Our diverse range of capabilities also means that rather than simply selling a unit to treat a particular substance or problem, we are also able to provide support throughout the lifetime of a project, troubleshooting problems on a controlled scale and devising solutions quickly."
Plasma is one of the cleanest thermal processing technologies available, which means that its use provides a unique opportunity for industrial processing, particularly at a time when environmental legislation and concerns are at the top of most agendas. This is especially true in the key customer markets for Tetronics, namely Europe, the United States and China. "What was previously thrown away and forgotten about, is no longer treated as such," Ian adds. "Instead, people and businesses are looking for solutions that resolve an entire problem, rather than simply burying it or putting it to one side for the next generation to deal with."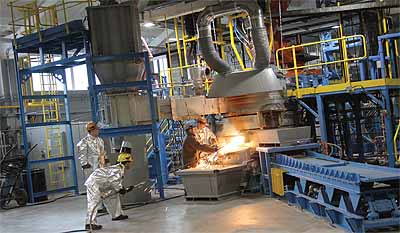 This is particularly true when it comes to the growing issue of electronic waste (e-waste), the term given to old electronic devices that in the past have been thrown away without due attention being paid to the potential recovery of precious metals such as gold and silver, and valuable metals like copper and tin. Tetronics is currently working on an exciting e-waste smelting pilot project with Innovate UK, the government arm that funds R&D initiatives. After extensive planning and development at the company's state-of-the-art trials facility in Swindon, it has successfully completed the first of four plasma trials. This involved printed circuit boards, that had been pre-calcined, being fed into its plasma furnace to separate the metals hidden inside.
"In processing e-waste in this way, we have been able to recover some nice ingots of copper with elevated levels of precious and platinum group metals within," Ian states. "Our plasma process essentially bridges the gap between the printed circuit boards in their original form and the technology that extracts individual elements. This advance in processing is incredibly important, particularly with e-waste's tendency to leach toxic chemicals into the water table when thrown away, and the ability to recover metals that would otherwise have gone to landfill allows us to divert potential capital back into the circular economy, which is of benefit for everybody."
Going forward, the next phases of this project will see the company working to refine the process further, allowing it to generate greater output of collected metal alloys and better quality results. The end-goal, as it were, is to support Tetronics' efforts to sell e-waste recycling and metals recovery technology to customers in its core markets, and indeed it has already received serious interest from parties all over the world who recognise the commercial opportunity it can create.
Another exciting development currently taking place on Tetronics' door step is the construction of the world's first BioSNG Commercial Demonstration Plant in partnership with Advanced Plasma Power, Cadent Gas and Progressive Energy. The plant itself will take in 10,000 tonnes of waste from the local area and produce 22GWh of BioSNG, enough to heat 1500 homes. "This project is the result of some 15 years of R&D into this technology at Tetronics," Tim enthuses. "Our plasma technology lies at the heart of the process in allowing the gasification of waste into green gas, and we expect the plant to be operational in the second half of 2018."
It is expected that 2018 will be a year characterised by a number of exciting developments for the company. The green shoots of this are already being seen with an increase in interest for plasma technology in North America, Europe, China and in the Middle East, where large industries, such as the oil and gas sector, are increasingly waking up to environmental issues and the need to treat, recover or recycle waste products. "The future is most definitely one of optimism for Tetronics," Ian concludes. "Every day we are seeing more and more interest in our technology and the different applications it can be applied too, and this opens up a world of opportunities that we look forward to embarking upon."
Tetronics International
Services: Clean plasma technology for resource recovery