A matter of great importance
Tetronics International, a global leader in the supply of Direct Current plasma arc systems for a wide range of resource recovery and hazardous waste treatment applications, is currently using its expertise in a number of ground breaking projects.
Proud to be the most experienced plasma company in the world, Tetronics International has developed a strong reputation over the last five decades for producing high quality clean plasma technology for maximum resource recovery, as well as the highest levels of hazardous material destruction. From its Swindon headquarters, the company boasts one of the most comprehensive trials facilities in Europe due to its unique range of highly flexible pilot scale furnaces for conducting plasma trials across a broad range of material processes. This location is also home to its manufacturing plant, where technology is developed in advance of its supply to customers.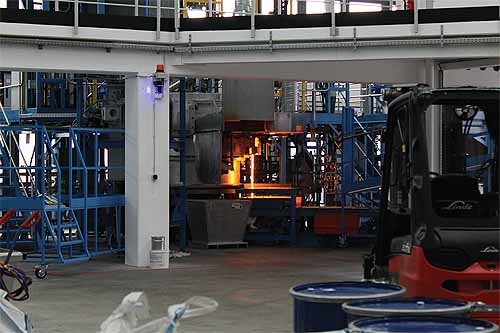 "Tetronics International was founded in 1964 to develop and use plasma arc technology, which we now use to treat a wide variety of harmful waste streams as well as to recover valuable resources from spent materials. These applications include turning hazardous wastes such as Air Pollution Control residues and asbestos into building products as well as the treatment of toxic Spent Potliner generated during the manufacturing of aluminium. Resource recovery from spent materials include precious metals from electronic waste and catalytic converters found in cars, along with the recovery of base metals from electric arc furnace dusts," explains Graeme Rumbol, CEO of Tetronics International.
He continues: "We often describe plasma arc as a 'synthetic lightning'. It is used to transform spent materials into substances that are benign to the environment while also producing valuable by-products for use elsewhere in industry. We supply this technology to numerous companies all across the world, which use it for a range of different applications."
Indeed, as its name suggests, the ISO 9001, and ISO 14001 certified company boasts a global customer base, with more than 90 plasma systems installed and commissioned across four continents around the globe. "Many of these facilities have been operating for years in some of the most challenging industrial environments across a wide and varied range of applications," notes Graeme. Following installation, Tetronics International continues to work with its customers to develop or upgrade the treatment facilities and provide specialist advice as well as spares and service.
The most recent example of the company's technological capabilities can be seen at the Duesmann & Hensel Recycling plant in Frankfurt, Germany, with its plasma arc technology going live in August 2015. A global player in the precious metals recycling field, Duesmann & Hensel Recycling is responsible for approximately ten per cent of the global recycled automotive catalytic converter market. In line with the German firm's operations, Tetronics International's plasma arc technology is being used to process and recover valuable precious metals from catalytic converters; these are then reused in car exhaust systems in modern cars as a way to reduce pollutants. "Germany has an excellent reputation for recycling scrapped cars and we're delighted we're able to further support them with their efforts," states Graeme.
Precious metals found in converters include platinum group metals (PGMs), which are essential for a range of manufacturing processes. Tetronics International's process concentrates these valuable PGMs for resale by a factor of x25; it also makes them available via wet chemistry so they can re-enter the supply chain, thus enabling them to be used in the production of new products. Meanwhile, in the same process, hazardous elements contained in less valuable material are transformed, with the waste turned into an approved, inert reusable building product called Plasmarok®. This strong, environmentally stable product has gone through comprehensive testing to ensure it meets BS EN 13242:2002 standards and is suitable for use in road paving, pipe bedding and other markets.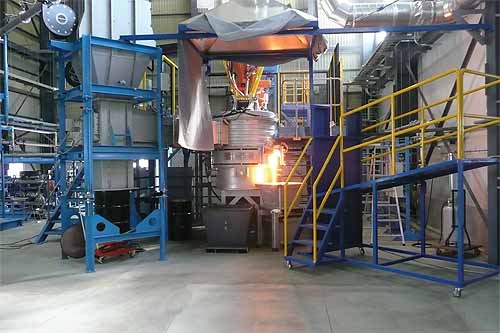 Discussing the markets that Tetronics International operates in, Graeme notes: "Precious metal recovery is certainly an area where we continue to see success. At the moment, our installed technology has the capacity to process 13.7k tonnes of converter core material (roughly equivalent to 13.7m catalytic converters); however that number is set to rise to 17.5k tonnes in the next few months. In addition to the plant in Frankfurt, we also recently supplied our technology to Duncan Recycling and Refining in Oklahoma, the US. The plant there will be doing much the same as Duesmann & Hensel Recycling and has the capacity to process around two million catalytic converters every year."
Alongside these two projects, Tetronics International has been working on two further ground breaking projects, one of which involves the development of a new, transportable system that will destroy chemical weapons in the heart of conflict zones for quicker disposal. Commissioned £500,000 by the UK government's Defence Science and Technology Laboratory, Tetronics International aims to develop its plasma arc technology into a fully transportable system that can crack or reform the chemical composition of hazardous chemicals such as mustard gas and the nerve agent sarin.
The other ground breaking project that the company is leading aims to unlock value in discarded electronic products through the utilisation of plasma, as Graeme highlights: "A report from the United Nations University found that £34 billion worth of recyclable materials found in electronic waste is being discarded all around the world – this includes £7 billion worth of gold. It's shocking this happens when technology exists to process this waste. For example, our plasma arc technology can recover >98 per cent of the precious metals found in electronic waste.
"We led a consortium of firms which received a £600k grant from Innovate UK to develop and demonstrate the UK's first integrated plasma facility for the sustainable processing of electronic waste to pure precious metal. The first eight months have gone well and it's expected to be up and running by mid-2016. Using plasma, we can – and indeed should – expect to see the environmentally friendly recovery of electronic waste becoming more and more prevalent around the world."
As the volume of hazardous waste continues to increase due to growing populations, evolving legislation and increased consumerism, Tetronics International sees opportunities for growth in the market and anticipates further demand for its innovative solutions. "There are several factors that are creating ideal market conditions for our plasma solutions. For example, the adoption of a complete material cradle to grave lifecycle and the changing view of waste as a valuable resource, as well as the diversification of resources looking to be recovered as demand for secondary material sources increases.
"Moving forward, we will be continuing to grow our operations in areas such as China and North America, as well as aiming for further export success and growth in the UK. In line with this progression, we will of course be developing further applications of our plasma technology," he concludes.
Tetronics International
Products: Direct current plasma arc systems