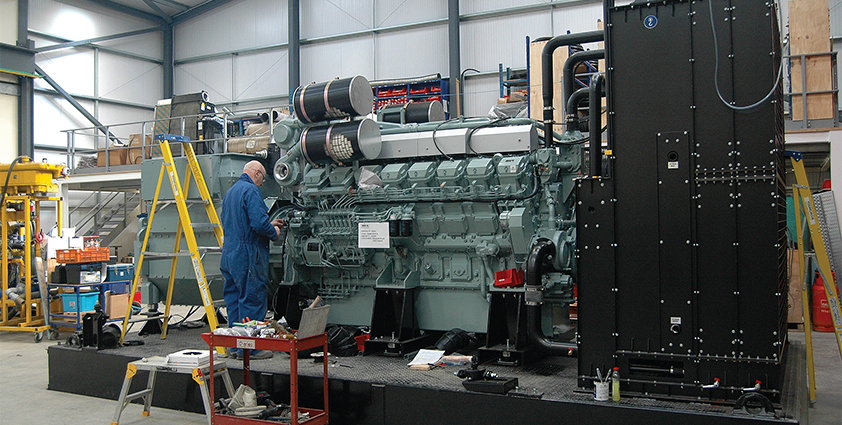 The home of UK manufacturing
With divisions incorporating Boards & Panels, Engineering and Plastics, Tex Group continues its long legacy of manufacturing excellence
With over 100 years of experience in the manufacturing industry, Tex Group (Tex) produces world-renowned products, ranging from piling hammers to air traffic control rooms, to customers in a diverse range of industries. Having recently completed a major restructuring, the company now looks forward to an exciting new era, filled with new opportunities, markets and innovations.
For over a century, Tex Group has been leading the way for UK manufacturing. The company's newest chapter builds on its already prestigious history, as Greg Brown, Chief Commercial Officer at Tex Group, details: "Tex Group originates from a UK industrialist called Edward Le Bas, who established the British Steel Piling Company (BSP) in 1905. The company was primarily making steel piles, but soon it was asked to provide equipment for the driving piles, giving BSP the platform to make a global impact. The company survived two major wars and went on to innovate with new products in the following decades.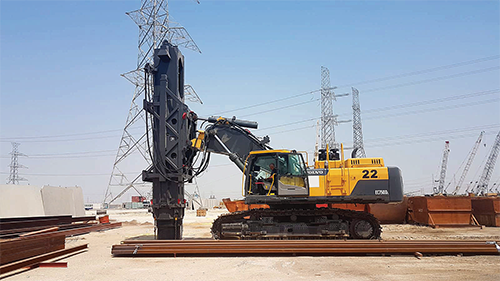 "The company started rapidly expanding in the 1980s, this included the acquisition of Tex Abrasives, and numerous UK machinery operations. In the following years, the group diversified, with new Plastic and Board divisions. These efforts were so successful that Tex Holdings Plc was formed soon afterwards, in 1985.
"We enjoyed more years of success, going on to establish Tex ATC, a producer of air traffic control rooms, in 1996. This part of the group constructed its first civilian airfield in Cambridge and has continued to thrive in the air traffic sector ever since. After being in operation for a few years, Tex ATC extended its offering to include a special projects division, which took on research and development for engineering consultancies. The special projects group designed and manufactured the installation of two flagship projects for the Royal Navy, including flying control rooms on the HMS Queen Elizabeth and HMS Prince of Wales. Our success has continued ever since."
In 2021, the operation was restructured to form the Tex Group, a limited company with reserved ownership of all the businesses under that umbrella. "We went through a refinancing phase, and the largest shareholder brought back their majority shares, which subsequently turned the Tex Group into a privately-owned family business.
"Following this transition, a new team has been put in place at group level to support the company going forward. We now have a C-suite in place, of which I am one as CCO, alongside the CEO, CFO and COO. Over the last 18 months, we have consolidated 11 companies into six, with the aim of increasing efficiency and elevating the company's capabilities. We have also invested in IT, health and safety, training, staff welfare and new facilities to support our infrastructure, product, and people development.
"The Tex Group has gone through a lot of changes over the last two years. It has been consolidation, with targeted investment in key areas that we felt needed more support. All of our efforts have been designed to encourage growth in the business going forward," shares Greg.
As a company that has always grown and evolved in step with the changing world of manufacturing and industry, it comes as no surprise that Tex Group has undergone major strategic changes in the last few years. The restructuring of Tex was a strategic decision, made independently of external factors such as the pandemic.
"As a holdings business, most of Tex's individual subsidiary companies were more autonomous; they managed their own responsibilities, and their own Managing Directors who oversaw organizing and managing the businesses. The holdings entity functioned as the financial consolidation and oversight from a Board level.
"With the re-organization of Tex, it went from a group of companies that were coordinated financially by a holding's entity, to a smaller group of consolidated businesses that are now following a group led strategy. The result is a real shift of emphasis, where the group is now driving strategy through operations, commercial and finance. With the establishment of a COO, CCO and CFO, the reporting structure of Tex changed, and the businesses now channel their operations through those positions. Despite these changes, the company still operates in three main divisions – Engineering, Plastics, and Boards & Panels," Greg comments.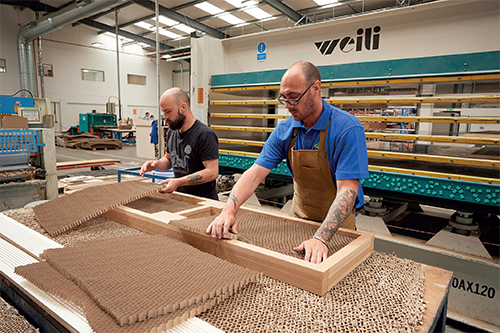 These changes are helping Tex Group differentiate itself from its competitors, by making the company more focused, streamlined, and agile. Each different division within the group will be able to flourish under the new leadership, as Greg reveals: "The new model allows us to manage Tex Groups' diverse capabilities. You have the plastic division, which uses sub-contracted manufacturing facilities to produce 24/7, and has around 250 employees. This part of the business focuses on adding value to its customers' products and components through plastic mouldings, ancillary and assembly services. We also have clean room facilities, which means we can produce medical products to required standards.
"From the Boards & Panels division, we have supplied into various markets, but more recently we have focused ourselves on the leisure vehicles category. We have invested significantly in new facilities, processes, and people. This is part of our long-term strategy anyway because there is a greater volume, and more consistent demand, coming from this sector than anywhere else. This has only been heightened by the pandemic, and the increased popularity of stay-at-home vacations. We supply specialist products that form the interiors of leisure vehicles, and we also work with a number of office furniture, point of sale and exhibition customers.
"On the engineering side of the business we have three main businesses. You have TEX ATC that focuses on specialist aviation and military installations, so that is very specialized. This element of Tex Group is project-based, meaning it requires a high level of engineering content, approval requirements and accreditations. We also have a strong history behind us, and a track record for successful installation and technical capability, that really sets us apart from the competition.
"G&M EUROTEX, with over 80 years' experience, supply custom-built industrial AC generators and control systems for marine, land-based and offshore applications. Eurotex are the renowned diesel engine refurbishment and servicing specialist offering through-life support for marine, traction, and land-based diesel engines. G&M Eurotex offer through-life support for their generators.
"BSP TEX originated from the construction and road mending sector, and we still focus on these industries today as well as sub-contract manufacturing. With over 117 years of history, Tex Group manufactures a range of specialist piling hammers, road mending equipment and subcontract manufactured products for use in multiple sectors. Because of the specialized nature of the equipment we produce, the company must move in line with new technology and resources to stay ahead of the industry as a whole. "More recently, BSP TEX has been focused on compaction equipment. This is because we are looking to diversify our offering and pursue a new direction that still caters to the construction industry. It is all about focusing on areas of the market where we think there is longevity, and the potential for us to differentiate ourselves."
Greg adds; "Another part of Tex Group is the Joint Venture of CAIGATE TEX ENERGY SOLUTIONS LIMITED, providing hybrid energy and smart microgrid solutions. Renewable energy and Eco energy solutions are the heart of this business. Our energy solutions include PowerHub, a power adapting system allowing integration between renewable energy, fossil energy, energy storage and power grid; SuperGen, a variable speed generator and ultracapacitor, specially designed for fuel efficiency and high-level variable loads, as well as bespoke solutions to meet any specialist energy generation need."
Following major investments into cutting-edge facilities and equipment, Greg and the team now look forward to a new chapter for the company: "Tex Group has been refreshed and renewed, and the coming months will be about communicating that with our customer base.
"This new direction will include improved websites for each business under the Tex Group umbrella, as well as a drive to engage a stronger and larger social media presence for the company. In addition, we will be appearing at many shows and conferences for all the businesses, for example we are at the Dubai airshow in May, for the first time with an official stand.
"We are looking to work with new and existing partners to develop new opportunities for us and them. Our focus is also on looking at and accessing new markets, where we can grow the business. All the businesses, customers and stakeholders that engage with Tex Group are going to see a refreshed, and more engaged approach from our business moving forward this year and beyond," he concludes.
Tex Group
https://tex-holdings.co.uk/
Services: Engineering and manufacturing