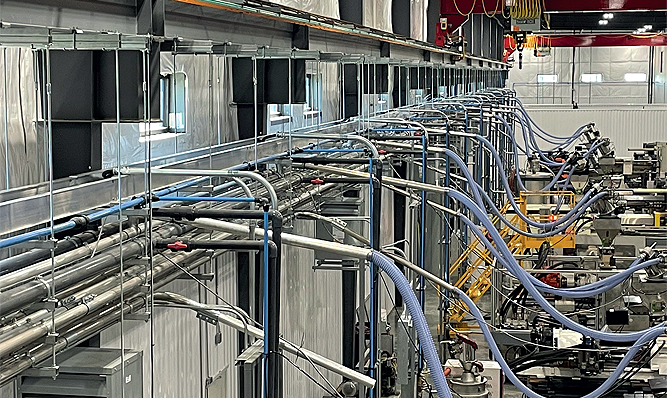 The spirit of Texas
As pioneering and entrepreneurial as the state where it was founded, Texas Injection Molding believes that success is built upon the right combination of people, process control and technology
Jeff Applegate founded Texas Injection Molding in 2013 with a vision to be the best regional supplier of custom injection molded products to companies within 300 miles of Houston, Texas. Following just eight short years, this hard-working and inspirational organization has grown to employ over 100 teammates and provide services to many industries.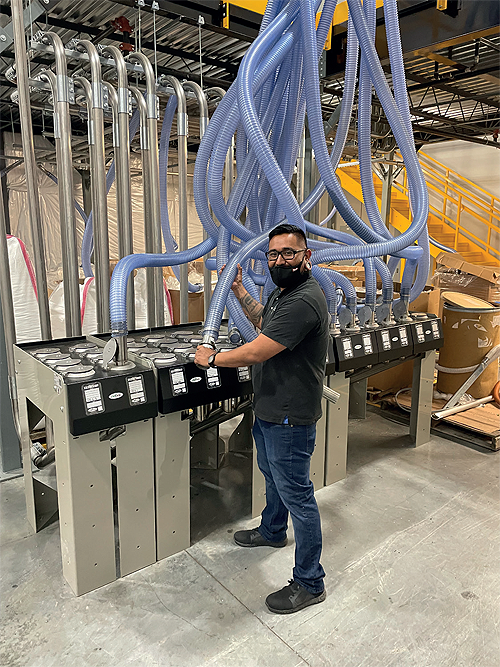 Manufacturing Today was privileged to speak to Jeff and get some deeper insights into the inner workings of his business. "We currently operate 25 injection molding machines up to 800 tons," he began. "We process most commodity and engineering resins and provide many secondary operations including assembly, printing, welding and packaging.
"We believe that if you are going to put your efforts into building a business you should strive to be recognized as the best. As such, we serve the industries that are in our region," Jeff continued. "Houston is known as the energy capital of the world and provides opportunities to work in demanding applications in the oilfield, as well as having the largest medical center in the world, providing prospects for new medical device and diagnostic products. Finally, Houston has a warm and humid climate, so we serve the HVAC industry in manufacturing components for air conditioners and the beverage industry. The diversity in industries provides our strength and allows us the opportunity to manufacture a wide range of products that keep the work interesting and rewarding."
Meeting the demands of these varied industries requires a range of equipment and Texas Injection Molding has a full-service in-house tool and die shop and is certified to the ISO Standards of 9001 – 2015. "In 2020, we completed the construction of a design-build 65,000 sq. ft. manufacturing facility strategically located at the intersection of I-45 and the Sam Houston Tollway in Houston, Texas. The new facility is climate controlled, crane served, and operates a central material handling system and central water system," Jeff added.
This new factory also has land adjacent that offers the business the opportunity to expand an additional 30,000 sq. ft. as necessary. "The current location has 29 bays for injection molding and one area dedicated to blow molding. We added a new Nissei 180 ton and new Nissei 720-ton injection molding machine in 2021 and in the Fall, we will be installing a two station blow molding machine. We also offer a wide variety of product decorating technologies including pad printing, hot stamping, heat transfer, dot-ping marking, and high resolution digital printing," highlighted Jeff.
"We have also added automated measuring equipment in our quality department and add supporting equipment to manufacturing and the tool shop as required. Should business support the purchase of additional molding machines, we have capacity in a few more bays available in the current facility."
From this modern and sophisticated location Texas Injection Molding manufactures a wide variety of products from commodity and engineering grade materials. Indeed, as Jeff puts it: "If you calculate the variety of plastic resins, molds, inserts, colors, components, value added printing, welding and assembly services, the complexity of our business is incredible."
Overall, the engineering of plastics parts is a core strength of Texas Injection Molding, which does not own any products and therefore does not own the design or engineering process of any products. "Our vast experience in industries, materials, applications, tooling, automation, printing, and assembly allow us to deliver very valuable knowledge to our customers' part and tool design and engineering process. Where our team brings dozens of products to market each year our clients may only occasionally bring out something new. When our clients collaborate with our team, great value is realized," Jeff revealed.
The underlying strategy that supports the entire business at Texas Injection Molding is founded on the three principles of People, Process and Technology, with people taking top priority. "We seek to attract and retain the best people, and hire and develop the top talent," said Jeff. "We then maintain disciplined process control during manufacturing, and provide the people the technology and tools to do their job."
This second tenet of Process is essential to providing consistent quality. "In plastic processing, the handling of material, control of water temperature, and machine processing parameters are critical to yielding a consistent outcome," explained Jeff. "The business therefore employs a variety of solutions and technologies to establish, maintain and monitor key manufacturing variables. Our ERP system monitors mold cycle, machine status, and schedule in real time. This allows us to automatically schedule and push information to our customers related to status of open orders, inventory and estimated completion dates. We call this Level Five Service where we seek to anticipate our clients' needs and push the information before they think to ask," he noted.
This customer service ethos reveals that Texas Injection Molding's dedication to the human side of the business isn't only applied within the four walls of its facility – the business strives daily to provide the best value and service to customers within a day's drive of the manufacturing plant. "We want to know each customer personally, understand their business and work closely with them in the design, engineering and supply logistics to make them as competitive as possible," explained Jeff.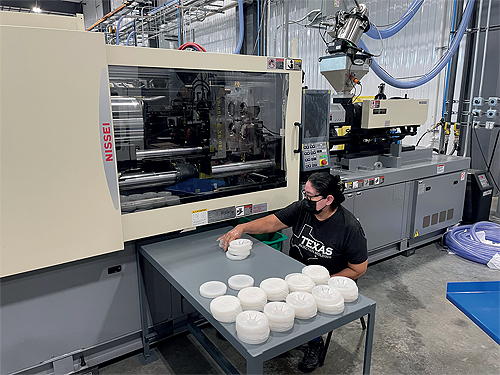 Giving an example of a close working relationship in action, Jeff described a recent project with HID Systems, a world leader in RFID tags. "We developed a product embedding a RFID label and chip into a product application and brought in HID to help collaborate on the design and manufacturing processes. HID joined us in ensuring a successful path to success with this application," he said.
The team at Texas Injection Molding will remember 2020 as the year their new facility was completed, but of course this celebrated event will forever be associated with the Covid-19 pandemic and the effects it wrought across the world. Jeff revealed that due to the products that it manufactures for medical, energy and construction the company was deemed an essential employer and never shut down. "There was fear in the beginning, and I did not want anyone to feel as if they were risking their life to come to work," Jeff revealed. "We gave all employees the option to take a leave of absence and guaranteed their jobs. Some employees took advantage of this offer, and all returned. We followed the CDC guidelines in respect to health questions, temperature checks, and hand washing. We created separated spaces in the break room and added a full-time person to continuously clean and disinfect all common surfaces such as door knobs, light switches and bathroom fixtures. We discontinued the use of the finger scanning time clock and required each machine operator to wipe down their work area between shifts. Masks were required for much of the time in the production area and group meetings were cancelled or moved to large socially distanced circles on the plant floor. For a period of time Engineering, Accounting and HR worked remotely. We did have a few cases, but were able to contain the cases from spreading across multiple people or shift."
As the fight against the virus continues and the vaccination program gains further strength, the future remains bright for Texas Injection Molding. Going forward, Jeff divulges that the plan is to continue to work diligently to prioritize and refine its processes to maximize productivity and efficiency from the investment. "We expect our capacity and facilities will allow existing customers to grow and will attract new opportunities that may have not come our way in the old facility," he said. "We will continue to take actions to be the best supplier to our customers, best employer for our team, and best customer to our vendors. If we take care of our customers, employees, and vendors then they will take care of the company. We expect our revenues to grow by more than 50 percent in the next two to three years and hope to enjoy the work we do together and the relationships that we share."
This circles back to the company culture, which Jeff believes is the 'secret sauce' or 'magic in the bottle' that separate the great from the good. "I believe culture starts with me and I try to be accessible, approachable, and express a genuine concern for each individual," he said. "I have an HR leader and management team that understand the value of culture and work to build a culture of mutual respect and genuine concern for everyone. We recognize the importance of family, balancing this with a responsibility to meet our commitments to our customer and to maintain a high-performance team.
"When people genuinely respect and care for each other, amazing things happen," he continued. "We think about culture every day and work to create an environment where our customers and employees can prosper."
Jeff concluded with some details about a small ritual that Texas Injection Molding upholds, which links customers, employees and vendors and makes them all feel part of the very fabric of the business. "A key part of our vision is to give thanks to our Lord for His provision and give the opportunity for all customers, employees, and vendors to share their story. For those interested, I enjoy getting to hear their amazing life stories and sharing them with the company." As part of this, customers, employees and vendors are also invited to 'bring a rock', and place this representation of their story in a rock garden at the front of the building.
Jeff believes that everyone has a great tale to tell, and this is certainly true for the business that he has created and made a success. Given the accomplishments that Texas Injection Molding has enjoyed so far, there is little doubt that this story will continue with even more achievements well into the future.
Texas Injection Molding
www.texasinjectionmolding.com
Services: Custom injection molding