Graceful manoeuvrability
TGA Mobility has streamlined to perfection its processes of producing simple, yet multifunctional Wheelchair Powerpacks that are gaining in popularity all over the UK and abroad
Working in an industry where your products can really make a tangible difference in customers' lives must elicit a feeling of satisfaction. A similar sentiment has been expressed by Tim Ross, the Sales Manager of TGA Mobility – a mobility equipment supplier located in Sudbury, Suffolk."The company has been operating for over 30 years and while we initially started by making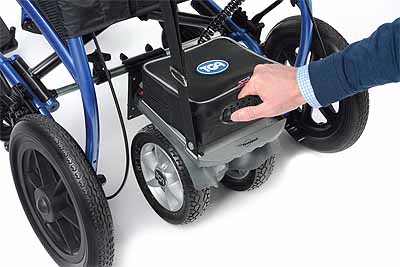 electric bikes, about 25 years ago, we began manufacturing what has become our flagship product – the Wheelchair Powerpack, which has since grown into a very strong brand leader across the UK and overseas."
The Wheelchair Powerpack is an attachable all in one set of wheels, motor, controller and battery that goes underneath the wheelchair to assist pushing it from behind."The key property of the Powerpack is that it is really small and simple. It is the only product that we actually manufacture, so we have a lot of control over the components we use,"Tim comments."We try not to overcomplicate the Powerpack. Instead, we offer a lot of different variations, so that it could fit in different types of wheelchairs. Having multiple options means that you can always have the Powerpack placed in the right position under the wheelchair, so that the feet do not kick the product when the chair is being pushed.This, essentially, makes the Powerpack much easier to use and work really efficiently," he reasons.
Just recently,TGA Mobility released a new model in its range, called Powerpack Plus, and Tim presents some of its key specifications to us:"It has been specifically designed with a more powerful, 24-volt motor, thus providing a higher torque. Moreover, its weight capacity has been pushed up to 32 st (203 kilograms)."The Powerpack Plus also features an updated control system, fitted with a modern 'soft start take off' technology that provides better traction and more comfort for the person pushing and the person in the wheelchair.
As the Powerpack is the only TGA Mobility product that is actually being manufactured onsite,Tim reiterates the simplicity of the processes taking place in the factory, referring to it as one of the reasons for the business' success. "It is noteworthy that we manufacture only some of the components onsite.The rest we buy from a range of suppliers, predominantly based in the UK, and then we assemble the whole product together, so we resemble an assembly product that is easy to use by the client." hall in a way. Each model is made to measure, depending on the wheelchair it will be used on, so we need to get it spot-on first time.Thankfully, we are fully capable of doing that and create a
Maintaining positive business relationships with its supply chain has invariably been a priority task for TGA Mobility,since the company relies heavily on its suppliers to have the necessary parts for the Powerpack in order prior to assembly. One of these key partners is TestWorks – a company well-versed in the delivery of electronic and mechanical solutions."We have a long-standing relationship with TestWorks that has been crucial for the overall progress of the Wheelchair Powerpack as a product,"Tim notes."We work through problems together and quality issues are always dealt with quickly and efficiently. Generally speaking, we have had easy communication with the majority of our suppliers, because we single-source all of our components mainly from the UK. In the marketplace, we compete against overseas suppliers, but what has really been fundamental to our success, is that we sell ours as a UK-made product with a longer warranty and a much better quality," he continues." Our greatest export success has been selling the product in to Taiwan"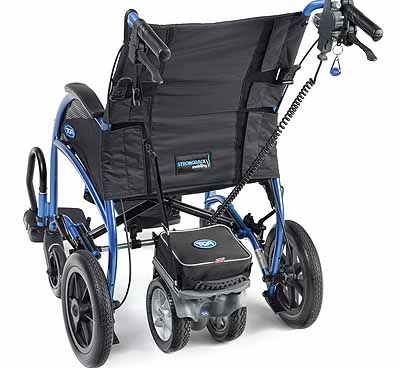 Not every manufacturing business we come across, places the use of social media high up their list of priority marketing activities. Companies often either underestimate the potential of digital media or simply lack the resources, both financial and human, to intensify their presence online, in order to strengthen their relationship with existing and attract new clients.TGA Mobility is clearly not one of these companies and its customer-centric approach has social media activity as its cornerstone in the business' attempts to drive sales.
"We do a lot of things.We are both manufacturers and importers and we sell both retail and wholesale. Put briefly, we are involved in every part of the marketplace. Being on social media is more related to selling direct to consumers and creating a brand.To us, it is really important to generate user stories and to communicate with people in a simple and friendly manner. Our presence on digital media involves a lot of explaining how the customers can use the products and how much satisfaction they can get out of that. It might be interesting to know that even though our clientele consists predominantly of elderly people, they are still very active on social media platforms and we are able to reach them quite easily,"Tim discusses.
By the looks of it, 2018 is shaping up as a year dedicated to the launch of new products by TGA Mobility. At the end of April, the company presented its revolutionary WHILL C powered wheelchair at the Naidex exhibition at the NEC in Birmingham.The new product features a range of benefits, including an aesthetically pleasing appearance, manoeuvrability, comfort, and advanced lightweight transportability, allowing great mobility even on challenging terrains.
Since TGA Mobility is also a prominent importer and wholesaler of electric mobility scooters, the business is extending its offering in this area, too, by the end of the year."We are looking to start selling a new product that is a variation of one of our scooters. It is an extremely innovative scooter, which, at the press of a button, can fold itself up, so that it can be easily placed in the boot of a car.
"We are confident that both products we are introducing to the market in 2018, will do really well. It is a very successful period for the company at the moment and we want to build on the momentum over the next few years, which explains the ambitious plans for growth we have set ourselves,"Tim is encouraged about TGA Mobility's future.
TGA Mobility
Products: Wheelchair Powerpacks, electric Mobility Scooters, Powerchairs