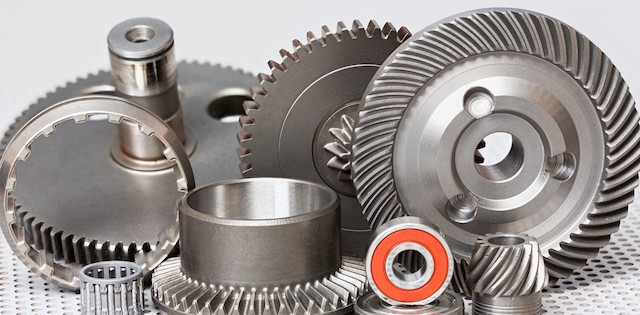 For nearly 70 years, The Armoloy Corporation has been a strategic secret weapon for keeping industry up and running around the world. From plating nuts and bolts to components for the vehicles used on other planets, the company remains the first name in precision coatings.
"We feel we've perfected the science and processing for TDC (Thin Dense Chrome) over this time because of our relentless pursuit of improvement," says Jacob Meier, co-owner and chief business development officer. "Our experienced staff and management are dedicated to finding a solution to every customer need from prototype to mass production."
The Dekalb, Ill.-based company was founded in the early 1950s in Fort Worth, Texas, before moving to Illinois 20 years later. Armoloy began with its namesake product, Armoloy TDC and then expanded into other specialty coatings, XADC (diamond coating), Nyflon, Biprotec, Precision Nickel.
"Armoloy's TDC and XADC differ from traditional hard chrome in a number of ways, but put simply, our coating does not contain the microcracking related with traditional hard chrome, which improves the corrosion resistance," Meier explains. "We apply our coatings at very thin deposits that don't affect part tolerance or balance and eliminates the need for post plate machining."
Armoloy recently completed a seven-year wear study with a major customer and Armoloy TDC showed nearly double the corrosion and wear resistance of hard chrome in a 3,200-kilometer endurance test for the linear rail industry. The company also met with an existing customer that manufactures complex molds for a high-end furniture maker. Its XADC coating extended the time in between tear down and cleaning by nearly 100,000 cycles when compared to an un-plated mold.
Solid Network
Four years ago, Nolan Hannan became the general manager of Armoloy of Illinois, a franchise location located next to the company's headquarters in Dekalb, to gain exposure to the industry prior to joining Armoloy. "I became instantly captivated by the process and the industry as a whole," he remembers. "It's an incredibly hands-on and complex process that requires knowledgeable and highly skilled workers to do it the right way."
Hannan had worked with the owners of Armoloy for some time who informed him of their five- to seven-year plan to sell the company after he came aboard. "We discussed what it would look like in terms of purchasing the company if the stars aligned, and that five- to seven-year plan quickly became a one- to two-year plan for them," Hannan remembers.
About one year after joining Armoloy, Hannan began seriously considering purchasing the company but knew his expertise in the business development, sales/marketing realm was not a strong suit. As luck would have it, he just so happened to have a brother-in-law, Meier, with 20 years of experience running a successful independent manufacturers agency and research firm. Meier was also captivated by the nature of the business and the day-to-day challenges that come with such a diverse customer base.
"With the fastest lead times in the industry and a 99.9 percent customer approval rate, we knew we had something special," Meier says. In July 2017, Hannan and Meier purchased The Armoloy Corporation, Armoloy of Illinois, Electrolizing Inc. and ME-92 Operations. Hannan is now co-owner and the company's operations officer.
Armoloy of Illinois is a franchisee of Armoloy, specializing in high Rc chromium plating technology. ME-92 Operations, also a franchise, specializes in biocompatible, chromium coatings tailored to the medical community. Hannan and Meier's third franchise, Electrolizing, offers three premier chromium coatings for the aerospace industry.
With 16 franchise locations in five countries, Armoloy is committed to being where industry needs it the most. Armoloy works with OEMs and Tier I suppliers to mom-and-pop shops in nearly every market imaginable, including automation, automotive, oil and gas, aerospace, injection molding, tool and die, food and drug, packaging, medical, firearms, military, specialized machinery and more.
Armoloy has privately owned and operated franchises and fulfillment centers in Connecticut, Texas, New York, Ohio, Pennsylvania and South Carolina, as well as overseas in England, Germany, China and South Africa. The company has both open market and captive market franchises. "The captive market allows OEMs and Tier I suppliers to take Armoloy in-house so it's proprietary to their product and allows them a competitive advantage because the product performs very well," Hannan explains.
Although the company is selective and strategic in choosing franchise partners to avoid oversaturation in certain regions, it is looking to expand its footprint in the Pacific Northwest of the United States, South America, Europe and Asia. "We have seen incredible growth over the past 20 years because of engineers talking to other engineers about how our product works," Hannan says. "They provide true testimonials about how the product performs and how we take care of our customers. We plan to continue to improve on that process by utilizing the best available technology, futureproofing, market innovation and educating."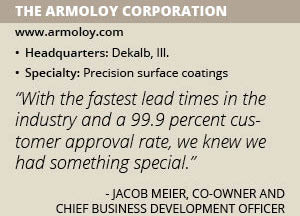 Opening its Doors
Developed to protect and enhance a wide range of manufacturing tools and components, Armoloy's coatings are applied in a chemical bath by means of a proprietary process. For the first time ever, Armoloy of Illinois will open its doors to engineers and customers who want to learn more. "It was very behind-the-veil and we think that giving them the opportunity to tour the facility, meet the people involved, see a little of the process, touch and feel the coatings and run destructive tests will open their eyes to our process and uses for our coatings," Meier says.
The company is investing in additional testing equipment in its corporate lab and training center to expand the types of test available to its franchise network, assist in the research and development of new coatings and help engineers understand its process better and what the coatings do. "We have had a number of conversations internally about how we can better educate existing and potential customers," Hannan says. "What we've found, and based on my own experience, is that universities don't spend a lot of time on coating applications as part of their engineering programs. There is a general lack of understanding within manufacturing about the performance of different coatings, so we continually try to educate our customers about which coatings are right for which applications, even if it's not one of our own products."
To combat some of that disconnect, Armoloy is developing an internship program with local universities' chemistry departments and hopes to also gain greater insight into the research and development of new coatings. "Every day we work on research and development, spending an enormous amount of time testing the coatings to determine best practices," Meier says. "We feel new blood is good and shakes it up a bit to see new and fresh ideas in a different perspective. They are the next generation and the technology that's available to them is more common to them, and that's exciting."
Being a good partner generates the solutions to nearly any problem. Armoloy covets this mentality in its relationships with customers, employees and franchises. "Our customers tell us exactly what they need from our services/products; franchises owners and employees tell us what is needed operationally to move forward and stay agile; critics tell us where we can improve," Meier says. "We truly listen and make decisions based on information from the people that make all of it possible."
The Process (Flagship coating "one of many")
Armoloy TDC is a hard, thin, dense chromium coating with a micronodular surface texture. Typically applied at a deposit of .0001/.0003 inches (2.5/7.5 microns), Armoloy TDC is effective at deposits as low as .00005 inches (1 micron).The coating may be applied to tool steels, stainless steels, copper alloys, bronze and brass, and its durability is demonstrated with surface hardness, corrosion resistance and friction reduction.
Every job is individually engineered to ensure customer specifications are achieved and the performance of the coating is optimal. Surface preparation methods are identified based on the coating, base metal and surface finish of the part. Each part is individually tooled to ensure even coating deposits across all surfaces, which is important for parts with complex geometries.
Masking is specified to ensure the coating is only applied to the surfaces requiring protection. Plating parameters are defined to ensure minimal variation in the plating process and that surface characteristics are controlled. Armoloy performs multiple quality check points throughout the process to ensure the customers' specifications are adhered to and it is providing the best available product.
The Armoloy process does not allow for a high degree of variation within the processing steps, so every one of its 400 employees across the network must abide by the company's processing parameters to ensure the quality of the coating. Armoloy of Illinois serves as the hands-on training facility for the franchises who can send employees at any time to receive initial or supplemental training in all facets of the process.
Each franchise location provides a service to Armoloy's customers and treats the customers' parts as their own. "We understand that plating is often the last step in the manufacturing process and as such, damaged, lost or poor-quality parts can be disastrous to our customers production schedules and lead times," Meier says. "'There's no upside to downtime,' is one of our slogans and we constantly keep lead times to a level that works for the maintenance departments or tool shops. Keeping machines running is our No. 1 goal."
Improving Processes
Armoloy promotes a culture of continuous improvement throughout its network, continually questioning the way things are currently done and if better methods exist, down to the way it processes individual jobs. The company searches for bottlenecks within production and addresses those with additional resources or process modifications. For example, Armoloy of Illinois and Electrolizing invested in additional surface preparation equipment after identifying it as a bottleneck in production.
Armoloy 4"We practice lean manufacturing in that continual improvement and identification and elimination of waste throughout the process is engrained in our way of thinking," Hannan says. "We have an unbelievable network of talent throughout the Armoloy family and we are often sharing ideas on how to improve our customers' experiences and improve throughput."
Most franchises are ISO 9001:2015 or in the process of achieving certification and multiple locations are NADCAP certified. The corporate office is undergoing certification for lab (ISO 17025) and pursue ISO 9000/14000 subsequently. Armoloy of Illinois was recognized as one of Product Finishing's Top Shops in 2018.
Armoloy has multiple green coatings in development for its ISO 14001 and LEED certified manufacturers as well as franchises and customers that must comply with REACH standards in the European Union. Its partners hope to offer additional coating worthy of the Armoloy name by 2020.
Focusing on the Future
Because Meier and Hannan are franchisees of Armoloy themselves, the brothers-in-law not only believe in what they are selling, but are working in the industry every day to better understand the needs of its franchisees and customers. "How can you train someone or comprehend what the franchises need if you aren't living it every day?" Hannan asks.
"Nolan and I are both driven individuals and demand excellence; that's the expectation," Meier says. "We don't want to grow for the sake of growing the company, but wake up and do the best job we possibly can do and make that infectious throughout the organization. Nolan and I are very ambitious, like what we do and got into this wholeheartedly. Our vision is to create new partners and customers and develop relationships."