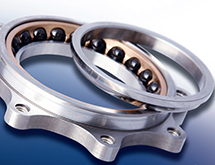 The Barden Corp.'s customers have noted the high quality of the precision ball bearings it manufactures for more than 70 years. "From a sales standpoint, it's nice to go to our customers and know we have the best quality in the industry and that our designs are the most robust," says Don LeRoy, director of sales and engineering for the Danbury, Conn.-based company. "When customers need bearings for a difficult application, they know they can come to Barden and get the right design from the very beginning. We always say to our customers, 'bring us your most difficult application, and we can find a bearing solution for it.'"
The ability of Barden's bearings to withstand extreme environments and perform in critical applications is particularly important in the aerospace industry, one of the company's main customer bases. "Our bearings are used in flight-critical operations, so if they don't work properly, the aircraft will have performance issues," Vice President of Operations Dennis Miller adds.
Barden's ball bearings are used in auxiliary power units, blowers, actuators, gyroscope, air handling units, generators and other portions of aircraft manufactured by global manufacturers such as Honeywell, United Technologies, Rolls Royce, Boeing and Airbus. Barden is a part of the aerospace division of Germany's Schaeffler Group. In addition to the manufacturing facility in Danbury, the division includes facilities in Germany, Canada and England. The company is  AS9100 and  NADCAP certified and FAA Part 145 approved.
Aerospace is just one of the company's markets. Barden's products are also used in machine tool, special machinery and medical applications. The company serves OEM customers directly, while it serves MRO customers through a network of more than 1,000 distributor locations.
Added Capabilities
Barden is working to expand its capabilities within the aerospace industry by investing heavily into the Danbury facility. Work is now underway on a new cylindrical roller bearing (CRB) production line in the Danbury facility similar to those in place in its three other sites. "We will increase our ability to supply Defense Federal Acquisition Regulations (DFARS) compliant parts to the U.S. Military and other aerospace customers," LeRoy says.
The new CRB production line will also give the company the ability to produce more complex parts such as those used in aircraft engines and gearboxes.
In addition to adding CRB capabilities, Barden is also investing in ways to improve its other products, such as ball bearings and spindles. "Our customers want to combine bearings with housings or shafts," LeRoy says. "We're working with customers on more robust designs for bearings that have a longer life, and as a result, our bearing designs are becoming more complex."
Barden works closely with its customers from early design and prototype stages through product completion and testing. Much of the company's manufacturing efforts are geared toward heat and surface treatment. "We want to be able to extend the life of the bearing as much as possible and reduce the wear of these parts as much as possible," Miller says.
Looking to the Future
Barden's customers benefit from the company's R&D capabilities, which LeRoy says include examining industry and design trends to determine the sorts of materials and finishes needed for the next generation. "I think we do a better job than our competitors of looking at the future of what aerospace bearings will look like, and work with our customers to make that happen today," he adds.
Barden's supply base also plays an important role in the development of its products. "We take information from our customers about where they see their business in the future and share that with our supplier chain," LeRoy says. "We also take any feedback from customers and share that with our suppliers so they know what our needs may be moving forward."
Suppliers are also involved in the company's continuous improvement and efforts. These include utilizing Schaeffler's MOVE program, which is a German acronym for "doing more with less." The program incorporates lean methodologies and focuses on ways to reduce waste and inventory, the company says.