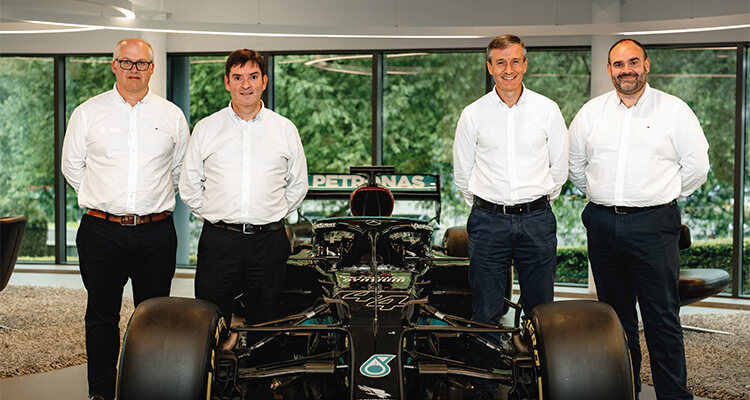 The cost cap, recruitment, and manufacturing innovation: 2023 has been more than just a race for the Mercedes-AMG PETRONAS Formula One Team and its top leaders. By Danielle Champ
When Lewis Hamilton took pole at the Hungarian Grand Prix in 2023, Rob Thomas was at home, watching the race, surrounded by his family, and their Romanian cats. It had been a year since the Mercedes-AMG PETRONAS Formula One Team (Mercedes-AMG) had been on pole, and over half a season since the team experienced a win. "One of the cats was on my lap, and when Lewis got on pole, I jumped up and the cat clawed my leg; it was probably really confused about what was going on," he shares, elated by the memory. "That emotion, you just don't get it anywhere else," says the Chief Operating Officer. "Everyone who works here lives for those moments."
Rob, along with Graham Miller, Gordon Kelly and Darren Burton are some of the leaders that keep the wheels of the Formula One team spinning, both on and off the track. They sit down with Manufacturing Today to discuss the highs and lows of a career in motorsports, and, more importantly, the innovation invested that brings Mercedes-AMG to life. "It's a funny thing," Rob says, "When you're winning every year, you're the one always being chased, and there is an ongoing pressure of whether you can win it again. Then in 2021, we lost, and suddenly, we were the ones doing the chasing, and that's a different motivation, which is quite exciting."
Part of the sport's exhilaration is the pace of continual improvement; something in which Mercedes-AMG is particularly well-versed. The ability to pivot quickly to industry changes is what saw the team claim seven World Drivers' titles and eight World Constructors' Championships, all won consecutively. Although it's been approximately two seasons since Mercedes-AMG took the lead in the world of Formula One racing, that hasn't stopped the motorsport business from investing time and skills into producing an exceptional car.
Formula One fans may argue that the thrill of racing comes down to driver politics. However, there's more to it than the push for first place. After all, a good race is orchestrated by the harmony between driver and car – the real work is down to the complexity of the parts hammered to the chassis. For Graham, who serves as the Director of Technical Operations in Applied Science, a detail that is often taken for granted is the fact that every idea must be manufactured. "What's often overlooked," he further explains, "is the machine behind the design. In fact, it's more than that. It's the speed at which we need to work to establish each component and get it on the car in time for the next race." Gordon concurs. The Composite Manufacturing & Quality Director emphasizes Graham's point by outlining the agility of the company's operations. His primary task is a daily check of the team's progress and development. "From the chassis to the gearbox, the whole process must keep moving.
"All through the winter period, we're working on the car," he says, adding that work here begins in the wind tunnel. "The aero packages are tested for aerodynamics on our computer software, then they get validated on the model in the wind tunnel. Once we've achieved good performances from the part, it gets released into the design world," explains Gordon.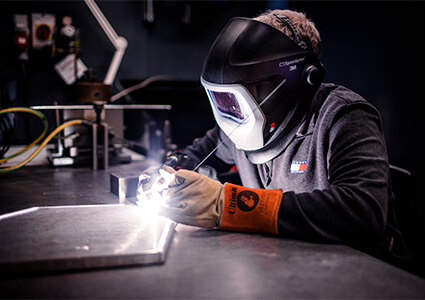 "The designers then look at making the part into a real structure according to how it interfaces with the rest of the car. They design the parts, release the designs, and then determine those that need manufacturing and those that need to be purchased. Obviously, the parts that are manufactured fall into my world of composites.
"We start by making the shapes and patterns, as well as tooling molds, and fixtures," he continues. "Alongside that work, we start to manufacture the parts and we'll go through each of the areas. We use the cleanroom where we laminate the structural parts. Because they're all separate parts, we bond them together to a larger assembly. Finally, we put them to the test. For parts such as the wings, or the rear suspension, we must guarantee accurate functionality.
"When we get the car launched, there's additional pressure to get the right quantity of each part, and we're always close to not quite having enough. Once we've hit race season, we are continuously working on updates for the car. We bring new update packages, then we launch another one, and it's a constant cycle of design and manufacture, and my role is to ensure that we are on track, and that nothing gets left behind."
Graham best describes the business' operation as prototyping. "We're all about evolving. Our goal is to design the fastest racing car and keeping it at the front, whether by means of aerodynamic efficiency or something more specific. We don't make a product; we make a prototype. So, our work here is to prove a concept. We're in a situation where we design something in this factory, take it to an event, and find out if it's going to achieve its full objective. If not, we learn from it, and start again. That's really what we're all about here."
The process is endless, and above ensuring speedy delivery, the team also needs to grapple with external adjustments, such as FIA regulations. One of the most challenging was of course the cost cap. Introduced in 2021, a spending limit of $145 million was enforced to establish fair economics between the most successful teams and newer entries to the sport. In 2023, the cap dropped to $135 million, and although Mercedes-AMG has adapted well, it has not always been a smooth ride. "The cost cap," shares Rob, "has probably had the biggest impact on us since I've been here. Initially, it wasn't too painful. However, during the pandemic, other teams lobbied to have it reduced further, and then, for companies like ours, it was eye-watering. We had no choice but to reassess how we operate.
"We looked at resizing the company, which would have been simpler but painful, but we had spent so many years building the team we have today that we did not want to break this up without a fight. We spent many hours thinking about how to achieve this goal while ensuring we conformed to the cost cap regulations. The answer was to develop a model where we balanced out what we call F1 work and non-F1 work. This brought us a level of efficiency the business has never seen before. When it comes to manufacturing, things had always been pretty efficient, as that's how the manufacturing folks here have always worked. The introduction of the cost cap, however, has driven this to a whole new level and our focus on utilization is so much higher than it was before," Rob stresses.
Gordon echoes this sentiment. For him, in addition to the cost cap pressure, he acknowledges that time will also always be a challenge in Formula One. "Adapting to the cost cap enforced new ways of thinking to ensure parts are delivered efficiently. I have a lot of people to oversee, and I need to be certain that we are all compliant, which forces us to be innovative, and meet deadlines."
Although working in a high-pressure environment can be physically and mentally demanding, working for one of the industry's leading teams is a dream for many, and with the right approach, some individuals thrive within this sort of atmosphere. Like Darren Burton, who is aware that the chance to establish and develop a career with a team like Mercedes-AMG is a once-in-a-lifetime opportunity. "I've been so fortunate," begins the Operations Director. "I worked trackside for a number of years, and then I had the opportunity to come into the factory, and I've just found my niche in life."
When Darren started in Formula One, the team he was working for consisted of less than 100. Today, the Mercedes-AMG operation depends on approximately 1200 employees for the chassis and gearbox manufacturing alone. "As we've grown, there have been a couple of challenges, but that's just a natural consequence of an evolving business. We've since become very close."
The senior leadership team, including Rob, has worked tirelessly to create this tight-knit community, and it pays off when unexpected events set the business back.
"The team kicks into gear quickly when something goes wrong," Rob says. "If we have a DNF for some reason on a Sunday afternoon, there is an immediate reaction from the operations guys. A well-rehearsed process kicks in, starting with many phone calls to the circuit, asking questions like 'Which parts have been impacted? How quickly can we get them back?' We move quickly, and practically, with limitless energy, because those are the kinds of people we attract and encourage here."
For the COO, two values are important to building the company culture at Mercedes-AMG: resilience and celebrating success. When it comes to the latter, one of Rob's philosophies is to ensure that big milestones are acknowledged, and big wins are honored, like the first fire-up of the new car for example. Regarding the former, he notes that building resilience is critical to sustaining a career in Formula One, whether you're a part of the assembly team or the pit crew. The team is all important and everybody supports each other through the good and bad times. To enable this, the structure in the organization is kept very flat, with limited hierarchy and an ethos that starts at the very top. "There are lots of punches in the stomach along the way," Rob says, referring to Hamilton's loss in 2021.
After Michael Masi, Race Director, adjusted the FIA rules to secure a safety car restart on the final lap, Max Verstappen, of rival Red Bull Racing, overtook Hamilton and grabbed his maiden championship win. "That still burns in a lot of people. The injustice of that moment was really painful. But I think the leadership team is extremely motivated to put things right and we're fortunate to have great support from the shareholders through the investment we're putting into the site to uplift our team here."
As Rob mentions, one of the ways in which the business is continuing to invest in its team and re-energize its innovation is through the renovation of the Brackley site; a program that has been ongoing for the last four years. "Our goal is to set a new standard. What we've found as we've grown is that everything was just a bit too small, which was starting to frustrate some of our people. We're investing in a new car park, a new wellbeing building, a new gym, restaurant, and breakout areas. The motivation centers around encouraging creativity. We want to create somewhere where people want to come to work, where they can actually interact and generate new ideas."
This level of investment could be beneficial for the company, especially at a time when recruitment is a widespread challenge across the manufacturing industry. At Mercedes-AMG, there is ample opportunity to take on an apprenticeship and grow through the ranks. "It's so rewarding to bring in younger talent, and work closely with them so that they go on to do great things here," Gordon shares.
It's clear that one overarching theme stands out for all four leaders: having the right company culture is what has continued to keep Mercedes-AMG in the race. "We base our principals on PRIDE," says Rob. The acronym stands for Passion, Respect, Innovation, Determination and Excellence. "We have removed any barriers to communication, and we work hard to ensure that anybody can talk to anybody else, with the utmost respect. This makes for an energizing environment to be in. It may seem flippant to say but we're trying to be the best in the world at what we do. To achieve that, everybody in every part of the company must do their bit and really contribute."
Darren agrees: "I'm very fortunate to work with the people I work with. To potential apprentices out there, send us your application! This is a fantastic place to work. I've been here for 22 years, and there's a reason why so many of us have stayed for so long. I think our sector of manufacturing is in quite a unique position in that we get to see our work perform on international television, which is a hugely satisfying part of the role for me.
"Yes, we've had some bad races, and yes, at the moment, we're on the back foot behind Red Bull. But we've also had some good races, and we've been successful. Those fluctuations and challenges are just part of the job. But it doesn't really take away from the pride we feel when we see the car we turn out. I love what we deliver, and the way in which we deliver it. We work well together. We work as a team, and I think that's to our credit."
In the foyer of the Mercedes-AMG reception, there is a massive board with the words 'All in Performance' written across it. The board is covered in every employee's signature, all 1200 of them, as a demonstration of the unity needed to continue to be one of the top names in Formula One racing. With this in mind, Rob brings the discussion to a close on a note of gratitude. To the Mercedes-AMG team, he says: "This team is something special. I've worked in quite a lot of places, but never with a team with this level of commitment and drive. The energy they put in is second to none. Although we've had some ups and downs this year, I think we're on the right path. We've shown over the years that if we keep supporting each other, we will get there. So, I just want to say a massive thank you for everyone's efforts, and let's keep going. Because when we do get to the top again, it will be brilliant."