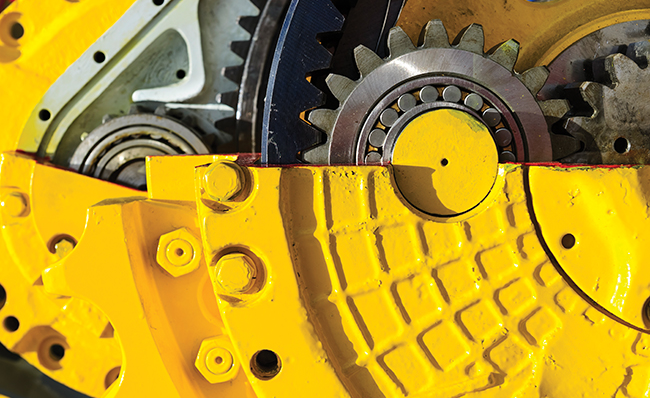 When a national agricultural and construction equipment OEM was facing a capacity problem related to coating operations in one of its assembly plants, the company looked to the Crown Group for help.
"Their previous coating operation had created a nightmare for their assembly plant," a company representative says. The OEM was regularly shutting down the plant and running three daily shifts to deal with a coating backlog.
The situation quickly turned around after the equipment OEM invited the Warren, Mich.-based component finishing company to take over the coating operation. "We reengineered it from top to bottom," the representative says.
Positive changes to the facility included reducing the number of coating shifts from three to two and greatly improving the coating line's ability to paint parts on the first pass from 5 to 98 percent. Crown Group also significantly improved inventory control and tracking related to the parts being coated. "[The equipment OEM] has 3,500 SKUs, most of which were being lost under the previous system," the company says. "We were able to get inventory under control by implementing an ERP [enterprise resource planning] system and by being disciplined in the way we manage inventory."
Crown Group's turnaround of the plant's coating operations earned it recognition from the OEM. "We did a phenomenal turnaround there," it adds.
Diverse Capabilities
The company's work for the equipment OEM is representative of its overall focus on lean production methods and value-added services. Founded in 1965, the company is a leading provider of coating component finishing services, with a particular focus on corrosion protection.
"Our customers typically come to us because they have a corrosion protection challenge," the company says. Crown Group offers standard coating services as well as specialized coats such as Cavity Wax, which is applied to the cavities of a metal box section to provide added defense against humidity. Abrasive-resistant coatings are also offered.
"A major part of our positioning in the market is our ability to offer the entire range of coatings," the company says. "We perform almost every type of coating application there is to do."
The company operates 10 coating facilities, including three facilities that are fully co-located at customer manufacturing plants. "A lot of our customers' business is driven by geography and freight expenses," the company says. "There is a strong trend within the industry for coating companies to be co-located with manufacturers."
Crown Group serves a number of industries including automotive, agricultural and construction, heavy truck, military and alternative energy. Many of its customers are Tier 1 OEMs.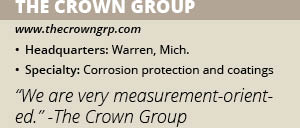 Parts received by the company at one of its coating facilities are placed on a roughly quarter-mile-long conveyor system, where they go through a number of pre-treatment stages including cleaning and rinsing. After being cleaned, parts go through conversion coating and sealing processes before paint is applied. The painting process can differ based on the type of coat that is needed for the part, but typically includes dipping parts in an e-coating tank before they are coated with a corrosion-resident resin-based paint. Parts are then rinsed again and given an additional layer of paint before they are cured.
Managing the Chain
Crown Group has diversified its customer base in recent years in response to changes in the individual markets it serves. Much of the company's business comes to it via referrals from previous customers.
The company seeks customers who are looking for high-quality coating and specialty coating services. "Because we've differentiated ourselves in the market, we've differentiated our customers as well in the sense that we're looking for value buyers," the company says. "We're not interested in being commodity providers; we want customers willing to pay a little extra for our operational and supply chain expertise."
The company uses electronic data interchange (EDI) and barcoding systems to track parts that are moved to OEM facilities after coating is completed. "Customers appreciate the fact that we can manage their supply chain effectively," it adds.
Crown Group's ERP system enables it to track and reconcile inventory with its customers' systems. "We act as an agent for most of our customers and can do transactions in their systems as we ship their products," the company says. "We will track transactions not only in our system, but in our customers' systems on their behalf. Our customers trust us to manage our data streams as well as theirs."
Delivering Quality
Crown Group believes strongly in lean manufacturing and quality assurance. The company is EN ISO 14001 and TS-16949 certified. "For us, it's pretty simple – we want to deliver the quality customers expect with the least amount of resources," the company says. "Almost all of our measurements and lean activity is focused on utilizing one constrained resource as best as we can."
The company uses a number of internal processes it refers to as the
Crown Operating System to guide its quality and other processes. "We have defined practices and metrics related to quality that we apply to everything in our operation," it adds. "We are very measurement-oriented."
Crown Group's visual inspection process includes checking coated parts for paint quality as well as film buildup, gloss and color. The company follows customer criteria as well as its own standards during inspection.
Recent Investments
The company continues to add to its capabilities. Crown Group three years ago purchased Electra-Finish Inc., a North Carolina-based coating provider to luxury European automotive OEMs including BMW and Mercedes. The acquisition allowed the company to expand its geographic footprint as well as serve a specialty market, it says.
Crown Group earlier this year added a robotic coating line to its plant in Fort Wayne, Ind., which is used to apply DragonHide, a heavy-duty abrasive-resistant coating product manufactured by PPG Industries. The coating is applied to gas tank straps used in trucks, commercial vehicles, heavy-duty equipment and other demanding applications.