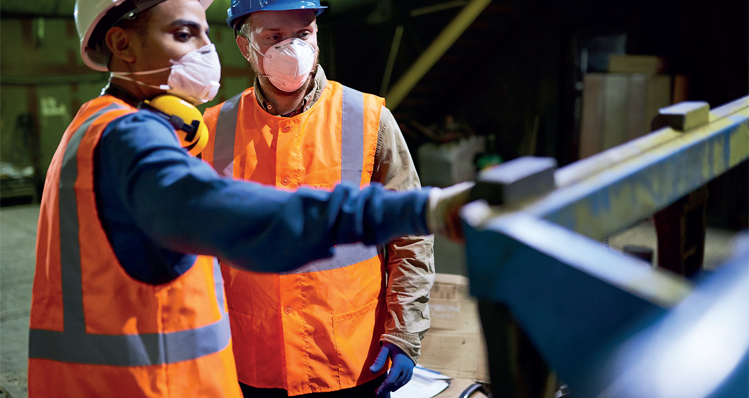 The manufacturing industry in the UK is strong and has spent the last four years preparing for life after Brexit – but no one could have prepared for the devastation that Covid-19 has brought to global societies and industries.
As the nation is adjusting to what is often called, 'the new normal', many factory workers have not seen much change in their working habits as they maintained their work flow with no 'work from home' options available – producers on the frontline have kept the country moving with food production, online retail and distribution, health and medical supplies, utilities – the often overlooked and unsung heroes.
This has come at a price as factory workers have been among some of the largest groups affected by the virus; a meat factory in West Yorkshire, garment factories in Leicester, a chicken processing plant in Wales, a cement manufacturer in Bristol, a Leicester potato snack factory, and a slaughterhouse in Germany where over 1500 workers tested positive for Coronavirus are just some of the manufacturers that have hit the headlines – but why are factory workers among the hardest hit?
Some contributing factors include close proximity working on production lines, symptomless positive cases that spread undetected, refrigerated production areas (lower temperatures preserve viruses well), lack of ultra-violet light, slack health and safety protocols, and loud environments that encourage colleagues to stand close together to communicate or to shout which also increases viral particle spread. There are so many contributing factors, many of which were unknown in the early days of the pandemic, so there is little value in playing the blame game – what we need to do is look at how to make changes to future proof the manufacturing industry by taking positive action from this point on.
What we can take from the above factors is that factory design can play a large part in reducing the risks during future pandemics while also planning for post Brexit expansion. Factory design needs to look closely at what the factory is, or will be, producing and what its needs are; getting the basics of the flow of goods and personnel is at the heart of the issue to keep factories working to capacity – the ability to react to change is the lifeblood of the manufacturing industry.
Plan layouts that incorporate the potential to expand, adapt, and re purpose; look at foundation and base structure for weight bearing capacity, headspace, bay size to accommodate machinery, and adequate workspace for employees, consider needs now and in the future.
Consider how materials are handled during production to increase worker distance, reduce bottlenecks, reduce material handling costs and factor in where the use of cranes, hoists, and conveyors can streamline processes.
Utilize materials in the factory design that are sustainable, recyclable, or produced from recycled materials. Steel framed buildings offer a cost-effective option that can easily be added to in the future – either upwards, or outwards. Solar power may not be offering solutions to run heavy manufacturing facilities, but tap into ecologically sound power options where possible, staff showers heated from solar power or grey water for toilet facilities are a great place to start.
Consider automating elements of your production – this can be especially useful where processes are executed in limited space. This may entail retraining and reskilling staff as part of the changing role of the factory employee; equipping staff with new skills in technology will lead to a more engaged workforce as their role becomes more varied and less mundane – utilize the skills of your workers.
Where automation is not possible due to limited space, limited finance, artisan, or hand finished products, look at how assembly lines can be reconfigured to create safer and more inspiring workstations.
Look at lighting and ventilation – lighting and air quality have been proven to affect employee productivity and fatigue levels, ensure these are adaptive, fit for purpose, and reactive; make sure you meet the statutory requirements of the Health and Safety at Work Act, but emember to think outside the box and research newer, cleaner, more cost effective ways of doing things.
Establish that the concept of all new or reconfigured factory design is right and do not be rushed during the design phase. The productivity curve, profits, and output could be disproportionately affected long term for the sake of a week or so in the planning stages.
Be innovative and bold. Factories and manufacturing facilities need to be functional, safe, and maximize productivity potential, but embedding elements of space, light, and clever design detail can create a less boring and more stimulating working environment, which will lead to a more satisfied and productive workforce.
I genuinely believe that to safeguard the UK manufacturing industry, factory design has a huge role to play in future proofing the success of the UK economy.
Paul McFadyen
Paul McFadyen is Managing Director at metals4U. Based in Wetherby, West Yorkshire, metals4U was founded in 2002 as the UK's first online supplier of metals, plastics, tube clamps and engineering consumables. metals4U is now an industry leader in supply of superior quality grades of steel, copper, bronze, and brass, power and hand tools, PPE, workwear, and engineering products to retail, wholesale, hobbyists, artists, DIY, construction, and industrial sectors.
www.metals4u.co.uk