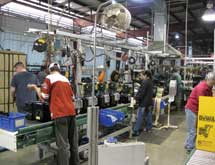 The recession has put the squeeze on countless U.S.-based manufacturers in the last two years. However, FNA Group has a diverse portfolio of products that serve sectors with consumer pressure washer applications. "We're dealing with an economy that is less than what we'd hope," says Bill Fischer, vice president of marketing. "With the broad range of segments we are currently in, we're a growing company, even in this economy."
Headquartered in Elk Grove Village, Ill., The FNA Group is manufacturer and supplier of pressure washers, pumps, hoses and replacement parts to consumers and industrial customers worldwide. The FNA Group is the parent company for OEM Industries, Simpson Cleaning Systems and Delco Cleaning Systems, as well as managing the company's consumer pressure washer division, FAIP Powerwasher.
The company operates a 228,000-square-foot manufacturing facility in Decatur, Ark., and has manufacturing operations in Asia through a joint-venture partnership, as well.
Product Variety
Through its FAIP North America division, The FNA Group manufactures a variety of electric and gas pressure washers for the home market. These products are sold to brick-and-motor and online retailers, as well as through private labels. The company also manufactures accessories for its FAIP products, including brushes, brooms and liquid soaps, as well as FAIP pumps.
OEM Industries is considered one of the most prominent manufacturers of thermoplastic hoses in the United States, and it serves as a reseller of additional types of hoses, as well. OEM sells hoses to many pressure washer manufacturers and aftermarket supply companies.
In April 2006, The FNA Group purchased Simpson and Delco Pressure Washer companies to jump head first into the industrial cleaning market.
Through Simpson Cleaning Systems, The FNA Group manufactures industrial-grade cold-water pressure washers for the contractor/industrial market. This division currently sells directly through manufacturer representatives and indirectly through industrial products suppliers and paint stores, but Simpson is expanding into the private home market through home im­provement centers. The FNA Group manufactures industrial-grade hot-water pressure washers for the contractor/industrial market through Delco.
At its manufacturing facility in Decatur, The FNA Group fabricates two distinct lines of pressure hoses. The consumer hose is a single fabric braid woven around the inner jacket then covered by an outer jacket. The industrial hose has a fabric braid and a wire braid on top of the fabric braid around the inner jacket, which is then covered with an outer jacket.
Once either hose is completed, they are transferred to a hose assembly area where it is cut to customer specified lengths and accessories. FNA manufactures approximately 225,000 linear feet of hose a day, and the company offers 500 different models of hoses.
The FNA Group is constantly driving lean manufacturing through the use of standardized work processes, takt time analysis, kaizen events and kanban systems. Chuck Chism, vice president of operations, leads these initiatives based on his experience with lean, which dates back to training at the University of Michigan in 2002 when he worked for Pentair.
These efficient and quality-driven processes keep The FNA Group in position to cater to any customer demands, no matter how unachievable a request may be. Just this year, FNA Group had to squeeze in an extra 10,000 pieces for a new retail customer that couldn't keep its products in the store.
This customer needed to have 100,000 units within a 60-day lead time to prepare inventory for a Labor Day sale event. While many manufacturers may have deemed this an impossible turnaround in less than 100 days, The FNA Group made it happen in only 50 days.
Chism credits the companywide dedication to lead training for this ability to handle such a request. "We are so entrenched in the supply chain side of it, we're able to go through with our suppliers to do unique things to make this happen," he says. "Because of our training in lean, we have a task sheet that goes through and addresses anything that could possibly come up at any major milestone and addresses pitfalls, risks, details, and makes sure what we can do to pull it off. It helps us get really focused really quickly, and it takes gray areas and eliminates them for us."
This new customer gave The FNA Group its forecast for the year, but encountered the fortunate problem of unexpected popularity of one of the company's products. Through efficient manufacturing operations and flexible manufacturing operations, The FNA Group can adjust to these demands without missing a chance to make a sale.
"We've got plenty to look forward to because of our ability to respond," Chism says.