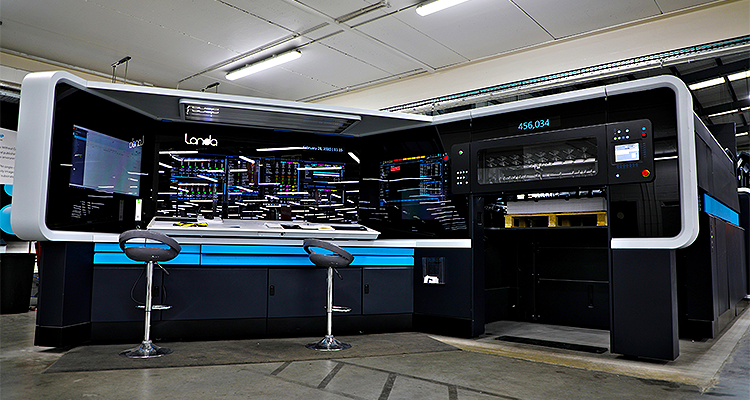 The friendship and determination of Bluetree Group's Co-CEOs continues to generate success 
Recently named on Yorkshire's Fastest 50, Bluetree Group (Bluetree) is the UK's largest online commercial printer, comprising four separate businesses: Instantprint, Route1Print, Kingsbury Press, and Bluetree Group Medical.  
It has grown dramatically from humble beginnings, with founders of Instantprint and now Co-CEOs, James Kinsella and Adam Carnell, playing an instrumental role in the company's tremendous growth. We caught up with the pair to discuss Bluetree's latest developments and continued success. 
"Since we last spoke, the biggest change we've seen is the acquisition of Kingsbury Press (Kingsbury), a specialist manufacturer of luxury books," says Adam. "Kingsbury brings a wealth of knowledge, skills, and equipment to the business and we now have three, distinct printing brands: Instantprint, Route1Print, and Kingsbury."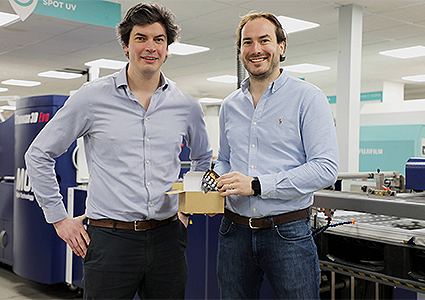 James elaborates: "While running events at university, we realized how slow and complex buying print was, so we set out on a mission to make print buying as simple as possible for small businesses. With that, our Instantprint brand was born in 2009 and we began helping our customers to flourish with print, offering advice for start-ups, artwork checks, and free design templates, continuing to serve small and micro companies today. 
"Four years later, we established Route1Print to service businesses who resell print; from graphic designers and sign makers to copy shops and marketing agencies," he adds. "With a similar mission to Instantprint, we partner with print buyers to make the process of outsourcing print as straightforward as possible.  
"Kingsbury, on the other hand, serves the luxury book market, with main customers typically operating in markets such as high-end property, like cars and yachts, or very high-end publishing clients," James continues. "The business perfectly aligns with our values and has expanded our portfolio, adding a huge range of products, experience, and passion to the business." 
Characterized by highly skilled craftsmanship and supreme attention to detail, Kingsbury was an ideal fit for Bluetree to not only expand its offering, but also to strengthen its manufacturing capabilities. "The objectives behind the acquisition were two-fold," Adam states. "On our side, a substantial proportion of the Instantprint and Route1Print sales come from books, so Kingsbury's ability to manufacture enabled us to really drive quality and capacity, as well as expand our product range. 
"From the Kingsbury side, being part of Bluetree has opened up a new range of print processes, as we boast a very wide array of print equipment; from digital presses that are ideal for short-run work, to reel-fed, long-perfecting presses that efficiently produce longer-run work," he explains. 
State-of-the-art technology 
Kingsbury certainly brings unique capabilities to Bluetree's umbrella of services. Its K-Bind process, for example, is Kingsbury's own unique lay-flat book binding process. Upon its launch in 2012, it took the property and fashion sectors by storm, and today remains a market-leading process, with unparalleled accuracy and precision. 
Additionally, Kingsbury's innovative KolorEdge technique, which was developed in 2017, saw the company become the UK's first service provider of flawless edge printing in both foil and print finishes.Since the acquisition in 2021, Kingsbury and Bluetree have continued to innovate, together delivering projects that would have been beyond their previous individual capabilities. It has recently completed a project for a US-based luxury property developer, for example, which "included variable data printing to track marketing response rates, and two different printing processes across the group to produce a large volume of K-Bind brochures," says Adam.  
"Over the last two months, we've relocated Kingsbury's operations to a 45,000-square-foot facility within our main site in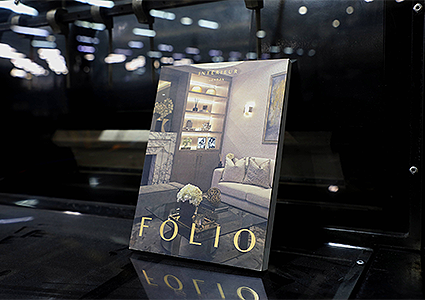 Wath upon Dearne," James reveals. "One of the main drivers behind the move was to encourage collaboration between the teams, particularly around the growing volume of digitally printed luxury books, most of which are printed using a Landa SP10 digital press. 
"The installation of the Landa SP10 at our site was revolutionary for us; it was the first technology of its kind in the world," he adds. "The machine's technology bridges the gap between digital print, which is traditionally used for short runs, and litho print, typically used for longer runs. This is ideally suited to Kingsbury's work, as it enables us to produce ultra-high quality, short-run jobs." 
Growth and diversification 
Although the acquisition of Kingsbury plunged the company into new markets, the concept of diversification is not entirely new to Bluetree. Having seen print sales dramatically decline because of the global Covid-19 pandemic, the business took decisive action. It began manufacturing Type IIR surgical masks, becoming the first company in the UK to produce this specific, medical-grade mask.  
Although mask production now occupies just five percent of Bluetree's overall business, this operation has evolved into a separate division of the business – Bluetree Group Medical – further widening Bluetree's portfolio of brands. Today, it has dedicated clean rooms for manufacturing, and continues to supply over 700,000 businesses with surgical masks. 
Reflecting on the company's growth and diversification, Adam says: "The most challenging aspect is building a talented team and creating the right culture; if we get that right, everything else clicks into place. We're passionate about supporting the team so that they understand what we are trying to achieve at a top level, where we are headed, and our long-term vision for the business, as well as how we're currently performing. 
"However, the most rewarding part of this role is also people," he details. "Most of our senior staff started out in an entry level position in the company, so it's been amazing to watch them grow and flourish as individuals, as well as part of our team." 
James agrees: "We've been fortunate to be able to build a highly skilled and passionate team over the years, which has enabled us to adapt to market changes, manage the challenges we've faced, and also realize the opportunities that have presented themselves. 
Turning to the future, Adam proposes: "Our focus over the next five years is developing each of the brands and expanding our product offering to each customer group. Clients are becoming increasingly comfortable purchasing complex products online, so we must ensure our product ranges continue to meet that demand. 
"For Kingsbury specifically, we need to work very closely with our creative clients to bring to life the potential we have across all of our processes and capabilities," he concludes. "In fact, we believe that our current operations are only just scratching the surface of what's possible in this space!"